Impressions of: Pentacle Presents The Gallery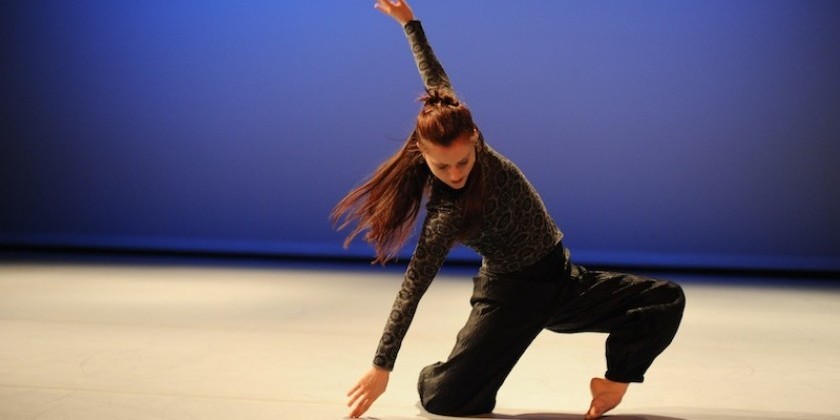 Presented by Dixon Place
Featuring the work of: Barkin/ Selissen Project, Jessica Gaynor Dance, Lorraine Chapman the Company, Helen Simoneau Danse, White Road Dance Media and Bill Young/ Colleen Thomas & Co
Wednesday April 2nd, 2014
---
A dynamic group of dance makers, all represented by Pentacle, comprise The Gallery.  Hosted by the ubiquitous Doug Post, Pentacle's artist representative, The Gallery's show at Dixon Place showcases an eclectic group of artists, each with a distinct voice.
white road Dance Media's Hoarse is a standout of the evening. Choreographer Marisa Gruneberg's gorgeous cast of three flings themselves about the space, completely uninhibited yet perfectly restrained. The piece opens with a stunning solo from Sydnie Liggett, clad in fire engine red. She moves as if there is no gravity; her head is at her feet, then her legs are in the air, and  suddenly she is upright in absolute control. Using gravity to her advantage, and occasionally defying it, Sammy Donahue thrusts about with nuanced abandon. There are moments of intense struggle amongst the trio, who are so earnest in their execution that I lean forward in my seat.
Jessica Gaynor Dance's Intimate Gestures, a duet for two women, is a commission from New Music USA's Commissioning Music/USA program. Nude costumes call our attention to the performers' lithe, muscular bodies. Sharp and linear, the choreography satisfies with its well-rehearsed unisons. As the piece progresses, the movement becomes increasingly primitive. A few bracingly human moments break up the cold angularity; the women stop and acknowledge each other, gazing into one another's eyes for an uncomfortably long time.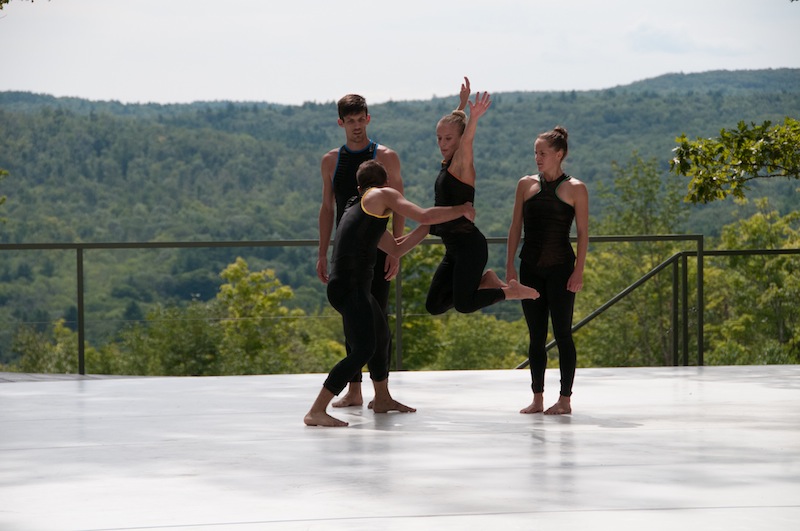 Barkin/Selissen Project presents a trio of excerpts from three pieces. It's hard to ignore Chris Ralph, dominant in all three pieces, who harmoniously moves between fluidity and punctuation. During Reflexive, Ralph balances on his chest for an impressive amount of time before cycling through his body like a wave. The work is well crafted and the dancers capable, but each selection seems too short — the snippets end just as they begin to develop. This leaves us wanting more, which may be the purpose. Moreover, the selected passages fail to offer variety; considering they are from different pieces, much similarity appears in choreography and costuming.
Colorful performers amuse in Lorraine Chapman the Company's remarkable  wait for ME fellas, inspired by the quirky characters of Looney Toons. A series of comical duets and gestures is peppered by dancers speaking into a centrally located microphone. A girl in red grabs the mic and carries it along to others while she whines, "I'm tired of being told what to do, I'm tired of getting pushed around, and I'm tired of dancing to someone else's tune." A gentleman delivers a lecture to a classroom; as he speaks to the audience, he slowly undresses and dons a rabbit suit. One woman announces, "That's all folks!" a la Porky Pig , and the lights go out.
Bill Young's Gone By, a simple duet in silence, is unparalleled in its elegance. Anthony Phillips and Colleen Thomas dance as though their bodies are constructed of filmy cloth. Their soft movement is like wind through blades of grass. The pair has quite different builds: Thomas is incredibly thin and delicate while Phillips more robust and masculine, yet watching identical choreography on two different bodies is delightful.
The evening closes with a hip, groovy duet from Helen Simoneau Danse. Fast, bouncy unisons meet somersaults, planks, and fierce athleticism. The piece finishes as it begins, with a series of sharp, shifting tableaus in muted, edgy lighting.
Pentacle represents a group of incredibly talented artists, and their combined work makes for a diverse yet cohesive evening of dance.