Related Features
Contribute
Your support helps us cover dance in New York City and beyond! Donate now.
Impressions From The Kennedy Center- PostClassical Ensemble --"Iberian Mystics: The Confluence of Faiths"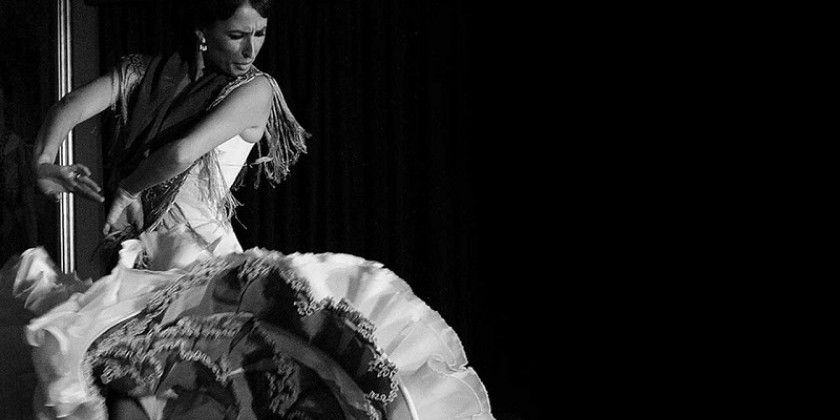 Sonia Olla, Flamenco Dancer, Transcends with Radiance
Date: March 11, 2015
PostClassical Ensemble: 18 musicians
Dancer: Sonia Olla
Soprano: Mariana Mihai-Zoeter
Flamenco Singers: Ismael de La Rosa, Ismael Fernández.
Guitarist: Ricardo Marlow
Pianist: Pedro Carbone
Video Artist: Peter Bogdanoff
Reader: Luz Nicolas
Host: Clark Young
---
The fingers of Hafez Kotain slapped and tickled his doumbek (
a goblet drum
used mainly in the Middle East, North Africa,South Asia and Eastern Europe) with such exuberance that the audience hooted their approval. Al-Bustan Resident Takht Ensemble's Arabic music came in the second half of a program set in the intimate Family Theatre of The Kennedy Center. Kotain's solo stirred the blood of the audience subdued by hearing the plaintive beauty of the music by Thomas Aquinas, Tomas Luis de Victoria, Manuel De Falla, and the Trio Sefardi. After an hour of epoch-hopping music, multi-media, and narration, the audience was primed for change, whereupon the radiant dancer Sonia Olla entered.
Sonia Olla. Photo: courtesy of the artist.

Internationally renowned, Olla has all the technical precision and grace of the best Flamenco dancers. But, she sets herself apart by doing what so few visibly do: she listens. Her dance is as much an erotic affirmation of the "cante," (song), as it is startling for its range. A relaxed voluptuary, she pulls at the lush fabric on her hips waiting for the singer to complete his phrase before making her own galvanizing, percussive response. Her "Solea" transmits love, a love of being fully alive, acutely alert, while savoring every snap of electricity. At the close of this brief solo, the entire audience jumped to their feet.

The PostClassical Ensemble played Federico Garcia Lorca's musical adaptation of "Las Morillas de Jaen," featuring Ismael Fernández. singing with exquisite delicacy. "El Amor Brujo" followed, bringing Olla back to perform "Danza del Terror" and "Danza del fin del dia." Her presence was more womanly than wild, i.e., more El Amor (love), then Brujo (bewitched.) Her footwork complemented, never over-running the score performed by the Ensemble under the direction of Angel Gil-Ordonez, whose hands are also remarkably supple.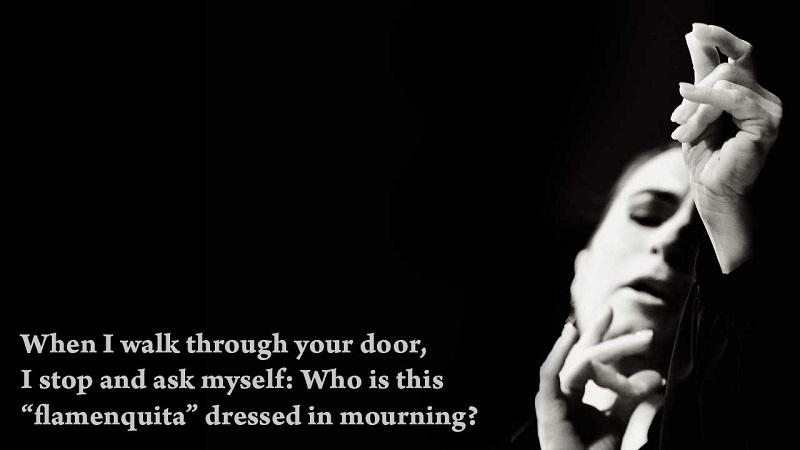 Photo: Peter Bogdanoff
"Transcendence, going beyond the ordinary, that's what this project is about," said Gil-Ordonez in the post-performance discussion. "œFor me, that happened when the program turned to the vernacular, when we heard the Arab ensemble, the purity of the Flamenco singers, and saw the Flamenco dancer improvise."
This program of the PostClassical Ensemble: Iberian Mystics: The Confluence of Faiths was one of dozens in a three week long festival in Washington, D.C. called IBERIAN SUITE: global arts remix, presented in cooperation with the governments of Portugal and Spain.