Related Features
Contribute
Your support helps us cover dance in New York City and beyond! Donate now.
IMPRESSIONS: Purchase Dance Company's New York City Season at New York Live Arts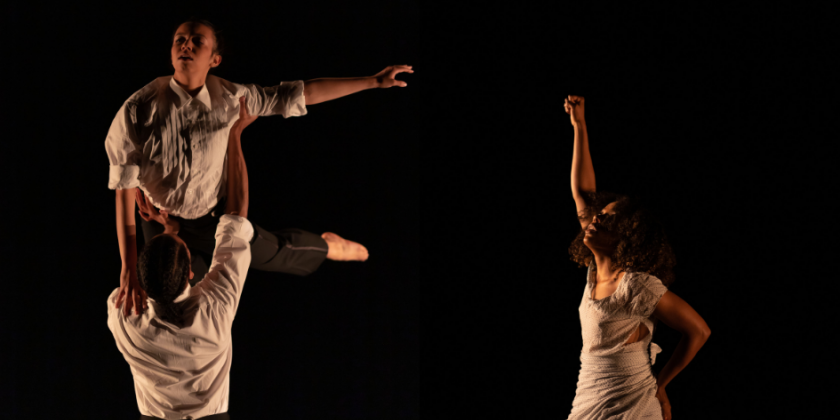 May 25, 2019
Director and Producer: Nelly van Bommel
Choreography: Bettijane Sills, Andrea Miller, Ana Maria Lucaciu, Tina Diaz, Jasmine Hearn, Roderick George
Dancers: Purchase Dance Corps
---
The State University of New York at Purchase is home to one of the most prestigious dance programs in the country, offering a rigorous college dance education at a significantly lower cost than most private universities. The SUNY Purchase Conservatory of Dance (COD) students are on par with what one might expect to see in the professional dance world. In fact, many of them go on to join some of the world's foremost contemporary and modern companies. For the fourth year in a row, the COD capped off its academic year with a show at New York Live Arts that featured highlights from their spring and fall productions, as well as student choreography, all selected by Artistic Director Nelly van Bommel.
Bettijane Sills, who has performed soloist roles with New York City Ballet, presents Songbook, a new work inspired by mid-century jazz standards. Colin Rose, Martine Mauro-Wade, and Samara McLendon — a jazz trio from the college's lauded music program — enliven the proceedings.
Songbook is broken up into movements that capture the music's mood with cheerful, breezy ditties contrasted by more somber numbers. SUNY Purchase offers a demanding concentration for those pursuing classical ballet careers, and Sills' work showcases their talent.  
Tina Diaz and Kar'mel Small, Purchase Dance Company in Tina Diaz's That Part of the Day; Photo by Alice Chacon.
The Balanchine influence is clear in Sills' choreography, particularly in the wickedly quick tempos and speedy footwork. However, the fun, sprightly movements that were flawlessly executed would have translated better if the dancers appeared to have more fun. Sills also incorporates her own flair in brief, cutesy gestures and a few untraditional moments. Noteworthy is an intimate duet between Deniz Erkan Sancak and Marcus Sarjeant to the bittersweet "Smoke Gets in Your Eyes." It is rare in classical ballet to see an intimate number performed by two men, and the challenge to heteronormativity is refreshing.
loose cage, blue rib, choreographed by Jasmine Hearn and performed by the COD's Symara Johnson, is a highlight. The solo rapidly shifts moods to arouse a frantic, disjointed energy. Sometimes Johnson speaks, and her words — "touching," "deep," "black," "need you" — register like punches. She sings a sustained note that morphs into a panicked scream, and later, her shrieking turns to laughing. In one moment, she repeats the word "hello," her fist flapping in a knocking gesture as she jumps with increasing intensity.
When the lights go out, Johnson's got an arm in the air, her mouth wide open, as though in the middle of a stunning revelation. The work suggests grasping for control in a world that repeatedly challenges belief in our own sanity.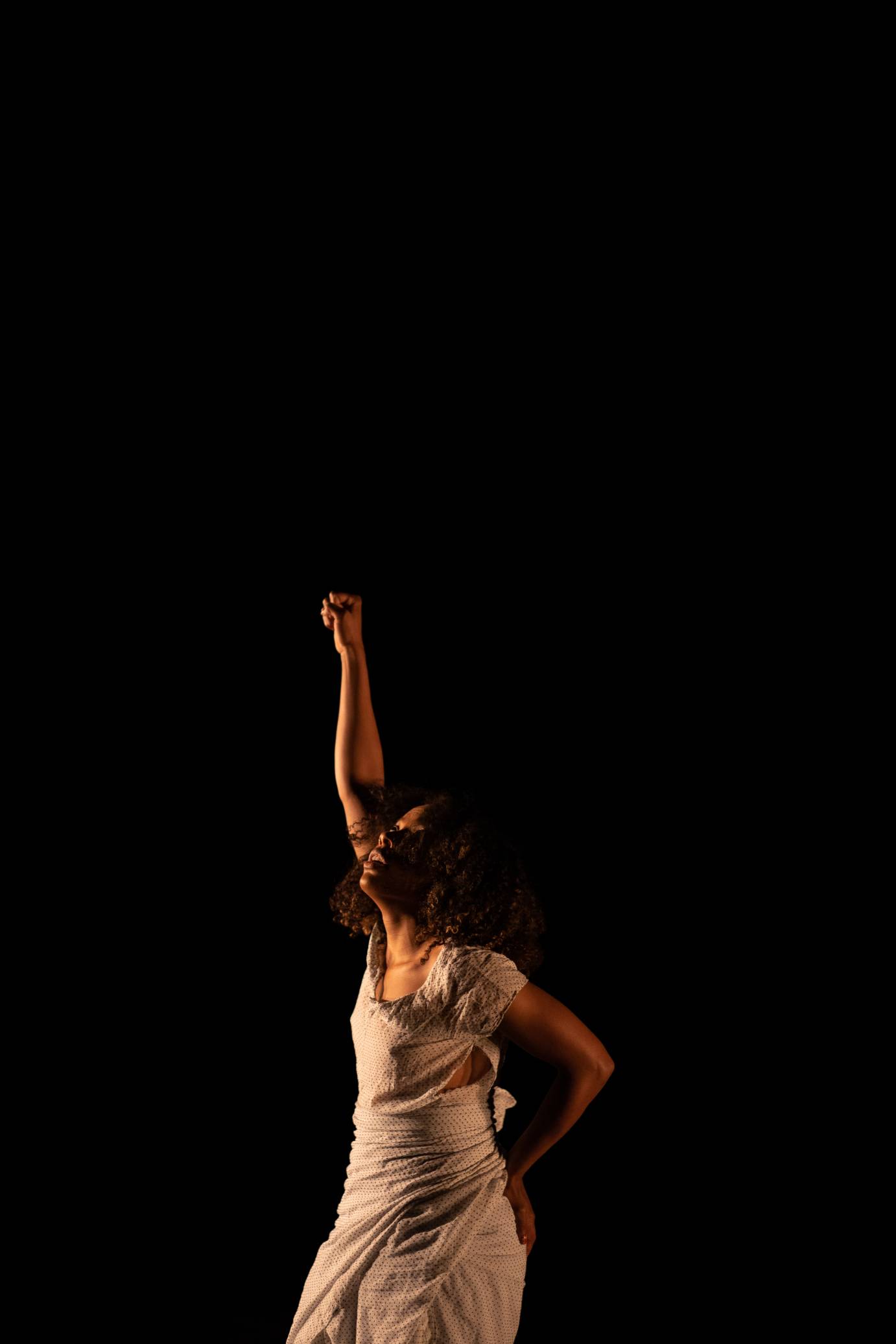 Symara Johnson in Jasmine Hearn's loose cage, blue rib; Photo by Alice Chacon
As part of the COD's fourth-year requirements, each senior works with a professional choreographer, who stages a short solo. Tina Diaz performs an excerpt from Blush, Andrea Miller's 2013 piece inspired by the act of blushing. Diaz's dynamic movement glides across Arvo Pärt's stark, chilling "Fur Alina." Fast gestures interrupt intense stillness, and lighting changes place Diaz in different levels of shadow. Sometimes she gathers her limbs in close, and once, stunningly, she flings her arms back and slides into a split.
In Roderick George's Unprotected Set, vertical blue LED lights line the back wall and ten dancers scattered in even formation move in unison through a series of gestures. The high-energy work recalls a nightclub, with slinky actions driven by a propulsive techno beat.
All the performers are in maroon save one female in red, who may be a soloist, though the similarity in tone of her costume makes us wonder. The dancers demonstrate remarkable control in capoeira-inspired spins, kicks, flips, and swift segues to and from the floor. While the piece drags a bit through the many similar movements, Unprotected Set allows the dancers to showcase their talents. New York companies and choreographers should take notice,
Other works include Helium, a post-modern group number by Ana Maria Lucaciu, and That Part of the Day When, Tina Diaz's New York City choreographic premiere.
---
The Dance Enthusiast Shares IMPRESSIONS/our brand of review and Creates Conversation.
For more IMPRESSIONS, click here.
Share your #AudienceReview of performances. Write one today!