Related Features
Contribute
Your support helps us cover dance in New York City and beyond! Donate now.
Impressions Of: The feath3r theory presents "Andy Warhol's DRELLA ( I Love You Faye Driscoll)"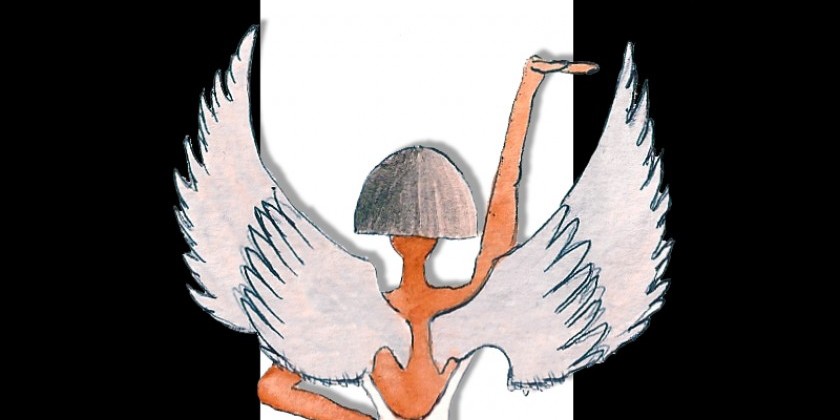 A GRAPHIC IMPRESSION OF: Andy Warhol's DRELLA (I love you Faye Driscoll)

Friday, Dec 13, 2013 @ 7:30PM at The Invisible Dog, Brooklyn
Concept and Direction: Raja Feather Kelly, Original Music: Tito Ramsey, Lighting Design: Zephan Ellenbogen, Make-Up: Tinna Empera
Photography: Andy Toad, Filmography: Laura Snow, Design Manager: François Leloup-Collet

Choreography and Performance: Raja Feather Kelly with Amy Gernux, Yvonne Hernandez, Nik Owens, Rachel Pritzlaff, Rebecca Hite-Teicheira, Connor Voss and Benjamin Wolk.
---

How they strut and sashay their skirts, these retro housewives in white schoolgirl socks. Baring their legs, the six dancers perform splits and high kicks that would put the perkiest cheerleader to shame. Angular movements (hands framing face) meet soft foot arches in a remix of voguing and ballet.
 
Silence descends and everyone gets into downward-facing dog. A deep voice bellows, "Hey, Drella!"

A pert voice snaps back: "You don't beat up on your girlfriend then call her back."
Enter tonight's (prima donna): Raja Feather Kelly dressed as Andy Warhol dressed as Warhol's female alter ego Drella. Perched on 5-inch high platforms, she daintily floats into the room. The crowd loves her already.
 
Drella's visage pouty red lips and powdered face invokes the image of a rose bud in the snow. She delves into singsong monologues to recount her relationship with Faye Driscoll ("I remember the first time I saw Faye Driscoll at the New Museum… On TV…"), rant about pop-culture ("The Beebs...), and recite her favorite lines from TV shows and films ("So in 'The Other Berlin Girl,' Natalie Portman is about to get on her horse…"). Gibes about #hashtags and Kick$tarter$ raise laughs from the floor, as we're all guilty partakers. Her enjoyable babble is veiled commentary on current arts and culture, for better or for worse, while her obsession with Driscoll pays homage to the Bessie-award winning choreographer.
 
Things heat up on the stage, which doubles as a fashion runway. The Drellas, plural, hitch up their dresses, pull on T-shirts and accessories, or downright strip to their undergarments sans changing rooms; all transformations take place before the audience's eyes. For all their energetic movement, it's astounding that their assorted wigs don't fall off.
The models' cool demeanor is punctured by cliquey group behavior, anxiety, and violence. Everyone exhibits some form of dependency and destructive behavior. There are catfights and breakdowns as celebrity pains take a toll on their identity. Someone spits on a fellow dancer, eliciting an appalled sound from an audience member.
The rum-pum-pum-pum of 'Little Drummer Boy' marks a welcome postlude and strikes a sweet chord, what with the coming of Christmas. Wearing all white, Drella and her clones look like ethereal drag angels.
An audience member is singled out because, "Faye wears flannel" and like a good sport, joins Drella in a karaoke duet of 'Happy Days Are Here Again.' Everyone's merriment attests to the fact that there's no business like show business.
---