Impressions from Barcelona: Richard MacDonald's "Dance Sculptures"
"The First Twenty-Five" At Museu Europeu d'Art Modern, Barcelona
Through June 15, 2014
---
Movement can be documented in myriad ways. Photography, film, illustration, and the written word are four methods implemented here at The Dance Enthusiast. Richard MacDonald, an American sculptor with an affinity for dance (as evidenced by his collaborations with Cirque du Soleil and the Royal Ballet in London) documents otherwise fleeting movements in bronze, recording their life force for posterity.
Figurines ranging from the simple (a young danseur in first position) to the dramatic (an acrobat diving through a hoop) take shape under his deft fingers. MacDonald is holding his first exhibition in Spain, entitled Los Primeros 25 de Richard MacDonald, (The First Twenty-Five of Richard MacDonald) at El Museu Europeu d'Art Modern in Barcelona. While a quarter of a century may seem like a lifetime, here it merely marks the beginning of the artist's love affair with sculpture.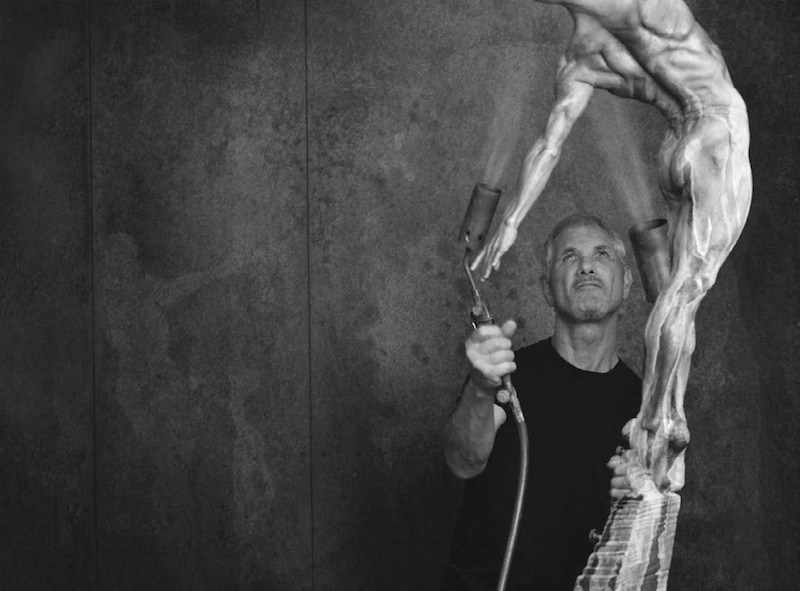 Photo courtesy of the Artist
Eloquent art holds the power to widen an audience's perspective, and this golden rule proves true at The First Twenty-Five. I am reminded of muscles and sinews I often take for granted; inherited traits, such as a cleft chin, which I lack; and wrinkles, which I have yet to develop.
MacDonald's sculptures of cultural dance styles relay a deep understanding of his subjects and their specialty. Tango Study II, for instance, justly personifies the fiery passion, level of trust, and gentle intimacy prevalent between partners of the tango. In an act of sweet surrender, a milonguera leans her full weight into her partner while kicking back a high-heeled foot. Holding her safe in his arms, her male partner seizes the opportunity of their proximity to kiss his partner's crown.
Tango Study II © Richard MacDonald. Photo by Sammi Lim
Rising nine-feet high, Orpheus Ascending features an aerial dancer suspended in space. Rather than hanging from silk trimmings, the performer is lifted off the ground by twisted "fabric." Much of MacDonald's work has covered circus performance ever since Guy Laliberté, founder of Cirque du Soleil, recognized a kindred spirit in the sculptor. Myriad projects have been borne out of their creative camaraderie, such as MacDonald's permanent exhibition at the Bellagio in Las Vegas.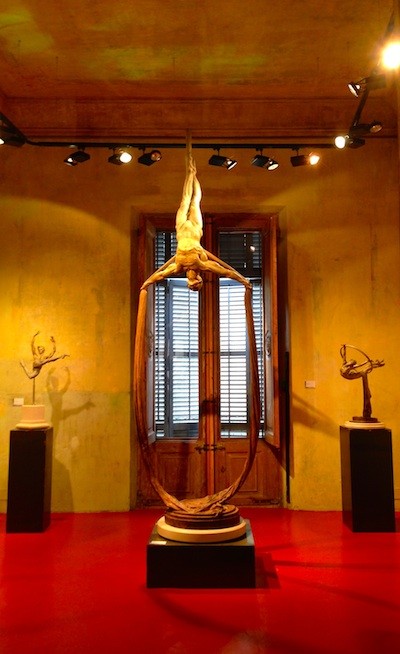 Orpheus Ascending © Richard MacDonald. Photo by Sammi Lim
Given the sculptor's close ties to the Royal Ballet, it isn't surprising to see multiple statues and busts of Cuban-born, British ballet dancer Carlos Acosta. As a matter of fact, MacDonald is in the midst of completing The Grand Coda, a memorial dedicated to Dame Ninette de Valois, founder of London's Royal Ballet and Royal Ballet School.
Exhibition Details:
"Los Primeros 25 de Richard MacDonald " At Museu Europeu d'Art Modern
Calle Barra de Ferro, 5, Barcelona, Spain
Through June 15, 2014. Musuem hours: Tues-Fri 10am-8pm
For more information about:
Richard MacDonald: www.richardmacdonald.com
Museu Europeu d'Art Modern: http://www.meam.es
Richard MacDonald's permanent exhibition at the Bellagio, Las Vegas: http://www.theartofrichardmacdonald.com/