Related Features
Contribute
Your support helps us cover dance in New York City and beyond! Donate now.
IMPRESSIONS: Ron Athey's "Acéphalous Monster" at Performance Space New York
Performance Space New York
November 16, 2018
Concept and Performer: Ron Athey / Director: Sean Griffin
Sound Design: Opera Povera / Art Direction, Masks, and Headpieces: Hermes Pittakos
Wigs: Christian Warren Landon, aka The Wig Daddy / Videographer: Graham Kolbeins
Lighting Designer: Antígona González / Video Designer: Robin A. Ediger-Seto
---
"Well, that was fun," said a man as the see-and-be-seen crowd huddled in the elevator of the recently reopened and rebranded Performance Space New York (formerly Performance Space 122). It was after Ron Athey's Acéphalous Monster, part of PSNY's #posthuman series, which invites artists "to explore worlds that extend beyond the human perspective."
Fun isn't the word I'd use to describe the work. In fact, fun is about as far from the experience as you can get. That's not to say the piece lacks color, attitude, or wit. It has all of those, the queer dystopia a much flashier, funkier place than the typical heteronormative nightmare scenarios with their washed-out hues and barren landscapes.
Monsters roam throughout, embodied in various frightening forms by Athey, the only live performer. In a re-imagining of Brion Gysin's Pistol Poem, he recites the numbers one through five, hopscotching over a projected grid, as gunshots pop. Then, he stands behind a lectern while reading Georges Bataille's The Madness of Nietzsche. His Hitler hairpiece and Coke-bottle glasses give him despotic gravitas.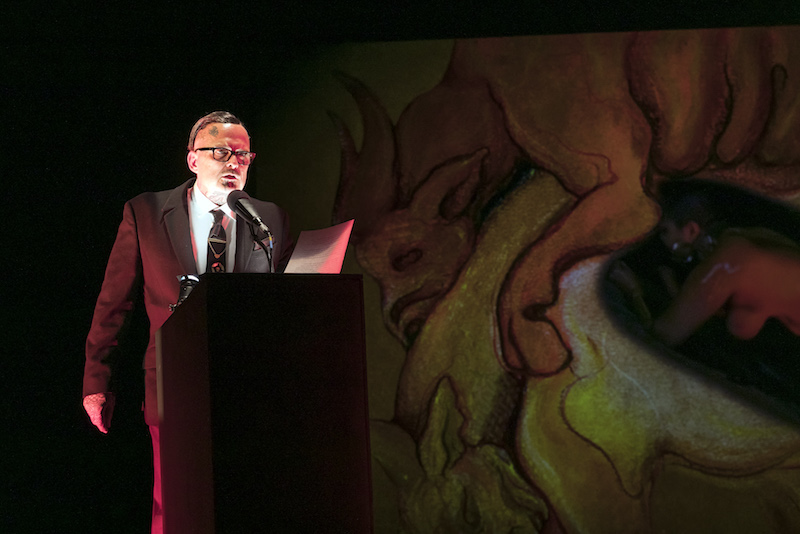 Ron Athey's Acephalous Monster; Photo: Rachel Papo
Athey later evokes a terrified, teeth-chattering Louis XVI before his execution. Sporting an 18th-century mullet (the wigs by Christian Warren Landon may be the real star here), he drapes his powdered face over a loosely suggestive guillotine before lying naked and face-first in orange goo. He threads an umbilical cord over his body and stands, the primordial ooze dribbling from his stocky, heavily tattooed form.
Beasts also appear in lush, sexy videos. On all fours, a woman with pendulous breasts (Moe) is penetrated by an ebony cane in a representation of the Minotaur's conception. Performance artist Divinity Fudge tramps around in a leather diaper during the "The Executioner as Minotaur." During the enthralling "Entering the Forest of Acéphale," a man is prodded with phallic-shaped spears as if he's a swine to be teased and then slain by hunters. He experiences corporeal mortification when a pin is pushed through his cheeks. Although the latter sounds horrible, the act manifests as surprisingly tender, beautiful, a rite of passage that leads to transcendence and belonging.
The sound design by Opera Povera sounds important at the time, but the real score is by Bataille. A French intellectual who delved into mysticism and eroticism, he formed Acéphale on the eve of World War II. It existed as both a public review and a secret society that considered, but didn't pursue, human sacrifice.
Ron Athey's Acephalous Monster; Photo: Rachel Papo 
Derived from Greek, acéphalous means headless. It can refer to a literal headless man (the drawing accompanying Acéphale's first review riffed on da Vinci's Vitruvian Man) or a leaderless society. Text from Bataille materializes on the screen, and Athey recites long, dense passages of his writing. Probably the academics appreciate this, but only the occasional phrase registers for me. With no time to linger over the words (there's way too much to see), their presence feels arbitrary although they seem to be the point.
At the end, Athey rambles onstage, his face obscured by porcupine spikes, one hand presenting a tray with an ivory-carved visage. Has he been reborn as a man or a monster? Does the distinction even matter in a world where Fascism looms and history is repeating itself?
---
The Dance Enthusiast Shares IMPRESSIONS/ our brand of review and Creates Conversation.
For more IMPRESSIONS, click here.
Share your #AudienceReview of performances for a chance to win a ONE-YEAR SUBSCRIPTION to Marquee.TV for you and a friend