Impressions: Jeanette Stoner and Dancers
May 2 - 5, 2015
Stoner Loft
---
Choreographer Jeanette Stoner presents her work in her own TriBeCa loft. The elevator is small and the seating for the audience is Spartan. Bare walls and a black backdrop do not set a high bar for expectations, yet Stoner draws on archetypes and paints richly colorful dreamscapes through investigative and original movement. The inventive and effective manipulation of sets and props adds another imaginative layer to Stoner's dances. 
The premiere Stairs has a woman suspended in a net just barely above the floor. Four male dancers clad in stylish red costumes make her the center of attention. But the dancers percussive patterns and sinuous entwinings fail to awaken the sleeping femme fatale. A staircase with steps leading from two sides to its apex call ancient structures to mind. The male dancers seem to instinctually know that the only way to get to the desired creature is by climbing these steps in a ritualistic dance. The juxtaposition of unison vs. canon, of highly stylized form vs. improvisatory freedom makes the dance augment its musical accompaniment, a commissioned score by composer Svjetlana Bukvich. When the woman (Lindsay Wolff) finally awakens, it is evident that she is a prisoner in her own world and not a spider in charge of her net. The movement for the men (Chase Booth, John Gutierrez, Jorge Morales, Kingsley Nwaogu) picks up again and they pick up the stairs, but rather than to place it for the woman as support to escape and join them, they spin the structure around in fever pitch. The male and the female energies never collide. They exist in parallel universes in Stoner's creation.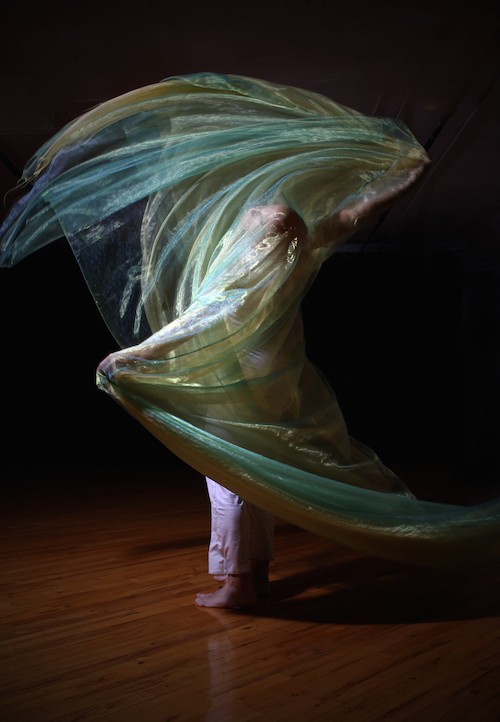 Chase Booth in Numinous; Photo: Stephen Sullivan
Two short movement studies also premiere on the program. Numinous (danced by Booth) gives the impression of a fascinating amorphous sea creature. Just So (danced by Peter Davis) is a light-hearted playful romp with a fabric and is set to Beethoven. Dancers Gabriel Milligan-Green, Chris Rehmann, Jose Rivera, Trevor Salter, and Valerie Vann Oettl expand the fine cast of dancers in last year's Deep Past/Ancient Memories.
With lighting design by Zvi Gotheiner, who makes a lot out of little resources as well as with the beautiful costumes and fascinating sets by Carol Pelletier, Stoner presents a program that not only exceeds expectations, but gives hope for the art form dance and to dance artists who stay true to it.