IMPRESSIONS: Nimbus Dance Works at BAM Fisher World Premieres by Samuel Potts, Darshan Singh Bhuller, Vernard Gilmore
April 21 and 22, 2018
Esther with live music of SKY-PONY / World Premiere Choreography by Samuel Pott / Featuring: Hannah Weeks as Esther and Nimbus Dance Works
World Premiere by Darshan Singh Bhuller / Music: Ry Cooder / Photography: Chad Cowan / Video: Darshan Singh Bhuller / Costumes: Mark Eric
World Premiere by Vernard Gilmore / Music: Steve Reich / Costumes: Mark Eric
Dancers of Nimbus: Giacomo Bavutti, LeighAnn Curd, Wilson Mayo, Justin Perez, Victoria Sataguida, Hannah Weeks, Brandy White
---
In the program notes to his company's BAM Fisher season, Sam Potts speaks of the choices we make. Known for his heroic stage presence and eloquent dancing, Potts left a stellar NYC performance career to develop himself as an arts leader in Jersey City. Just off the Grove Street stop on the PATH train, he choreographs and tends to his creation, Nimbus Dance Works, both a company and school. I regretted his choice at first (I fall in love with performers and hate when they retire early). Now, I appreciate the depth of his decision. His vision is too immense to be contained by a stage at City Center.
I brilliantly chose to spend a Sunday afternoon with Nimbus Dance Works' promising group of artists. Much like the first warm day after a cold spell (which this particular Sunday happened to be), their performances provided abundant refreshment.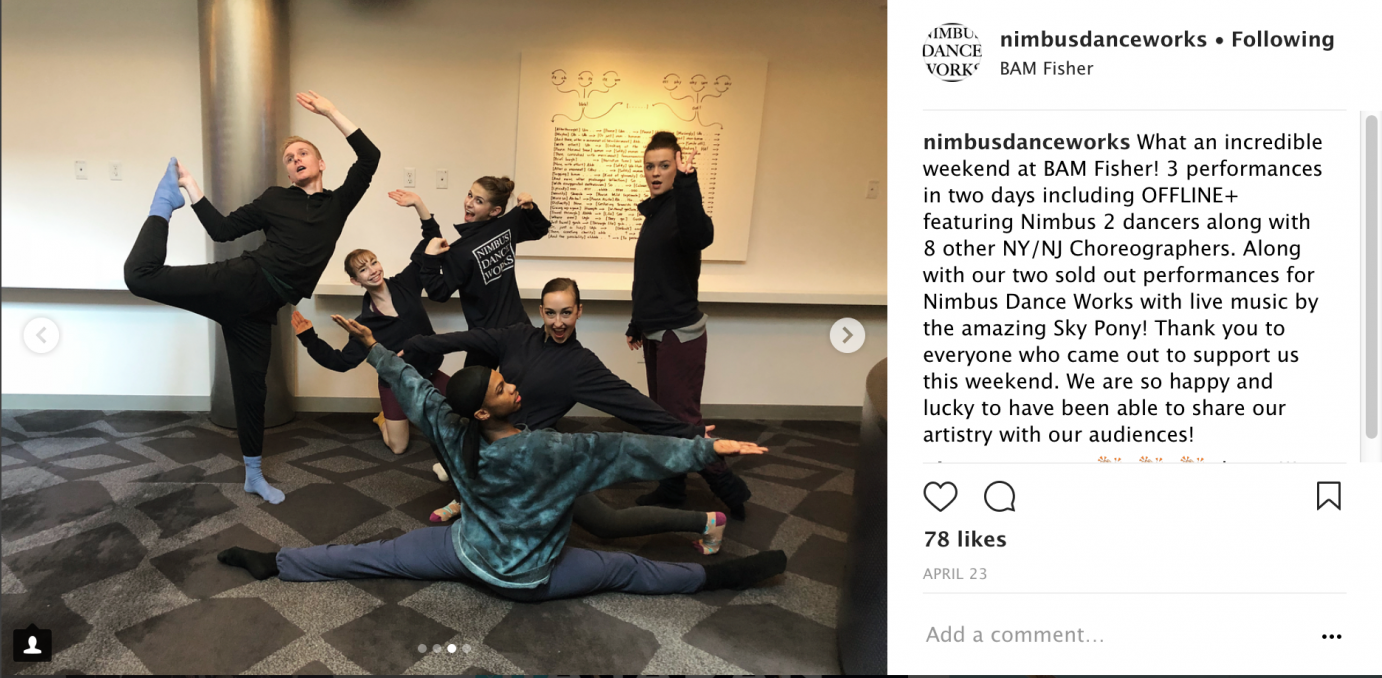 Check out Nimbus Danceworks Instagram Page
Guest choreographers, Darshan Singh Bhuller and Vernard Gilmore demonstrate an easy synergy with the Nimbus dancers who perform their respective gems of choreography, Dew Point 68 and Tie the Knot, with aplomb.
Bhuller's duet is set against his entrancing video of storm clouds taking over the sky. Every so often, forks of lightning flash. Ry Cooder's twanging guitar music transports us back in time, perhaps to somewhere in the segregated south. Devon Louis, a black man, and Hannah Weeks, a white woman, exist in a climate of quiet tension. They travel along different paths in opposite directions until something — maybe the saturated atmosphere — brings them together.
Their world is sparse, but pregnant with unsaid, unfulfilled notions. They touch, but don't look. They look, but not at one another. Leaning toward each other as if to kiss, the two don't connect. Their heads end up resting on each other's shoulders. They shouldn't be together, yet they are, and so are resigned to falling into each other, lifting or being lifted, sharing weight.
At one point, Louis, lying on his back, reaches back to grab Leeks' supple feet as she — standing, facing away from him — attempts to walk off. With little overt drama, this humble gesture conveys an unmistakable longing.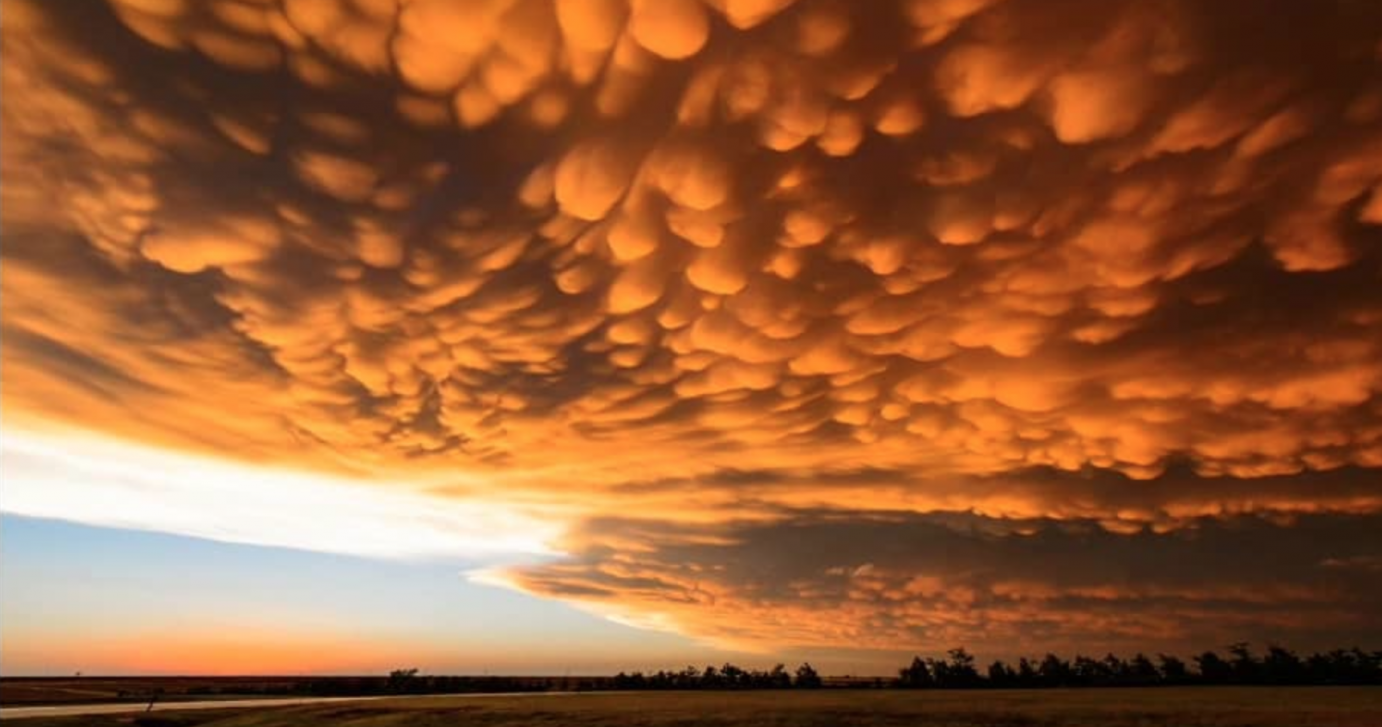 Screen shot of Darshan Singh Bhuller's Video with Time Lapse Photography by Chad Cowan
Whereas Singh Bhuller's skillful use of subdued tension and release pauses time and weighs on it, Gilmore's Tie the Knot crackles and pushes time along so quickly that you can't remember when the action started. As the lights turn on, you're smack in the middle of an animated conversation that soon includes four characters from two generations.
Propelled by the persistent rhythms of Steve Reich, an elder man (Louis) and woman (Brandy White) along with a younger pair (Victoria Santaguida and Giacomo Bavutti) prepare for a wedding. The bride flutters, percussively speaking to her mother or sister. Her elbows jab the air; her back twists to initiate springing jumps. She flies around her beau who himself darts around her, while the two elders remain — as elders tend to — grounded, though vital, amidst the oscillating environment.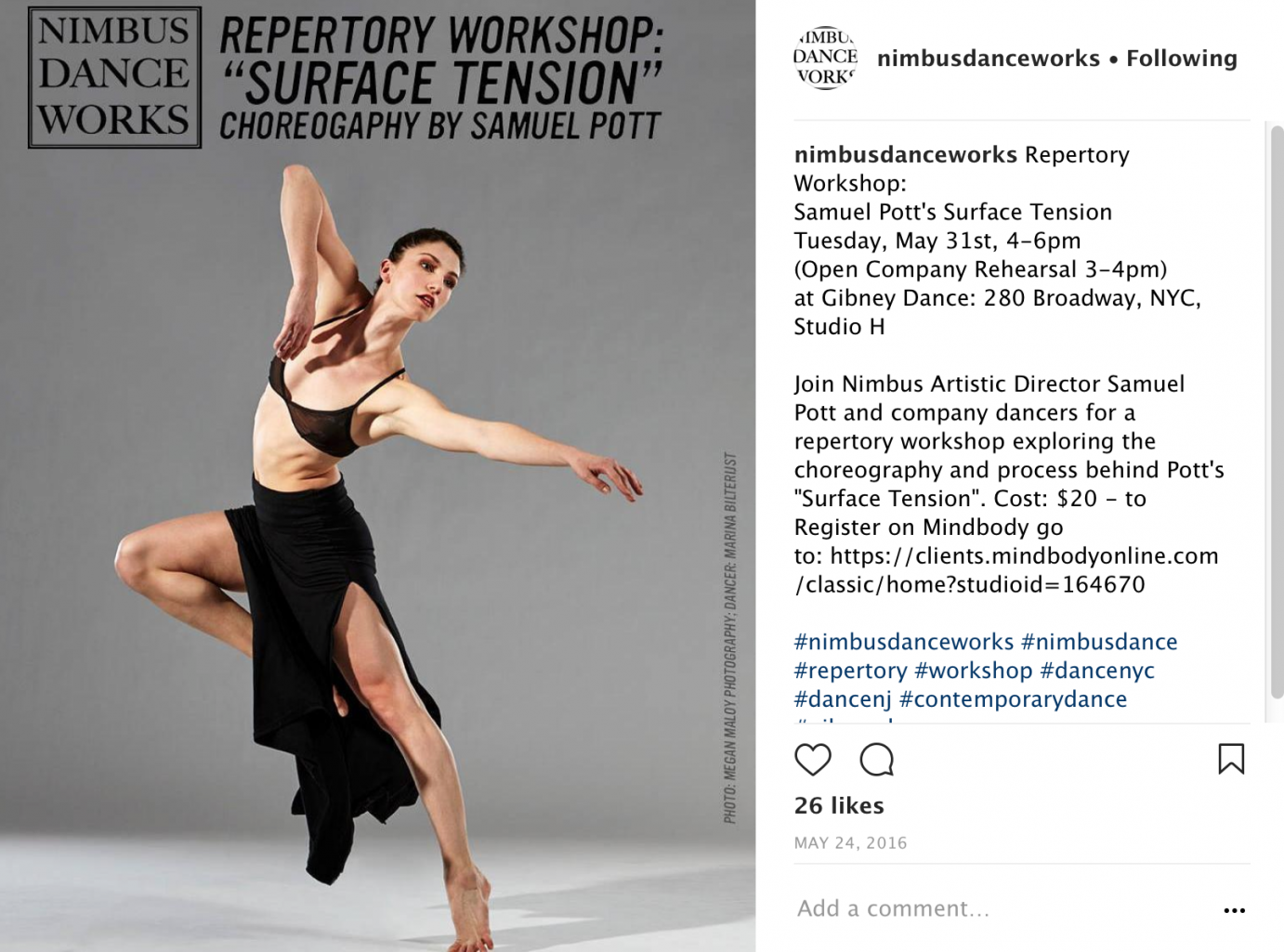 Sensuousness defines Pott's Surface Tension (2014). Poured into black flowing skirts with long side slits, a sculptural trio stares out at us. They fold into one another's curves, gliding body part against body part, and luxuriating in the sensation.
Pulled by transitions in the music (a collage of Johannes Brahms and Franz Liszt, mixed with unidentified rattles) the group evolves and dissolves into various groupings: trios, duos, and the full sextet. They shift from intense outward focus to concentrated inner discovery. Flowing, they expand with full-bodied fervor, moving through winding spins and luscious partnering. Ebbing, they revert to indulgent gestures, nesting into sculptural formations. White, in a startling solo, covers the entire stage, celebrating her body and the space that surrounds it.
Sometimes, however fine the ingredients of a choreography may be, they don't fully congeal. Esther, the closer and most ambitious offering, has great potential, but this premiere needs more than two performances to realize itself.
There is not doubt of Pott's craft, the embroidery of his phrases. His imaginative play with simple props — in this case smooth, wooden poles — moves the story along. These poles encircle and trap Esther; they imprison members of her tribe. They are used as scepters, announcing a king, or weapons, thrust at one's throat, or staffs, to guide a virtuous way.
At odds are the electric, live music and the talented dancers. Who are they? How do they relate? Sky-Pony, the theatrically loud and lyrical indie-band out of Brooklyn, bursts with hip rock-and-roll energy. Even crammed into an upper corner, they fill the stage. At one point, one of the singers travels into Esther's world, leaning into the title character, purring, "If you leave me, I will rip your face off; if you hurt me I will hurt you even more."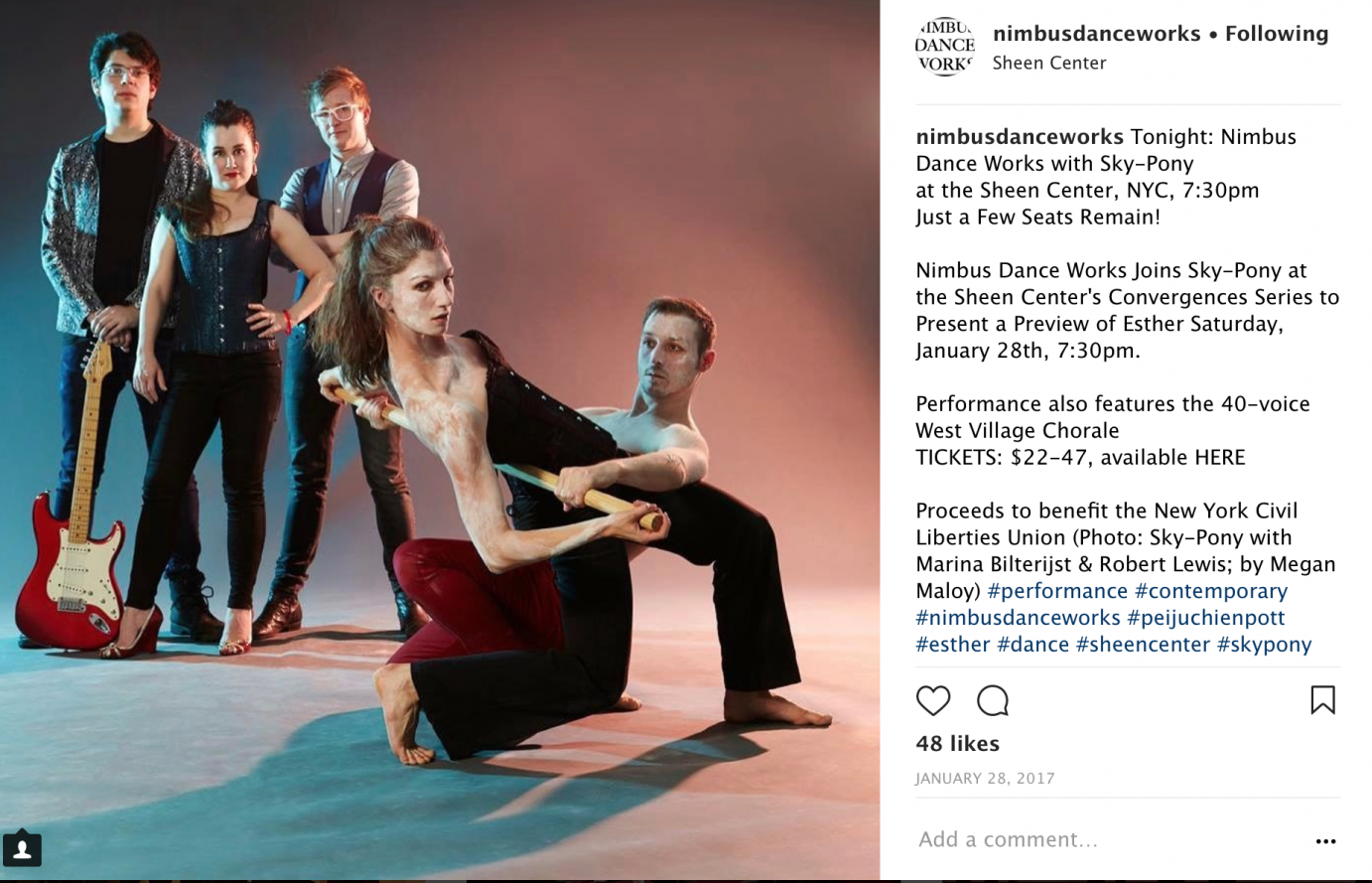 Weeks, as Esther, has no reaction; she simply continues dancing, stretching her flexible body and peering out to us or her cast mates, with liquid, doe-like eyes. She's a stunner. But does she know she's supposed to be an Old Testament queen, the heroine of a rock ballet?
A chance to marinate is what this dance needs. As Pott himself says in his program notes, "Youth must be given chances to engage, create, and claim their potency . . ."
---
The Dance Enthusiast Shares IMPRESSIONS/ our brand of review and Creates Conversation.
For more IMPRESSIONS, click here. 
Share your #AudienceReview of performances for a chance to win a prize.