Related Features
Contribute
Your support helps us cover dance in New York City and beyond! Donate now.
The Dance Enthusiast in California: Impressions of the San Francisco Dance Film Festival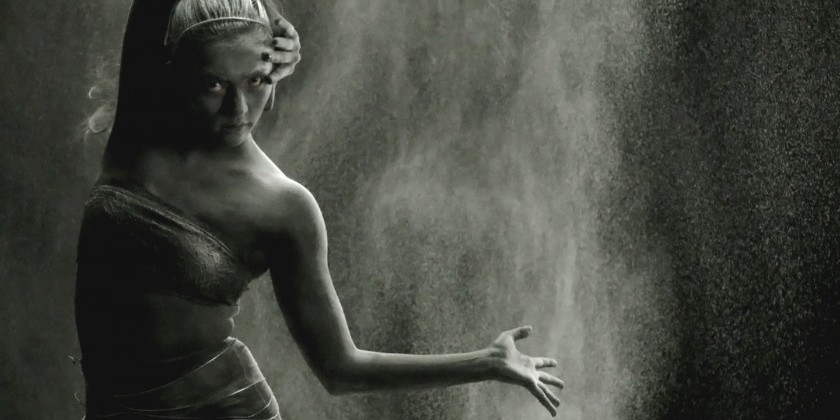 Saturday Night Shorts
Brava Theater Center, San Francisco
November 6-9 2014
Executive Director: Judy Flannery
Artistic Director/Founder: Greta Schoenberg
Click here for the list of shorts
---
Creating a dance film is a challenge that comes with its fair share of pitfalls. The feat, conveying the visceral quality of a live art in a two-dimensional format, is certainly no small task. Directors and choreographers play wizards with the power to choose what is revealed in a frame; cuts of the camera can either enhance the excitement or dull the sheen. In its fifth season, the San Francisco Dance Film Festival, featuring films from homegrown and far-flung filmmakers, presents an array of work that cohesively blends dance and film in a number of fashions.  
The Saturday evening of shorts, co-presented by experimental film organization SF Cinematheque, was no exception. In a post-show Q&A, filmmaker Thomas Pollard mentioned that he and Nathan Smith sought to "blend storytelling and movement as seamlessly as possible...to put dance in a situation that makes physical sense." This goal was manifested in Knock. It opens on three boys huddled under a sheet-and-pillow fort, sharing chilling stories. As their voices begin a tale about the last man on Earth, the camera embarks on another journey, panning up to an empty house. Newspaper clippings showing deaths from an apocalyptic disaster cover the windows; what light can filter in catches on the dust hanging in the air. Layer upon layer of photographs coat the walls, and a lone wooden chair sits in the room.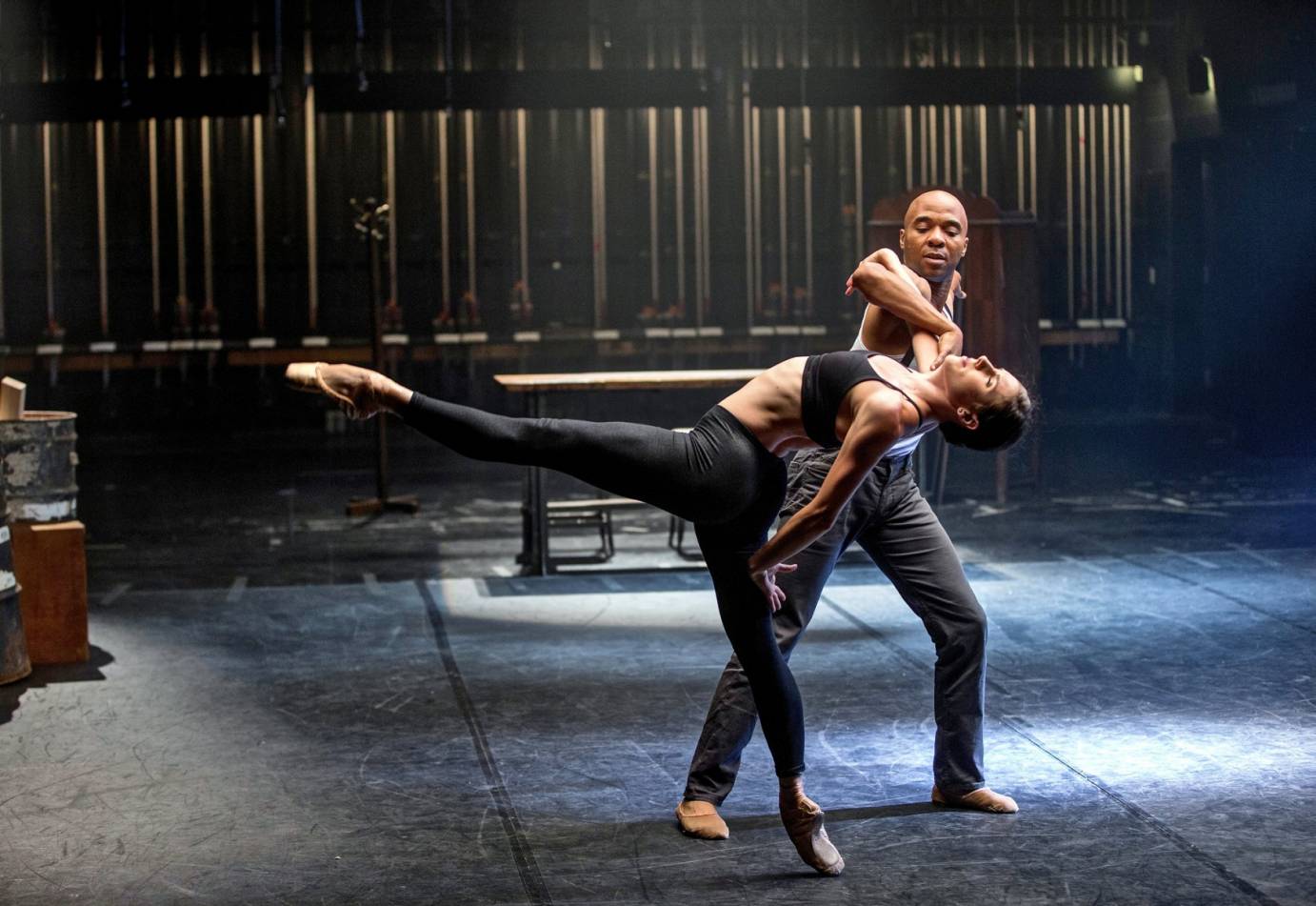 Enemy Within - USA, 2013; Directors: David Anderson (Short Film), Eric Seals (The Making Of); Choreographer: Preston Miller
Over the course of six minutes, the film shifts from the boys sharing bits of their story — a mother character interrupts every so often to hound them into going to sleep — to observing the man in his room, the camera panning up or sideways to seamlessly switch scenes. At times this man twitches violently, the motion overtaking his entire form as if his very essence is cringing. We discover he is Ben, one of the boys from the innocent storytelling session. He grapples with his isolation, seemingly coming to terms with a situation over which he has no control. He presses up against a wall, rigid save the fingers of his right hand, which tap individual photographs as sad piano notes trickle in between silences. The irony of the story becoming reality for Ben chills us, and his dance as the last human highlights our own mortality.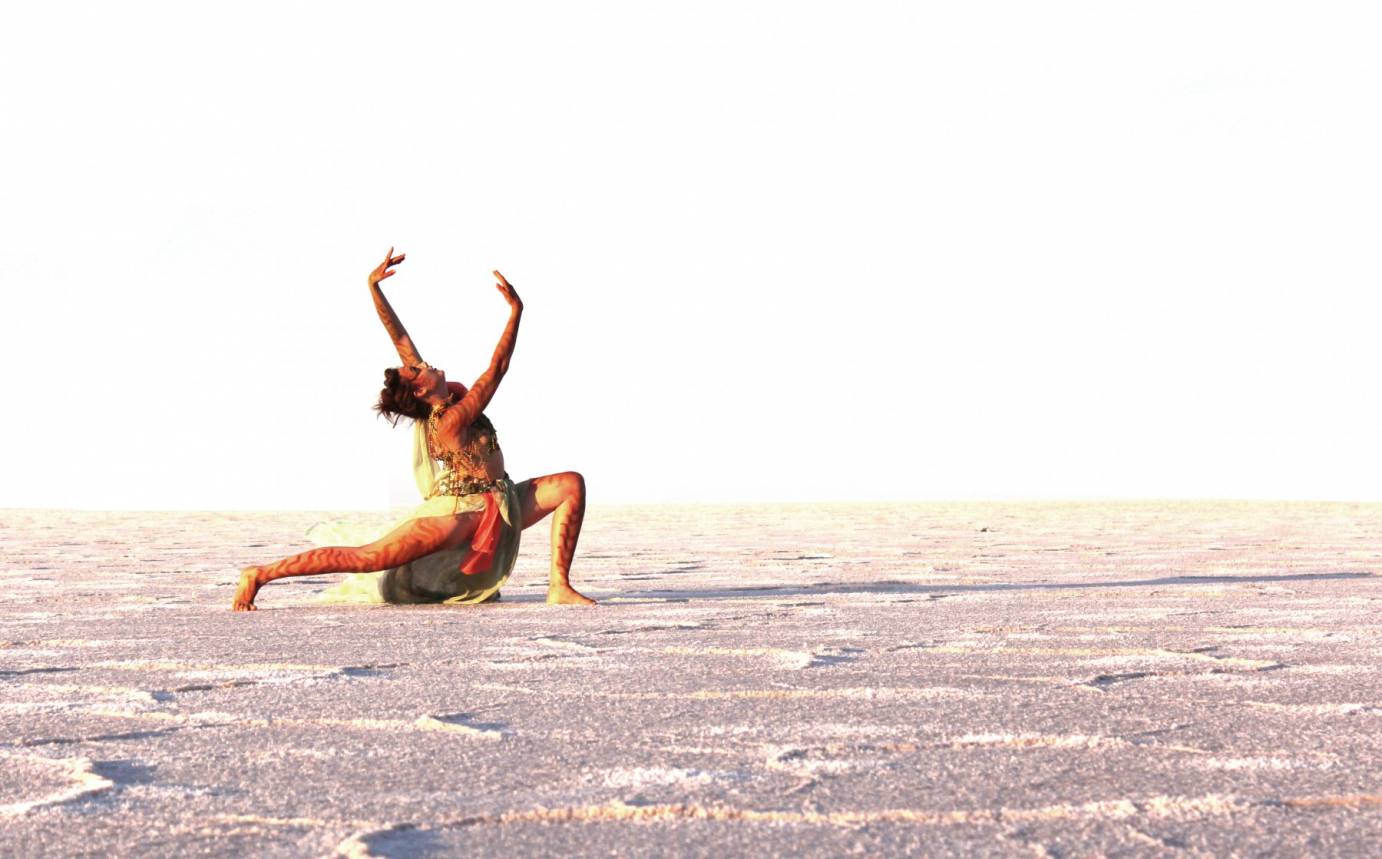 Gaia - Australia, 2014; Directors: Erin Fowler, Nick Graalman; Choreographer: Erin Fowler
The other films cover a gamut of themes, from obsessive love in Baptiste Guiard and Rami Hassoun's Vertige, to commentary on industrialization in Erin Fowler and Nick Graalman's Gaia. In the former, quaking bodies collide in phrases of frenzied partnering, punctuated by wide shots of the sublime French Alps and close ups of the blue-green galaxies that are Hassoun's eyes. The latter, Gaia, centers on a female who shimmers with striped skin. She, alone on an expansive plain, calmly moves through low, wide stances with her arms outstretched. As time passes, nature confronts civilization and the invasion takes a toll on this Mother Earth character. Her movement becomes increasingly contorted, which is juxtaposed with the robotic precision of the cloned silhouettes that appear in the windows of the completed metropolis. At the end of this battle between nature and civilization, Gaia appears to have lost, but once the city is abandoned, an intimate shot of tiny plants crawling up over debris restores hope.
In a series of nine compelling video dances, these three were especially resonant. Imbued with a sense of urgency regarding their driving concepts, the films engage the emotions and eyes with highly charged scenes and clear aesthetics. They maintain the evocative nature of movement and blend it with storytelling, majestic scenery, and impressive visual effects. While a small sample of what the San Francisco Dance Film Festival had to offer, these shorts are a testament to the high quality, accessibility, and innovation of the many works presented.   
Shorts:
Hallowed - UK, 2013; Directed by Chris Turner; Choreographed by George Williamson
Knock - Australia, 2013; Directed by Thomas Pollard and Nathan Smith; Choreographed by Alisdair Macindoe
9 - USA, 2013; Directed by Kimberly Warner; Choreographed by Emily Bartha
Full Circle - Movement #1  - Canada, 2014; Directed by Rodrigo Rocha-Campos; Choreographed by Lisa Ho
Dance With Me - Spain, 2014; Directed by Cristina Molino; Choreographed by Samuel Retortillo
Vertige - France, 2013; Directed by Baptiste Guiard and Rami Hassoun; Choreographed by Rami Hassoun
Alter Ego - Germany, 2012; Directed by Simon Ruschmeyer
Dirge - USA, 2014; Directed by Kate Duhamel; Choreographed by Yuri Zhukov
Gaia - Australia, 2014; Directed by Erin Fowler and Nick Graalman; Choreographed by Erin Fowler