Related Features
Contribute
Your support helps us cover dance in New York City and beyond! Donate now.
IMPRESSIONS: Sara Juli's "Burnt-Out Wife" Presented by Dixon Place and American Dance Festival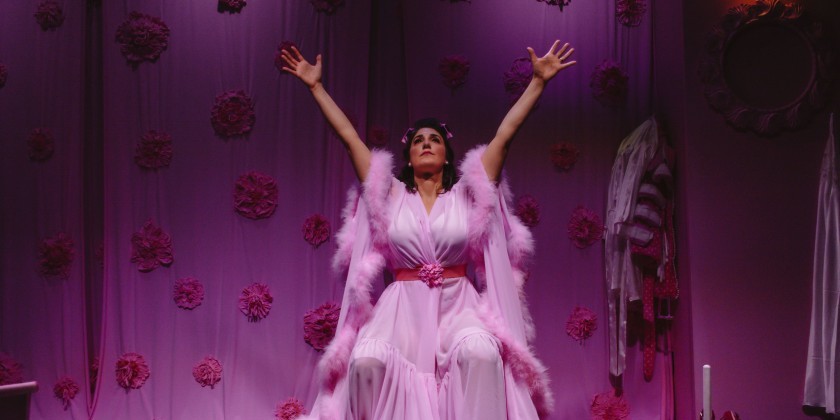 February 27th, 2020
Creation, Text, and Performance: Sara Juli // Dramaturgy: Michelle Mola
Music: Nellie McKay, Johann Sebastian Bach, The Who // Set Design: Pamela Moulton
Costume Design: Carol Farrell // Sound Design: Ryan MacDonald // Lighting Design: David Ferri
---
Marriages end for obvious reasons: someone has an affair, or someone leaves. But plenty more fall victim to a slow decline where tiny nuisances become unbearable as the reality being stuck with one person for a lifetime sets in. Sara Juli's Burnt-Out Wife at Dixon Place chronicles the unraveling of a lifelong commitment. Using a tapestry of text, movement, sound, song, and audience interaction, Juli breaks down her marriage fantasy in an enthralling one-woman show that is vulnerable, tragic, and outright hilarious.  
Juli begins by indulging in the honeymoon stage of marriage. She prances around lighting candles and thanking audience members for their wedding gifts. As though seen through rose-colored glasses, the stage is set as a Pepto-Bismol pink bathroom with bathtub, toilet, and shower. Props like a toilet plunger litter the stage.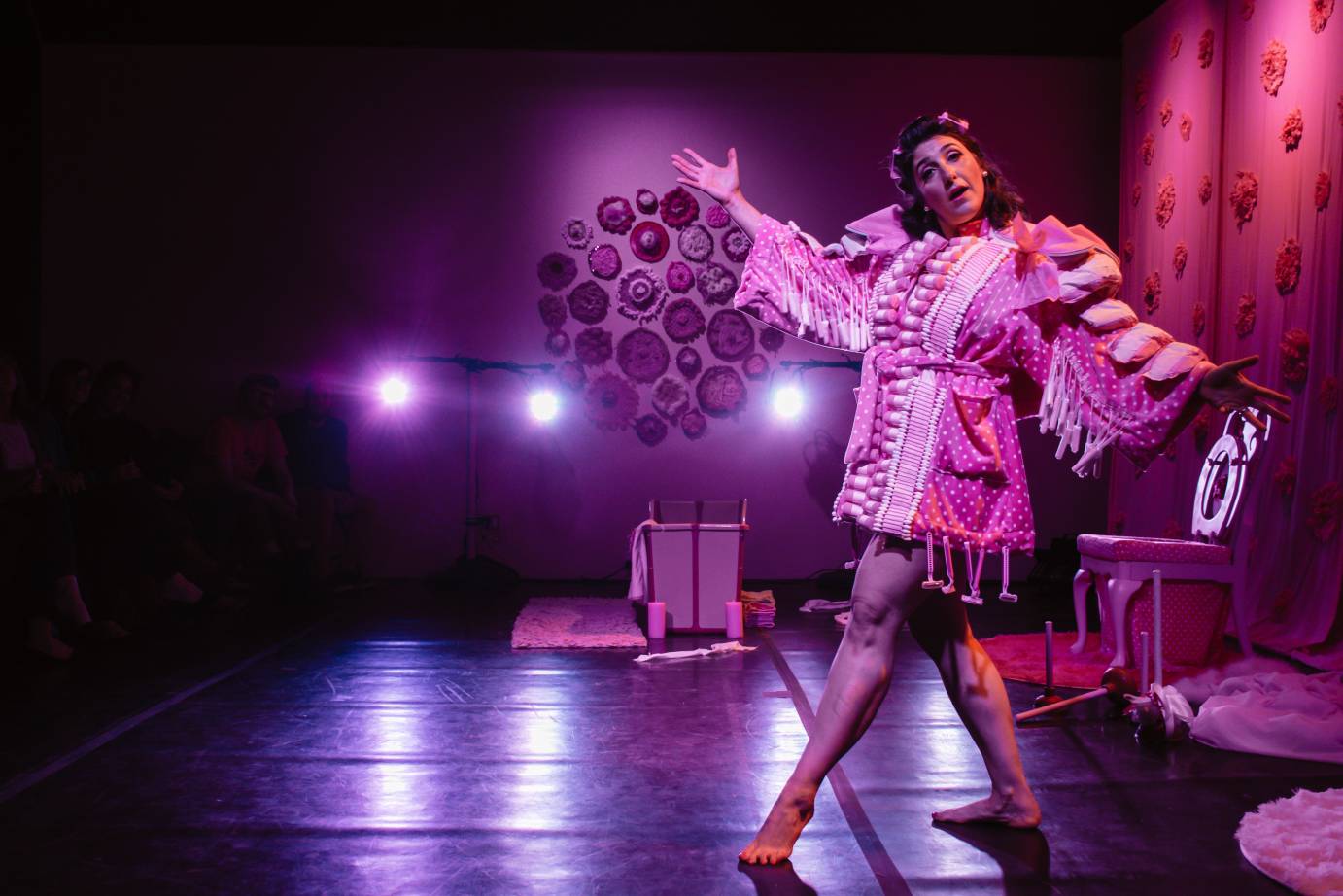 Sara Juli's Burnt-Out Wife; Photo by Nick Pierce
In a series of sketches, Juli relates the disintegration of her marriage fantasy. More physical theater than dance, her movement strategically amplifies the intensity of a particular moment. Her actions are as direct as her words, with dialogue and gesture weaving together. In a scene repeated throughout, Juli extends a palm and stretches an arm upwards: "I thought I wanted this," she shuffles to the right and changes the shape of her arms, "and now I know I want this." The dance of words and movement increases in speed to create a manic feeling.
Burnt-Out Wife is a true conversation with the audience. From time to time, Juli singles out specific audience members, like when she offers one woman a piece of homemade chocolate cake, and throughout her monologues, she consistently checks to make sure we understand: "Yeah? Mm-hmm?" Never do we lose her attention.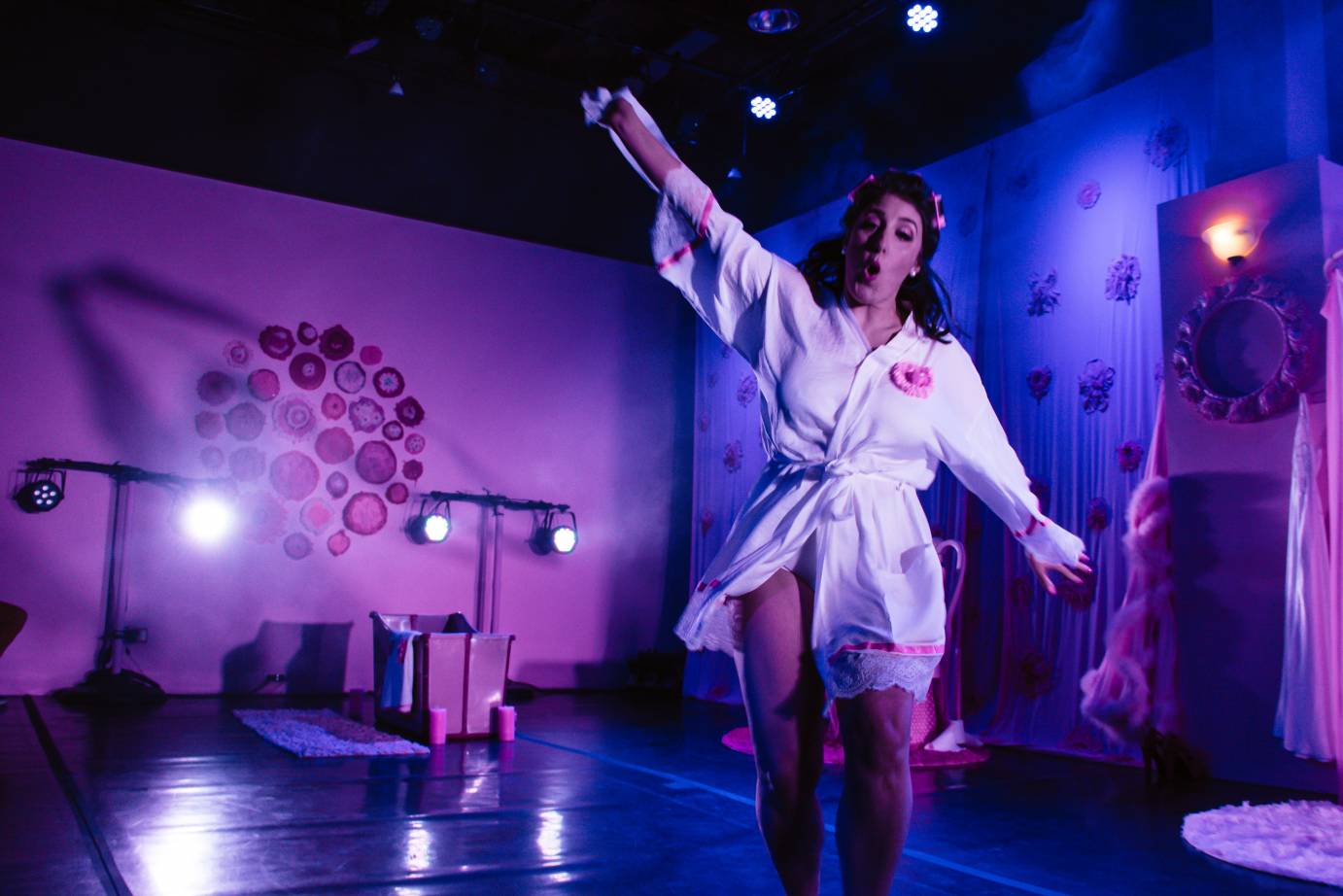 Sara Juli's Burnt-Out Wife; Photo by Nick Pierce
Juli uses the nuances of expressions to exemplify her feelings about her relationship. She initially describes the feeling of wanting to "lock-in" her marriage, then she later confesses to feeling "locked-in" — similar terms with vastly different connotations. In a comical moment, she recounts her husband capping off a phone call with "OK, take care," prompting her to respond, "No, I take care of everything. You TAKE CARE of something for once!"
Much of the piece transpires in the bathroom. One time, Juli dances to the unmistakable noise of urine hitting a toilet. The sound itself is perfectly mundane, and yet it seems to represent a place of comfort where hearing one's partner peeing becomes perfectly natural. Juli pauses her movement when the stream becomes the loudest, as if amplifying the absurdity of it.
Sara Juli's Burnt-Out Wife; Photo by Nick Pierce
She places our societal obsession with marriage and true love in the context of popular culture. In a "What if" game with the audience, she describes fantasy situations from Disney stories. For instance: "You dance with a woman all night and don't get her phone number, then she leaves her shoe behind." She asks audience members, "Would you marry her that afternoon?" All of them say, "No."
The most striking part is a conversation with the audience about the boundaries of monogamy and what constitutes infidelity. It is fascinating to see the range of perspectives around the room. While some struggle to draw clear lines around what "commitment" and "monogamy" mean, others are decisive. Juli sketches a situation where married people sleep together one time, then go back to their respective partners. They never say a word or see each other again. "Is that OK?" she asks. "Death before dishonor," responds one man.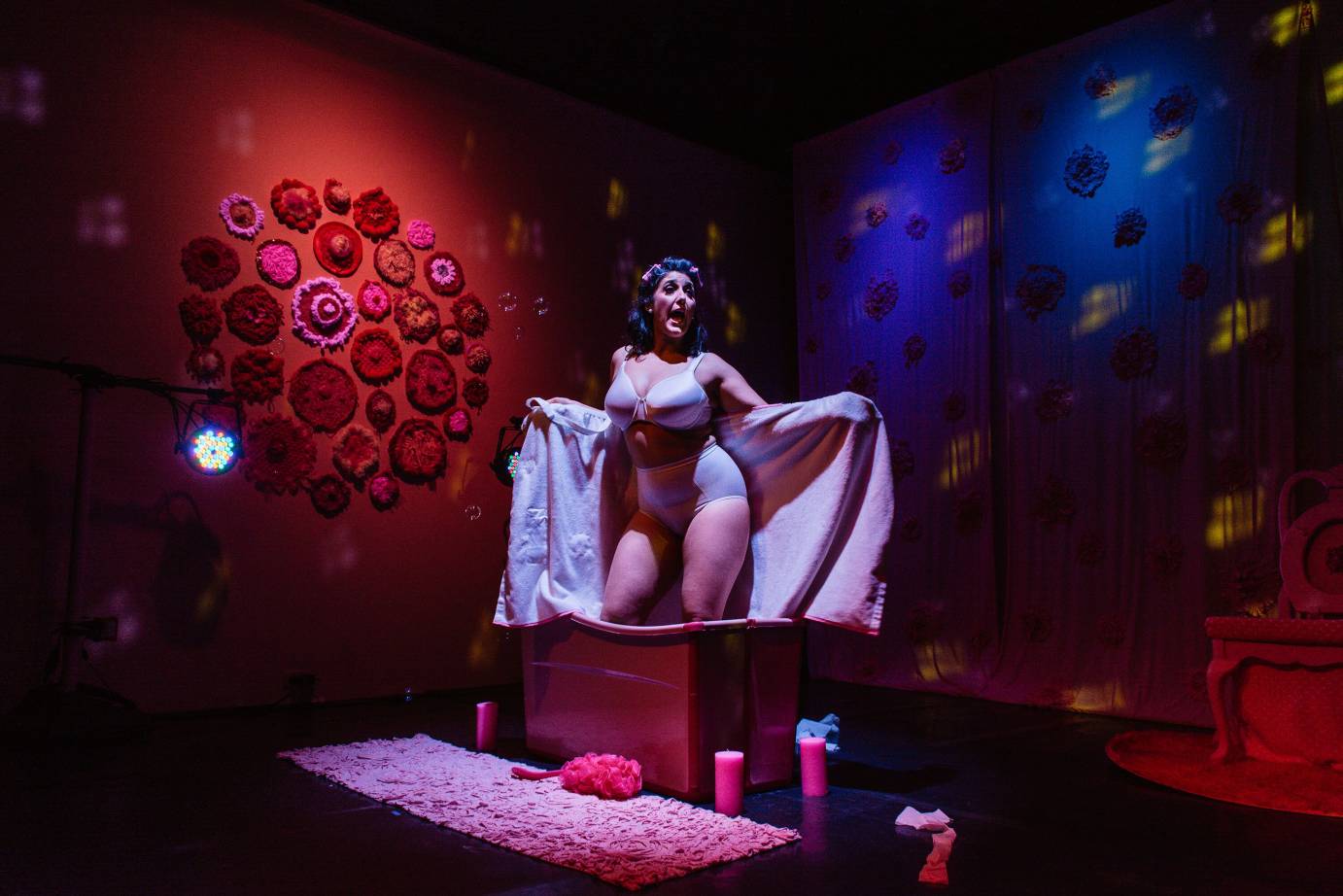 Sara Juli's Burnt-Out Wife; Photo by Nick Pierce
About halfway through, Juli dons a bathrobe decorated with tampons, pads, and curlers. This bathrobe feels symbolic of her perspective on the fantasy versus the reality of marriage. From a distance, it appears expensive and exciting, but upon closer examination, it reveals itself to be cheap, mundane, and loosely assembled.
While entertaining, Burnt-Out Wife remains mostly confined to the realm of comedy. In reality, most bad marriages aren't all bad, and the work would feel more poignant if Juli acknowledges this conflict. For example, the character of her spouse becomes flattened into a stereotypical "bad husband" for the sake of a laugh. The piece might be more relatable if she shared an experience about why she loves her husband. If redeveloped, I would be interested to see Juli relate how she, as an independent, 21st-century woman, diagnosed the symptoms of her troubled marriage, and the truths she uncovered in the process.
---
The Dance Enthusiast Shares IMPRESSIONS/our brand of review, and creates conversation.
For more IMPRESSIONS, click here.
Share your #AudienceReview of performances. Write one today!
---
The Dance Enthusiast - News, Reviews, Interviews and an Open Invitation for YOU to join the Dance Conversation.