IMPRESSIONS: Seán Curran Company and Darrah Carr Dance in "Céilí" a World Premiere at the Irish Arts Center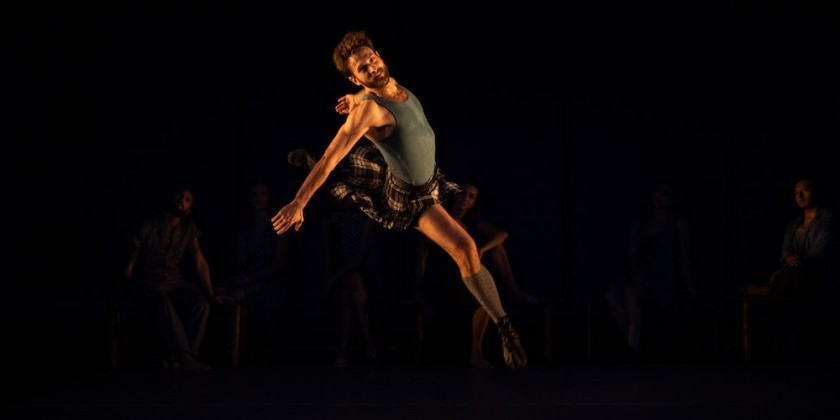 Céilí 
World Premiere 
Seán Curran Company and Darrah Carr Dance 
Musicians:  Dana Lyn & Kyle Sanna 
Seán Curran Company: Jack Blackmon, Dwayne Brown, Benjamin Freedman, Israel Harris, Mariel Harris, Lauren Kravitz, Jin Ju Song-Begin 
Darrah Carr Dance: Michelle Esh, Kendal Griffler, Caitlin Kelaghan, Trent Kowalik, Jonathan Matthews-Guzman, Melissa Padham-Maass, Laura Neese, Alexandra Williamson 
September 29 - October 2 
Irish Arts Center, New York
---
Folk and concert dance shake hands in Céilí , a new collaboration between Darrah Carr Dance and Seán Curran Company, two distinct groups whose choreographers are influenced by Irish dance traditions. Céilí was commissioned by the Irish Arts Center, a decades-old organization whose sparkly new facility in Hell's Kitchen  stands as a testament to the significance of Irish culture in NYC. Céilí represents a joyous reunion of companies, movement vocabularies, performers, and audiences after a prolonged period of separation.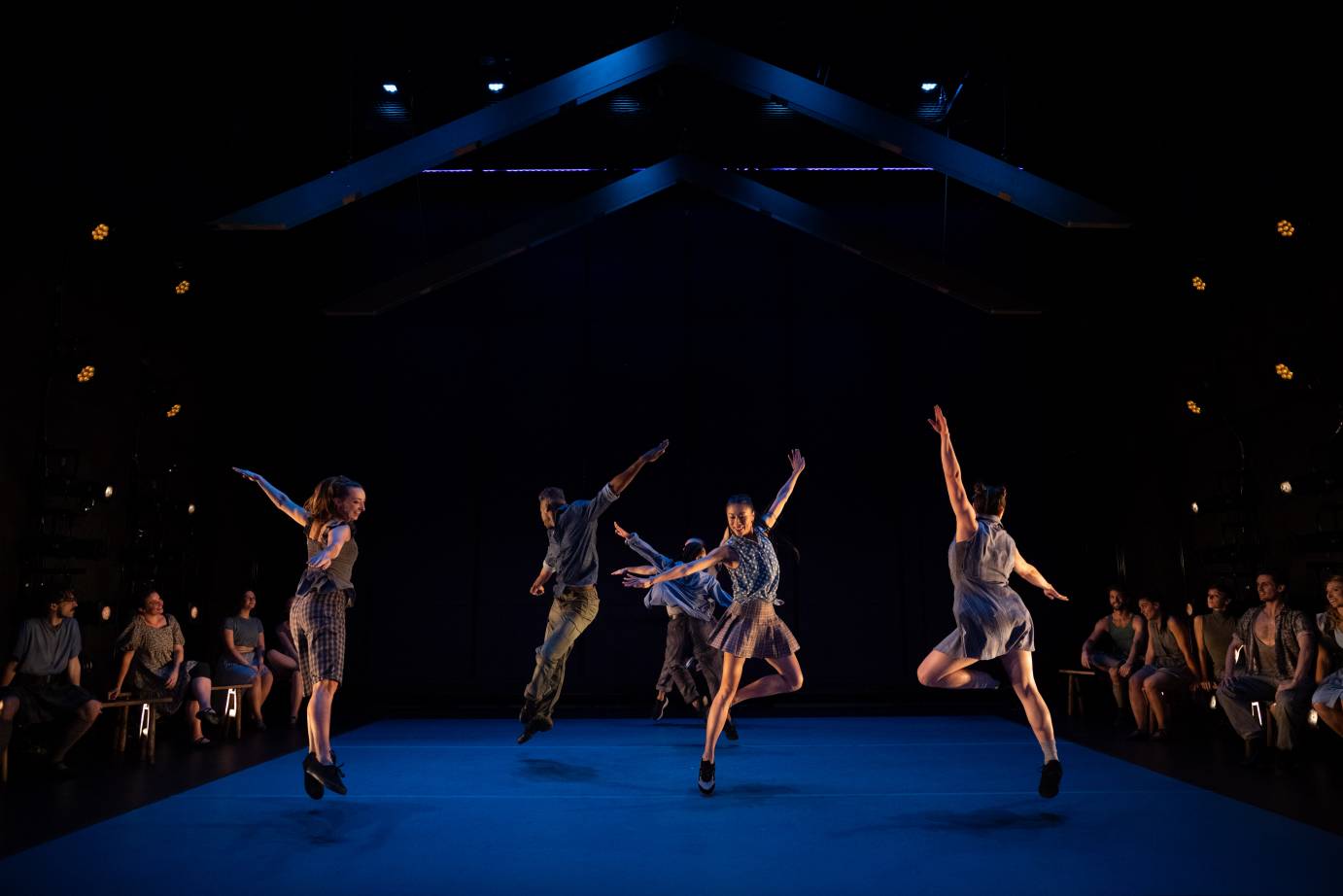 Céilí World Premiere. Seán Curran Company and Darrah Carr Dance at the Irish Arts Center; Photo by Nir Arieli
The word Céilí (an Irish term referring to a raucous dance party,  or  a set of social dances with predetermined spatial patterns) reflects in green light on the  black marley as the audience enters the performance space. Live music, foundational to Irish dance tradition, opens the piece featuring Dana Lyn on violin and Kyle Sanna on guitar.
The music begins with an ethereal texture, expressed by long airy notes on the violin. When Sanna's guitar enters with hypnotic arpeggios, the musical  narrative takes on a more persistent melody, settling into driving rhythms which summon Darrah Carr's  dancers to the stage. They prance in lines with rigid arms and flexed hands, a reference to competitive Irish step dancing. Their torsos remain still and their faces soft and joyous, as the rhythm of the fiddle is reflected in swiftly moving legs and tapping feet.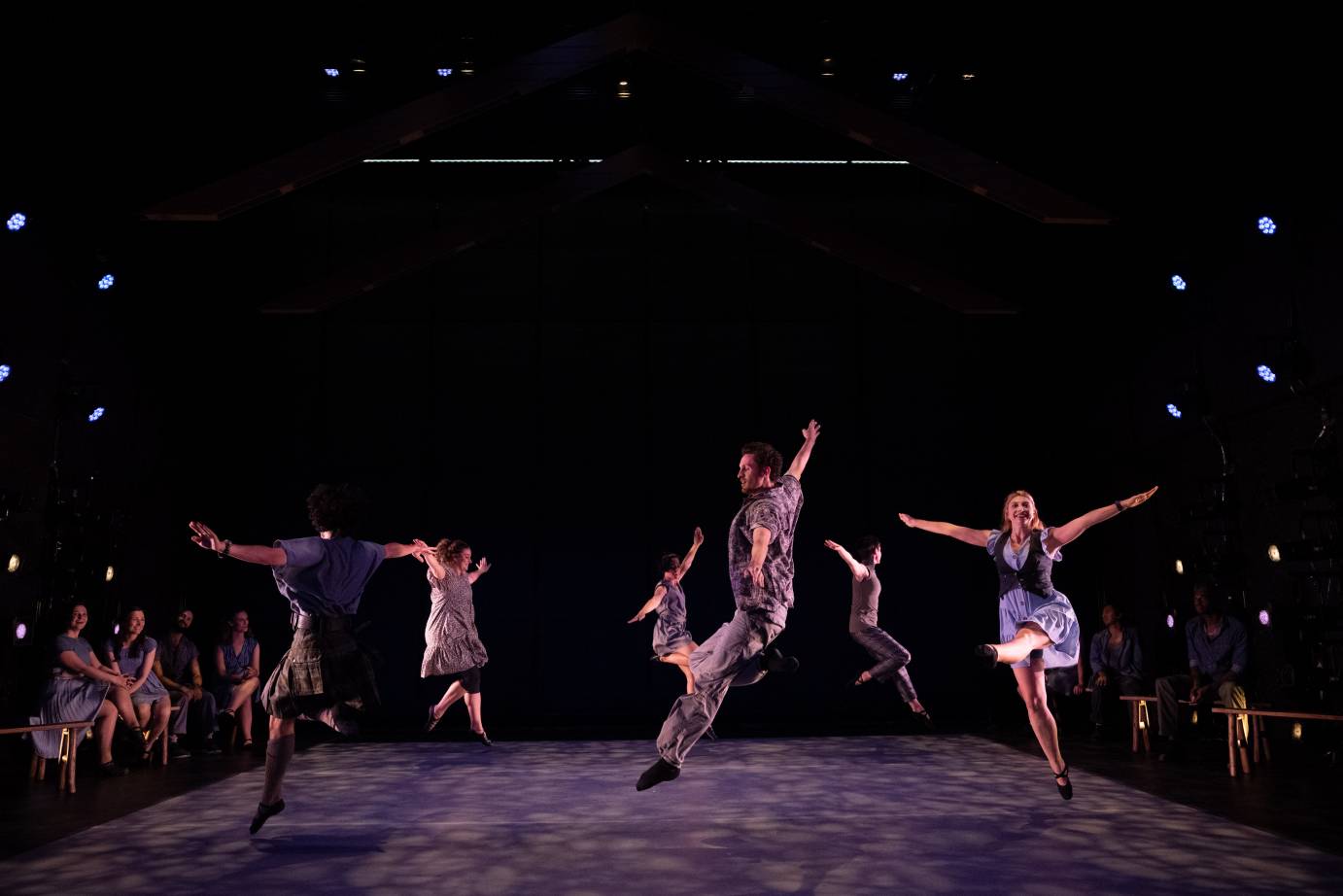 Céilí World Premiere. Seán Curran Company and Darrah Carr Dance at the Irish Arts Center; Photo by Nir Arieli
Slowly their rhythms soften into more lyrical movement.  Torsos remain poised as legs and arms gain autonomy. When Curran's dancers enter, they join to form a robust corps de ballet.  Weaving in and out of intricate formations, the dancers reference the patterns of a Celtic knot. Arms move freely either to propel dancers' torsos into space or to wrap around their bodies like decorative ribbons. A motif of form versus freedom is reflected in the contrasting textures of hard lines and rounded edges. The shapes of circles and squares intersect playfully throughout.
In a quintet by Curran, a series of tableaus rotates around corners of an invisible square, each time leaving one dancer facing four others. An occasional shout from dancers as they jump with their hands in the air offers  joyous punctuation.  A contemplative duet between Jack Blackmon and Benjamin Freedman  unfolds using  movement in unison and in canon to denote intimacy.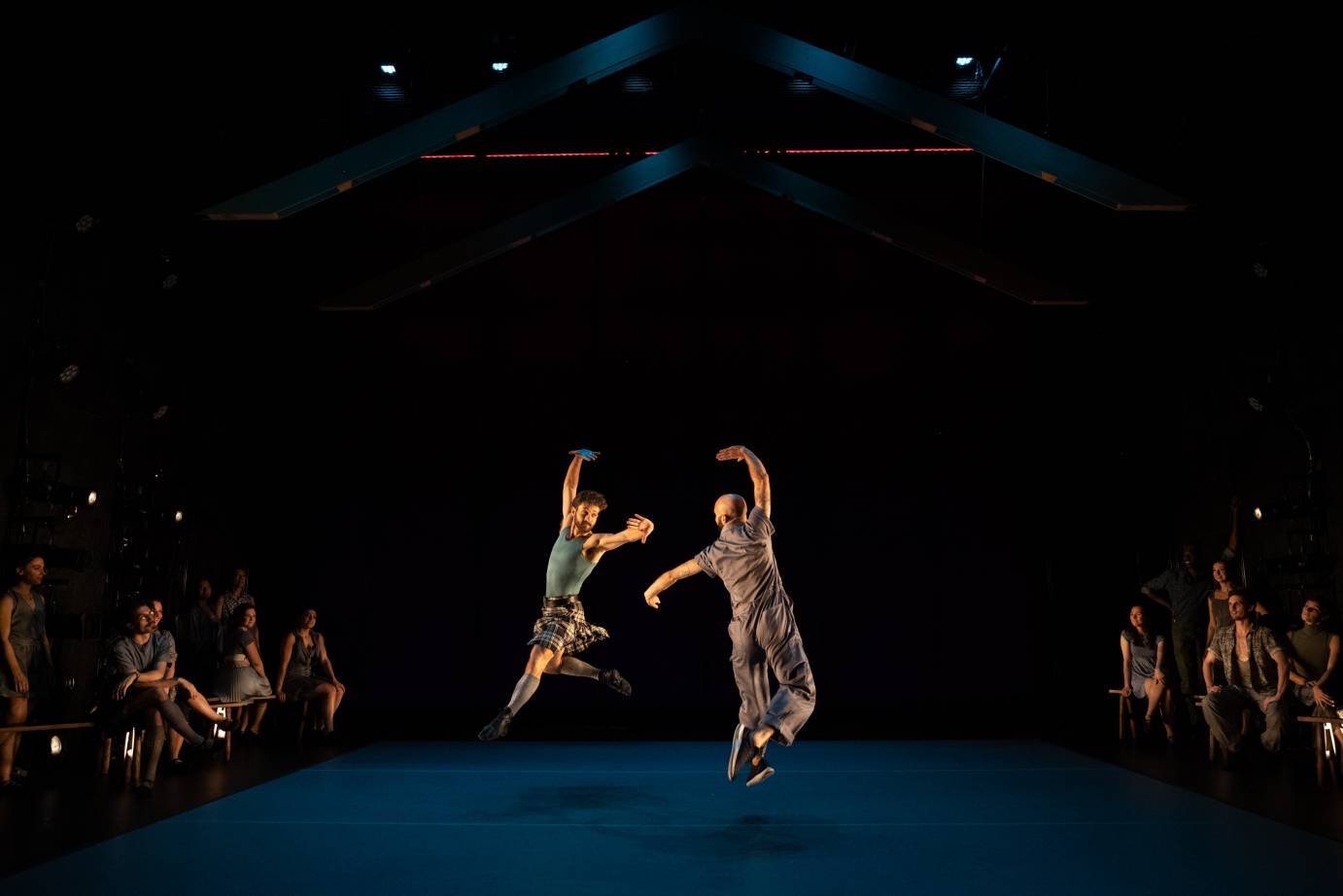 Céilí World Premiere. Seán Curran Company and Darrah Carr Dance at the Irish Arts Center; Photo by Nir Arieli
Jonathan Matthews-Guzman and Laura Neese share weight for the first time in a duet choreographed by Carr which offers a moment of surrender that provides delightful contrast.  Their  gentle, languid duet slowly morphs back into upright, traditional step dancing.  Carr playfully refers to her fusion style of choreography as ModERIN, a combination of the words modern (dance) and ERIN (an Irish American reference to Ireland).
At times there are references to "party tricks" that might take place at a Céilí. The tradition of "tricks"  emerged during times of poverty when musical instruments were not available. The resourceful Irish people made use of what was on hand for music.  In a flirtatious duet, Freedman and Lauren Kravitz, seated on boxes, create a stimulating dialogue of body sounds. They challenge one another with the speed and intensity of their gestures.  A "brush dance" uses brooms to create a whooshing sound on the marley. The dancers rapidly whip their legs over the brooms with increasing speed, eliciting cheers from the audience.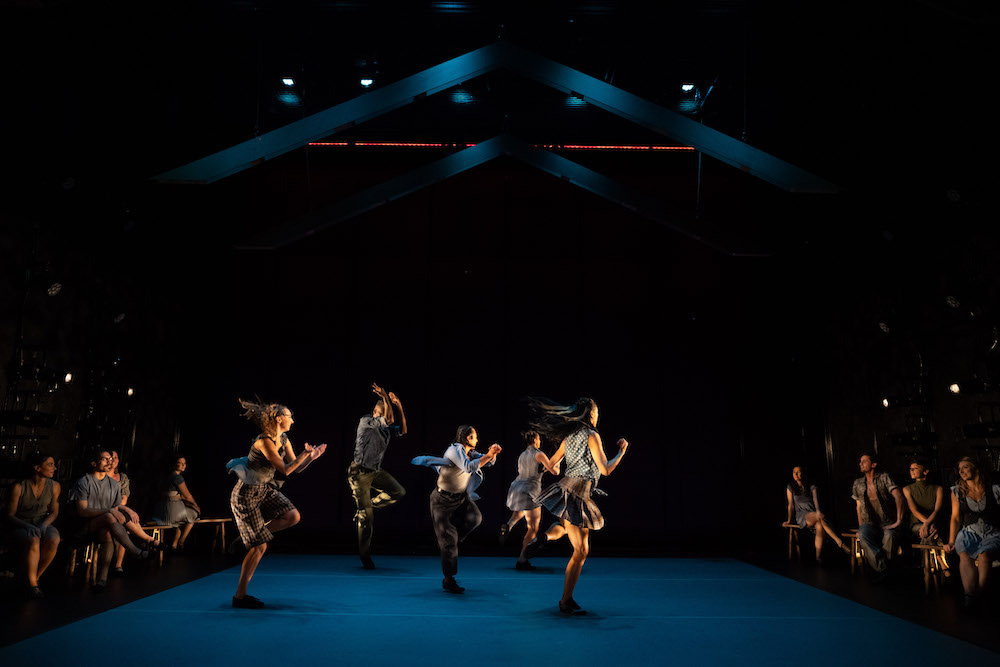 Céilí World Premiere. Seán Curran Company and Darrah Carr Dance at the Irish Arts Center; Photo by Nir Arieli
The commitment to the concept of Céilí --when the dancers bring benches onto the stage to observe their peers  smiling and clapping as if ready for a pint-- can feel artificial.  But, at its best, Céilí invites us in on the fun, rather than leaving us to observe someone else's shindig. 
A motif that threads throughout the evening is a dervish-like twirling with chests lifted and arms extended- a gesture of pure elation. While much of the last hundred years of Irish history is laced with poverty and pain, rooted within this is a buoyant, celebratory tradition, born from a desire to make the best of difficult situations. Céilí leverages this sentiment, inviting us into its ebullient world of swirling textures and dynamics. It's a piece well suited to the present moment and feels much needed. 
---
The Dance Enthusiast Shares IMPRESSIONS/our brand of review, and creates conversation.
For more IMPRESSIONS, click here.
Share your #AudienceReview of performances. Write one today!
---
The Dance Enthusiast - News, Reviews, Interviews and an Open Invitation for YOU to join the Dance Conversation.