IMPRESSIONS: Shamel Pitts' "Black Box: Little Black Book of Red" at Gibney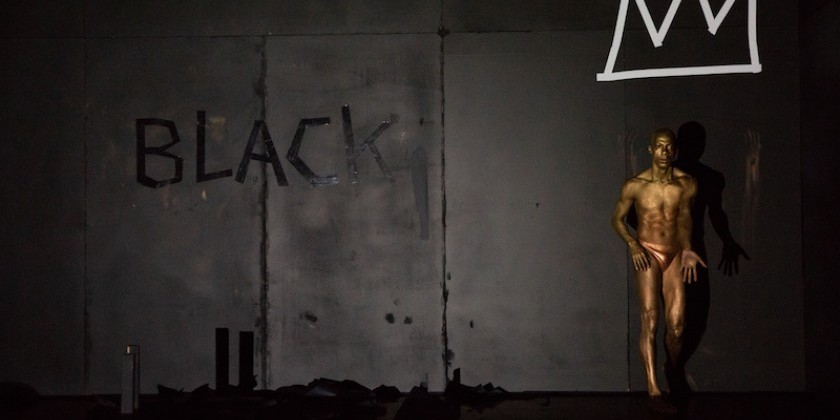 The Theater at Gibney 280 Broadway
June 1, 2018
Conception, Text, and Performance: Shamel Pitts
In collaboration with Art Director/Lighting Designer Tom Love
Musical Arrangement: Stella Goldstein at Auerbach Records
Costume Design and Original Producer: Galit Reich
---
Who is Shamel Pitts?
This question spurs his Black Box: Little Black Book of Red, which was curated by GDC, a program for choreographers who share values with the Gibney Dance Company. During its half-week run, audiences witness Pitts' search for identity in a world where the only constant is change. His answers — because it appears there's more than one — suggest he's someone who accepts change yet preserves and protects parts of himself from changing too much.
Who was Shamel Pitts?
Born in Bedford-Stuyvesant, he attended LaGuardia High School of Music & Art and Performing Arts before receiving a BFA in Dance from The Juilliard School. In addition to performing with Les Ballets Jazz de Montreal and Mikhail Baryshnikov's Hell's Kitchen Dance, he was a member of Batsheva Dance Company for seven years. There, he became fluent in Gaga, Ohad Naharin's movement language, which he teaches around the world.
Shamel Pitts' Black Box: Little Black Book of Red; Photo: Scott Shaw
This laudatory résumé, however, isn't the point. Instead Pitts, his cut-glass body painted gold like a scepter, treads into the performance space with little fanfare. For forty-five minutes, he executes human and inhuman actions: staccato jogging, jerks that pulse through his body like electric shocks, one virtuosic sequence where his limbs slice through and hang in the air.
Like a monastic chamber or maybe a prison cell, the three-walled, black-as-night stage is bare save a table, a mirror, and a cloud of dark fabric. An outline of a crown is taped to the back wall, under which Pitts slides his hands down, leaving smudges of gold paint.
Later, he scrapes paper from the rear partition to reveal the word BLACK written in crooked capital letters. He holds the mirror aloft, its light catching and then casting uncanny illuminations. During one intense moment, he stands behind the turned-over table and peers out. His shadow looms behind him as if it's about to consume him.
Shamel Pitts' Black Box: Little Black Book of Red; Photo: Scott Shaw
Throughout these gem-like vignettes, an ambient soundscape burbles and thrums. At the beginning and the end, papers rustle; they act as bookends to a recording of Pitts reciting spoken-word poetry that swings between existential ruminations and peppy self-help affirmations. "Allow your essence to speak truth to your existence," he intones.  "What's real is what I feel." (These are relayed to the best of my memory; the theater was too dark to take useable notes.)
Pitts' musings and bon mots stream forth so rapidly that my mind can't keep up, so I let his sonorous voice melt into the background. I'd rather focus on the dancing where each movement conveys more wisdom than a thousand words ever could.
Near the end, Pitts offers a thesis as to who he is: young, gifted, and Black. Most of us would probably agree. He, though, counters this. He says he wants to be a prince, but he's worried he'll always be a boy from the hood.
So who is Shamel Pitts?
All of the above and more.
---
The Dance Enthusiast Shares IMPRESSIONS/ our brand of review and Creates Conversation.
For more IMPRESSIONS, click here.
Share your #AudienceReview of performances for a chance to win a prize.