Related Features
Contribute
Your support helps us cover dance in New York City and beyond! Donate now.
IMPRESSIONS OF: Shen Wei Dance Arts' "Map & Variations"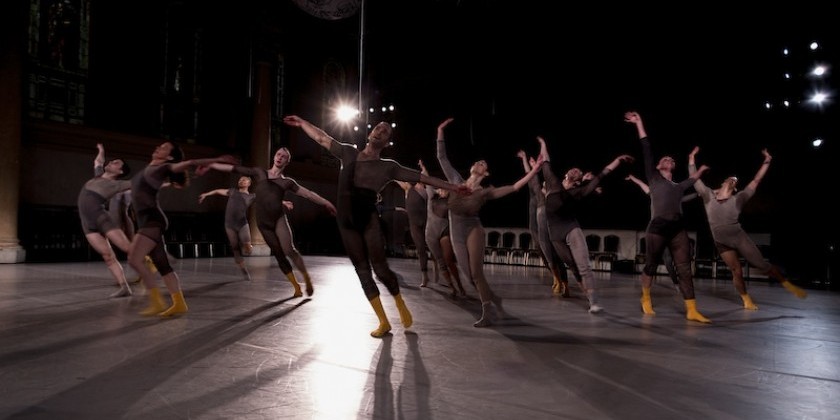 At Judson Memorial Church
Music: Steve Reich, Arvo Part and John Adams Pianist: Stephen Gosling
Costume Design: Shen Wei & Elena Comendador
Light Design: Scott Bolmon Choreography & Set Design: Shen Wei
April 29, 2014
Performances run through May 4
---
Shen Wei provides a secret to serenity: move from the core and let the momentum carry you. Thirty some years separate American choreographer Trisha Brown & Chinese choreographer/painter/dancer Wei, but they both share a fascination for kinetic energy. Only Wei works on a broader canvas. After Shen Wei Dance Arts' performance with a full-house audience sitting on four sides of Judson Memorial Church, invisible, yet palpable oblong circles seemed to linger. This artist enhances your spatial sensitivity; he makes you curious about the trajectory of wind.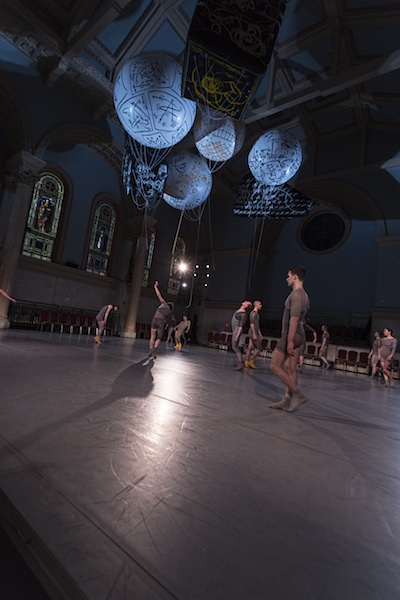 Shen Wei Dance Arts in Map
The season includes a group work, Map, as commissioned by Lincoln Center Festival in 2005, and a premiere solo, Variations, performed by Wei, commissioned by Celia and Silas Chou with support from the American Dance Festival. The set design originally made for Map was transposed to enormous balloons of various shapes that sat in the center of the floor as the audience entered. Released to the ceiling, the balloons, which included floor directions and the names of the company members, hovered over sixteen dancers lying on the floor. Divided into groups of four around the room, the groups traced the arc of their bodies on the floor, sweeping to one side and then the other.
When they rose, some force alternately pulls them, driving them, pushing them in ever-larger patterns, setting each dancer on a fluid journey of their own making. Set to Steve Reich's "The Desert Music," the dancers never pause for 40 minutes, twisting, bouncing, rebounding and suspending. With the choice given to the audience as to where to look, a collective sigh might have been heard as the cast finally moved together again in two groups, with Wei seemingly wielding two paint brushes in place of batons. If anyone could find a way to paint the air leaving subtle trails of electricity, Wei could. Or is that exactly what he aims to do? Hmmm.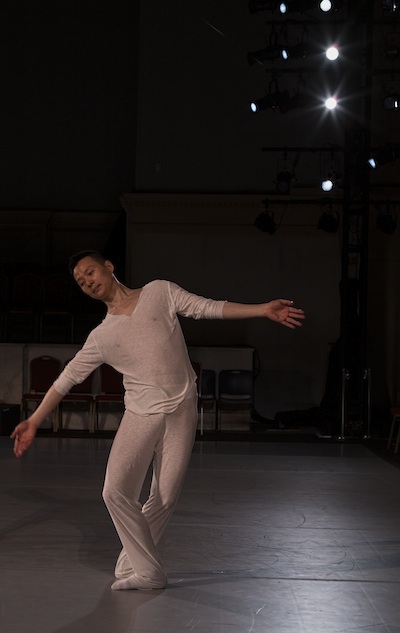 Shen Wei in Variations
The height of the evening, though, was seeing the artist dance his own solo. Free of artifice and full of grace, he dances simply in white socks, pants and shirt. He completes his opening phrase in a balletic fifth position. Perhaps because of the ceaseless activity of Map, the physical punctuation, the sense of closure, in Variations offers an excellent contrast. He skims the floor smoothly with an effortless, speedy walk led by the heel, with his torso or head tilting, tacking through the space. An unassuming meditation, this solo makes you understand why his handsome company has such a peaceful glow, with no evidence of any bones to obstruct their flow. Vicariously, one can imagine that dancing his style is good for the soul.
Follow Deirdre Towers on Twitter at @spiffmoves