IMPRESSIONS: Pam Tanowitz and Simone Dinnerstein's "New Work for Goldberg Variations" as part of Peak Performances at The Alexander Kasser Theater at Montclair State University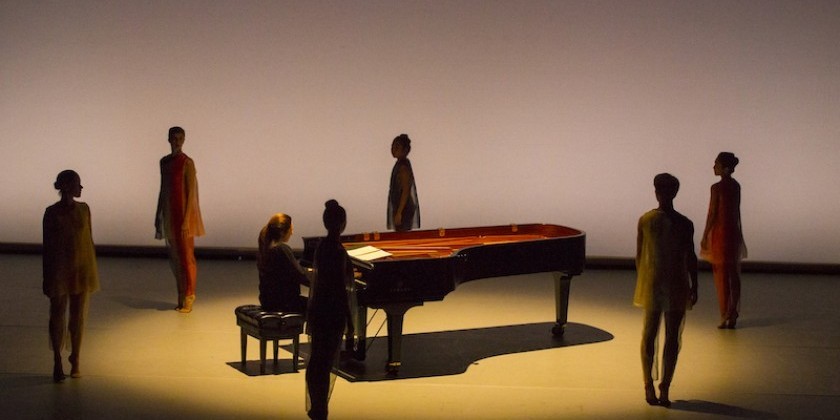 October 22, 2017
New York / New Jersey Premiere
Creators: Simone Dinnerstein and Pam Tanowitz
Choreographer: Pam Tanowitz
Performers: Simone Dinnerstein and Pam Tanowitz Dance
Dancers: Maggie Cloud, Jason Collins, Christine Flores, Lindsey Jones, Maile Okamura, Melissa Toogood, and Netta Yerushalmy
Inspiration: J.S. Bach's Goldberg Variations, BWV 988
Pictured above: Melissa Toogood, Lindsey Jones, Simone Dinnerstein, Maggie Cloud, Christine Flores, Jason Collins, and Maile Okamura in New Work for Goldberg Variations at Peak Performances; Photo: Marina Levitskaya
---
J.S. Bach's Goldberg Variations is a rite of passage for an accomplished keyboardist. Bach intended to showcase the instrument's endless possibilities in the marathon work, highlighting virtuosity, technical prowess, and compositional sophistication. Choreographer Pam Tanowitz endeavors to do the same with dance in her collaboration with pianist Simone Dinnerstein, the result of which is New Work for Goldberg Variations.
Tanowitz isn't the first choreographer to tackle Bach's ambitious score. Both Jerome Robbins (1971) and Steve Paxton (1986) created Goldberg renditions in their singular aesthetics. Robbins said at the beginning of his process, "It was like approaching a beautiful marble wall. I could get no toehold, no leverage to get inside that building."
Like her predecessors, Tanowitz admits she was reticent when Dinnerstein first broached the idea for fear of not grasping its intricacies or lacking enough dancers to illustrate its myriad parts. Soon, however, Tanowitz discovered that, in the midst of Goldberg Variations' depth, freedom and choice inherently exist.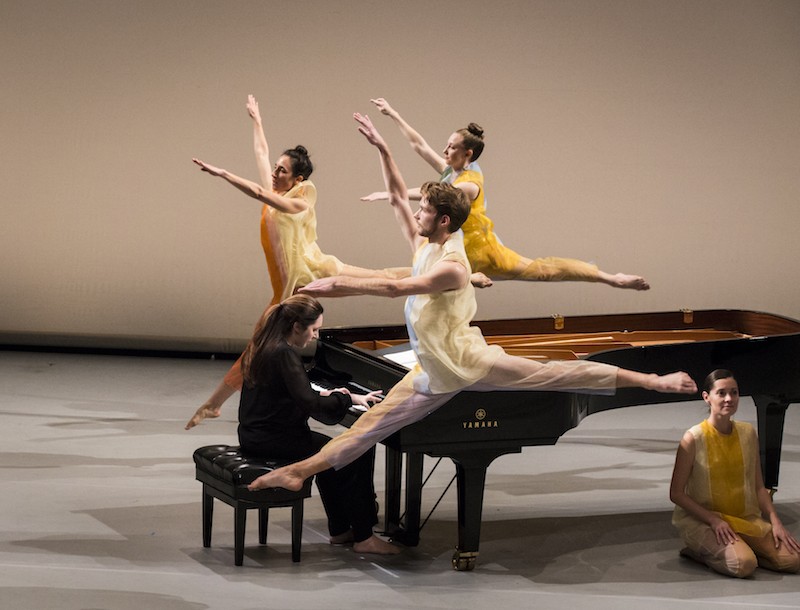 Pictured: Simone Dinnerstein, Netta Yerushalmy, Jason Collins, Maggie Cloud and Melissa Toogood in New Work for Goldberg Variations
at Peak Performances; Photo: Marina Levitskaya
One of the most celebrated contemporary choreographers today, Tanowitz is most notably influenced by Merce Cunningham as well as ballet (both Balanchine and Cecchetti elements are present) and architecture. Each has appeared steadily throughout her polished oeuvre. Though the trappings of her signature vocabulary are present in her latest dance — skittering footwork, angular extremities, and astute musicality — insouciance and an air of buoyancy permeate this work.
Six women and one man, wearing sorbet-colored tunics and pants, gather around Dinnerstein and the piano. They later break into pairs, solos, and colliding groupings that ping them all over the stage. Rigorous ballet steps like sustained penchés, bourrées across the stage, and soaring à la seconde turns intersperse with pattering footwork, empathetic stops, and carving port de bras. Intertwining tableaus occur upstage, pulling us in to observe the scene through a telescopic-like lens. A dancer playfully rolls under the piano. Legs and arms poke out from the curtain legs — blurring the literal lines of where the performance starts and ends.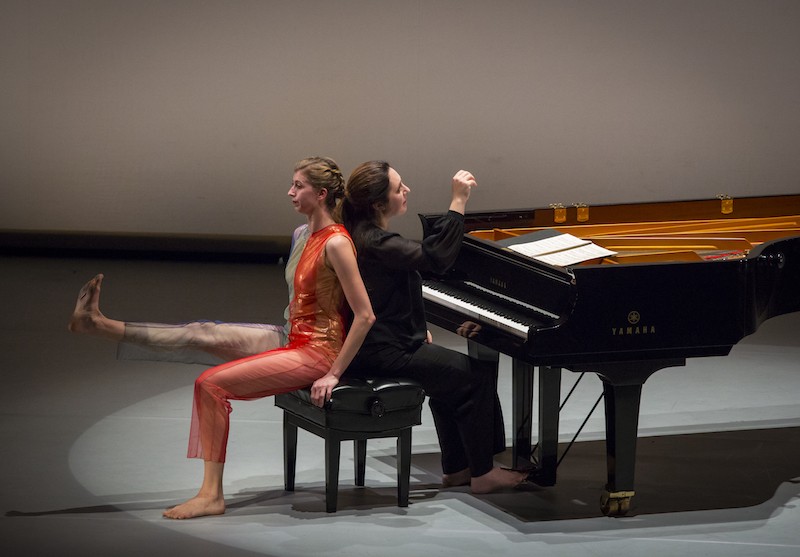 Pictured: Lindsey Jones and Simone Dinnerstein in New Work for Goldberg Variations at Peak Performances; Photo: Marina Levitskaya
One section that shines is a solo performed by Lindsay Jones. In a shimmery top (her tunic now removed), she embodies an amalgam of a zany Vaudeville player and an elegant jazz singer. Her long, wiry frame simultaneously conveys playfulness and finite precision, especially in her expressive feet. In a silent conversation between the pianist and dancer, the two intently listen to one another. Jones softly grapevines and cramp rolls in satisfying syncopation before unexpectedly pausing in a precarious relevé. Later, she rejoins Dinnerstein with aplomb. As the variation comes to an end, the two sit back-to-back on the piano bench — a moment of deep reverence and endearment.
Tanowitz is a masterful architect and her dancers are technical marvels, but New Work for Goldberg Variations is much more than a formalist feat. It's full of heart, humor, and joy without emotive flourishes or grand pronouncements. Tanowitz and Dinnerstein deliver an intimate and imaginative look into a work that has challenged and fed artists for centuries.
---
The Dance Enthusiast Shares IMPRESSIONS/ our brand of review and Creates Conversation.
For more IMPRESSIONS, click here. To read our 2013 review of Pam Tanowitz, click here. 
Share your #AudienceReview of this show or others for a chance to win a prize.