A Sneak Peek of Dance on Camera Festival 2017 at the Walter Reade Theatre -- Film Society of Lincoln Center
February 3 – 7, 2017
Co-produced by Dance Films Association and The Film Society of Lincoln Center
---
A flex dancer whose moves are inspired by animation films,
Storyboard P
is a perfect fit for the world's oldest dance film festival,
Dance on Camera Festival (DOCF)
 founded by Susan Braun in 1971. Brooklyn-born Storyboard P grew up improvising in the street; the proximity of cars, police, and bicycles seem to calm him. The feature documentary
STORYBOARD P, A STRANGER IN SWEDEN
, directed by Matthew D'Arcy, catches this original in New York City, Sweden and England. The circumstances of his life and personality are secondary to the chance to absorb the amazing fluidity of his emotional, silent narratives. He could be the James Joyce of street dancers with his stream of consciousness flowing for all to wade in. 
Lost in the Shuffle; Courtesy of Simone Maurice 
Shown with this documentary is
LOST IN THE SHUFFLE
.
Jason Samuels Smith
, alternately casts a sober look at the camera and flashes his irresistible smile at his tap students in
LOST IN THE SHUFFLE
by
Simone Maruice (2016). "We need to create a new identity, specifically in the black community, as to what it (tap) is and what it comes from, and who are the contributors."
Another liquid mover,
Trisha Brown
might have appreciated Storyboard P. Courtesy of the documentary
IN THE STEPS OF TRISHA BROWN / DANS LES PAS DE TRISHA BROWN
by Marie-Hélène Rebois, we learn so much about Brown's philosophy as we witness the staging of her
Glacial Decoy
 for the Paris Opera Ballet. Lisa Kraus and Carolyn Lucas, who both performed in this 1977 work with stunning photography decor by Robert Rauschenberg, coach the Opera Ballet. Krause is marvelously clear about how to attain the style by knowing the thinking behind each movement. She explains, "the essence of
Glacial Decoy
is that your weight could shift in any direction; a release downward is a beginning."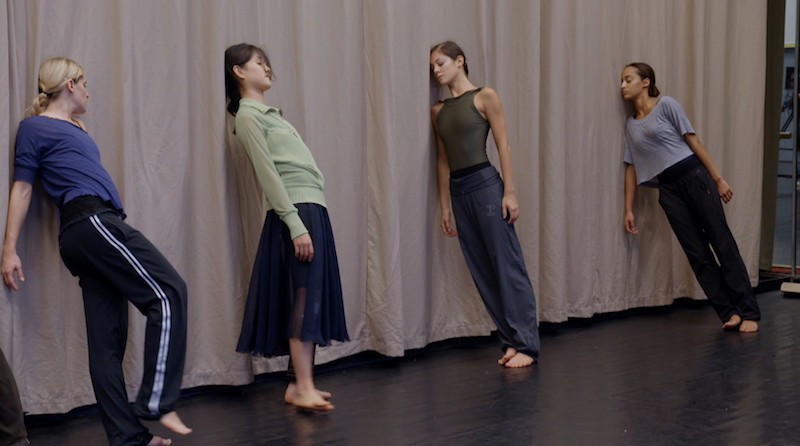 In the Steps of Trisha Brown / Dans Les Pas De Trisha Brown; Courtesy of Icarus
The many shifts in the career of
Rosario Suarez
, a Cuban ballerina with a dramatic genius, did not offer fresh starts without multiple stops. Suarez speaks freely with her long time friend, Orlando Rojas 
QUEEN OF THURSDAYS
, co-directed with Dennis Scholl, who sprinkles her comments among fascinating performance clips. Also from Cuba, is the heartwarming slice of salsa,
WHEEL OF LIFE,
 made by Marcia Jarmel in 2015. We also can't forget Cuban ballerina
Alicia Alonso
who lost her sight at the height of her camera looking at
LOOKING AT THE STARS / OLHANDO PRAS ESTRELAS
by
Alexandre Peralta (2016), which focuses on a Brazilian dance company for the blind who learn by touch, standing behind their teacher with their arms wrapping around to the front. 
As always, the shorts of DOCF are often the most inventive and fun. This year's treasures include prolific choreographer and filmmaker Thomas Freudlich's COLD STORAGE (Finland), Mitchell Rose's EXQUISITE CORPS (USA), and Kathy Rose's THE UNPAINTED WOMAN (USA). Freundlich takes us to an Arctic landscape for a lone ice fisherman's duet; Rose links forty-two American contemporary choreographers together in a conceptual, editing style that he has mastered; while Rose continues to deepen her witty, collage surrealism.
Cold Storage; Courtesy of Lumikinos Production Oy
Other highlights include Jonathan Demme's appearance to introduce the U.S. theatrical premiere of his Netflix commission JUSTIN TIMBERLAKE AND THE TENNESSEE KIDS, and many workshops and panels, including Emerging Curricula in Dance on Camera, Emerging Movement with Live Performance Capture (VR and AR), and Celebrating International Day of Persons with Disabilities through Emerging Dance Media: Creating a Global Phenomenon.
Justin Timberlake and the Tennessee Kids; Courtesy of Netflx
Also on view are several retrospectives, including MARTHA GRAHAM: A DANCER'S WORLD, made by Peter Glushanok (USA, 1957, 31m); two made-for-television films are shown as part of the New York Public Library of the Performing Arts's ongoing installation David Gordon: Archiveography – Under Construction, about the American writer, director, choreographer, and dancer.
Co-curated by Joanna Ney (Film Society of Lincoln Center) and Liz Wolff (Dance Films Association). DOCF has made its tickets available for sale. Single screening tickets are $14; $11 for students and seniors (62+); and $9 for FSLC and DFA members. See more and save with the All Access Pass or 3+ film discount package. Visit 
filmlinc.org
 for more information.
---
The Dance Enthusiast Shares IMPRESSIONS/ our brand of review and Creates Conversation.
Check out our other IMPRESSIONS here, including our features on the DOCF 2015 and 2016.
Share your #AudienceReview of this show or others for a chance to win a $75 giftcard to Trader Joe's.