Related Features
Contribute
Your support helps us cover dance in New York City and beyond! Donate now.
IMPRESSIONS: Soaking Wet Featuring Angharad Davies, Victor Lozano, Jody Sperling, David Parker, and Elizabeth Keen at the West End Theatre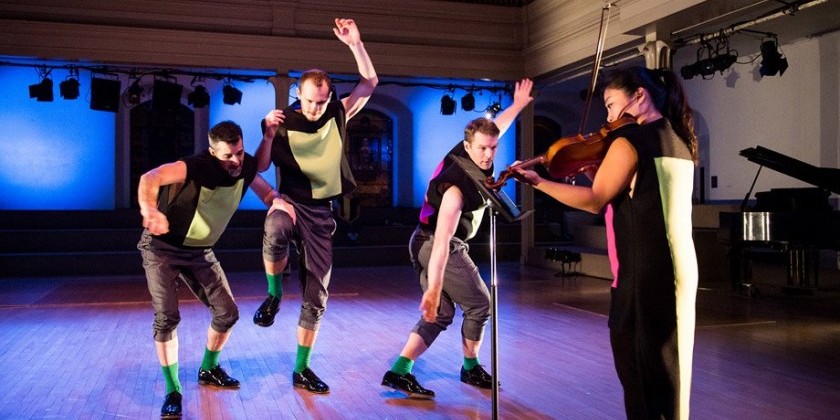 Date: February 2, 2018; 8:30pm Program B
Choreographers: Angharad Davies, Victor Lozano, Jody Sperling, David Parker,  Elizabeth Keen
Performers: Angharad Davies, Jody Sperling, David Parker,  Elizabeth Keen, Louise Benkelmen, Nic Petry, Tommy Seibold, Amber Sloan, Spencer James Weidie, Zoe McNeil,
Composers: Frank Bretschneider, Scott Johnson, Verdi, Guy Lombardo, Omar Souleyman Wenu Wenu
Lighting Design: Jay Ryan
---
The appearance of 
David Parker
 as a singer in an excerpt from 
The Zealous Laborers
, his evening-length collaboration with
Lorraine Chapman
and the
Canterbury Shaker Village in New Hampshire
, was a rare treat in 
The Soaking Wet series
. Curated by Parker and Jeff Kazin with associate producer Dylan Baker
and presented at 
West End Theatre
 since 2003, this three-part annual series has always featured a wide range of choreographers at various levels of development. Parker and Chapman's excerpt has an irresistible order and simplicity, a subtle bow to the wisdom of the Shakers, and a sensibility much needed in our country now.
Parker begins singing nonsense syllables as per traditional Shaker songs designed to "free the mind from prosaic concerns and open it to higher things." Walking downstage, barefoot in black pants and shirt, he cuts between his similarly clad, gaily stomping dancers with an air of serene purpose.
Jody Sperling; Photo: Peter Shin
Victor Lozano
 returned to Soaking Wet with a mesmerizing duet for the exquisitely paired Zoe McNeil and Spencer Weidie, set to 
Neon Night
 by Frank Bretschneider. His formalist approach directs our attention to the beauty of corporeal architecture. 
Jody Sperling
's 
Sound Study,
 a work-in-progress made in collaboration with cellist/architect Scott Johnson and algorithm/projection designer Sergey Pigach, is similarly formal in its design. Beginning with Sperling lying on the floor and ending with Johnson on the floor, the 
Sound Study
 shows Sperling exploring how she can beat the sticks that float her fabric (Sperling's signature costume inspired by Loie Fuller) to hit the floor and the spike of the bass (that stiletto-like end of the instrument, that keeps it off the floor.) While still tentative, this duet has potential. The third element, abstract projections thrown on the dome of the theatre, might become a more integral part of this piece in another space more conducive to multimedia. The curved back wall of West End Theatre gives an illusory sense of intimacy, but this plus for live performance becomes a minus for projection. 
Angharad Davies
' solo took us away from the minimalistic nature of the first three pieces into the complexities of memory. Wearing a billowing robe, She gesticulated and spoke her way through
 Gone and Gone and Gone
, inspired by her grandfather's immigration from Syria to the United States, and set to a music collage that includes Verdi and Syrian musical artist Omar Souleyman.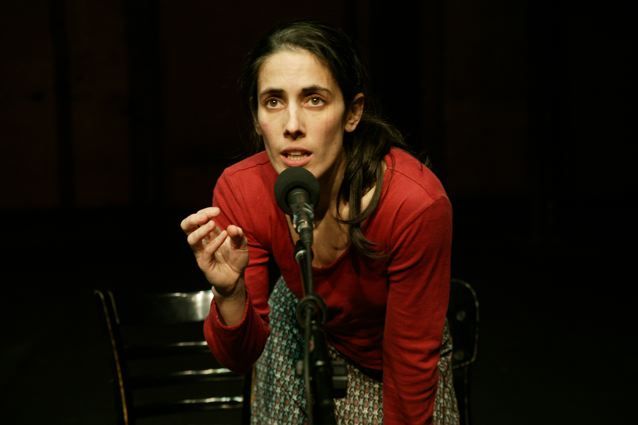 Angharad Davies; Photo coutesy of the artist
Elizabeth Keen
, whose dance career has flourished since the '60s, closed the program with a playful, witty choreography, text and performance called 
The Song and the Short of It. 
Wearing a baseball cap, her signature look for several decades, Keen showed her gamin side. Who knew this veteran, who began as a dancer in the companies of
Helen Tamiris
/
Daniel Nagrin
and
Paul Taylor
, was a stand-up comic? 
---
The Dance Enthusiast Shares IMPRESSIONS/ our brand of review and Creates Conversation.
For more IMPRESSIONS, click here, and for a review of a 2015 Soaking Wet Series, click here.
Share your #AudienceReview of performances for a chance to win a prize.