IMPRESSIONS: Stephen Petronio Company in "Wild Wild World," "Hardness 10," and Merce Cunningham's "Signals" at The Joyce Theater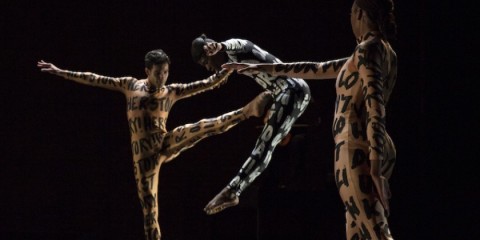 Genealogy: Alive Through Dance as the Company Continues BLOODLINES
March 20 – 25, 2018
Choreography: Merce Cunningham and Stephen Petronio
Music: Music: Nick Cave, Composer Inside Electronics, and Nico Muhly
Dancers: Bria Bacon, Ernesto Breton, Miriam Gabriel, Elijah Laurant, Jaqlin Medlock, Tess Montoya, Ryan Pliss, Nicholas Sciscione, Joshua Tuason, Mac Twining, Megan Wright
Pictured above: Ernesto Breton, Elijah Laurant, and Bria Bacon in Hardness 10; Photo: Yi-Chun Wu 
---
The opening night of Stephen Petronio Company's 2018 season at The Joyce Theater starts with a work that is not his. For the past four years, Petronio has paid tribute to the choreographers who've influenced his aesthetic by including pieces on his programs by Merce Cunningham, Yvonne Rainer, Steve Paxton, Anna Halprin, and Trisha Brown (Petronio danced for her early in his career). Aptly named BLOODLINES, the project allows newcomers to gain understanding by experiencing a performed genealogy of the art form. It's an ingenious idea, and Petronio, who himself has been an inspiration to many emerging choreographers, makes the most of it. 
Ernesto Breton, Jaqlin Medlock, and Elijah Laurant in Merce Cunningham's Signals; Photos: Yi-Chun Wu
Cunningham's cerebral Signals (1970) shows that dance is work — hard work. Off-center balances, held for longer than anyone's comfort zone allows, challenge dancers and audience. Effort is authentic, and herein lays the beauty of the work and its sextet of brave dancers. While the electronic sounds (played live by a rotating set of musicians during the week at The Joyce) act as a sonic obstacle for many an audience member, the dancers delight in the slight humor of Cunningham's choreography. Hand signals toward the end that include a nonsensical number sequence spell comic relief and almost belie the thorny path that led to such lightness.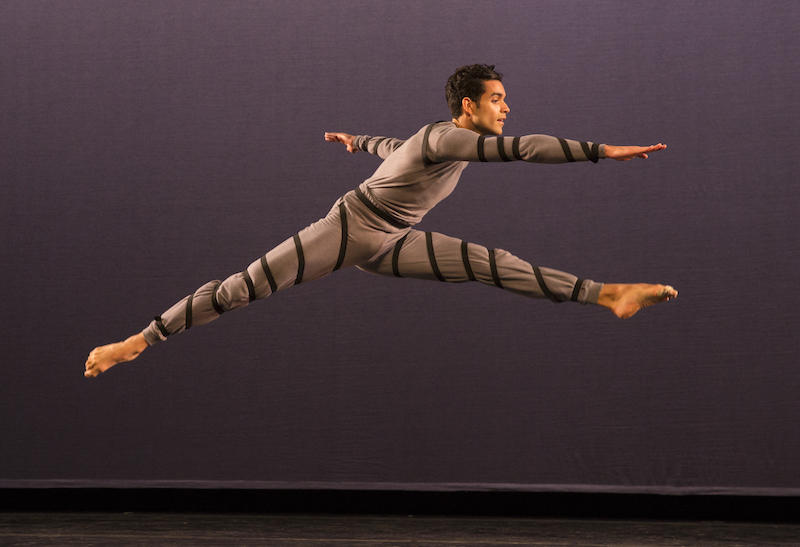 Ernesto Breton in Merce Cunningham's Signals; Photos: Yi-Chun Wu
Wild Wild World, an excerpt from Petronio's Underland (2003), introduces sweeping movements, flinging arabesques, and a hunger for space. Movement that seemed stiff and labored in the opening work transforms into abandonment. Nick Cave's music presents a welcome change to tonality. The glorious dancers, augmented by the talents of guest artist Joshua Tuason (a former member) as well as apprentices Miriam Gabriel, Ryan Pliss, and the promising Mac Twining, dance with such conviction that the kinetic elation percolating on stage evokes my impulse to move. Costumes by Tara Subkoff are cut to show the bodies in light, the design of which is by Ken Tabachnick, a stalwart and inspired collaborator since 1985, one year after Petronio founded his company.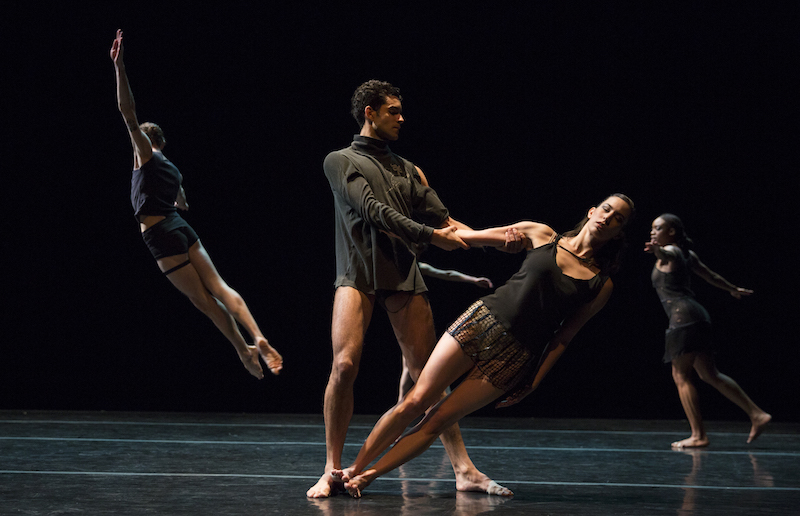 Ryan Pliss, Ernesto Breton, Tess Montoya, and Bria Bacon in Wild Wild World; Photo: Yi-Chun Wu
It all comes together in the end with a nod to the beginning — beautifully so. Set to Nico Muhly's music, played by Liam Byrne on electric viola da gamba, the premiere of Hardness 10 astounds with magnificently articulated spines and limbs. Patricia Field's unitards, hand-painted by Iris Bonner/These Pink Lips, display phrases associated with the current fight for gender equality (if one is close enough to decipher the words that is). While men and women move together in more tightly designed patterns than in WWW, the women truly play with the Cunningham roots. They constantly change configurations in a sort of double duet. Now the couples are in unison; next they execute a movement phrase on different levels; then they are in canon, just to face each other in unison again, to switch partners, to repeat, to alter, to surprise. Masterful. Exciting. I twitch in my seat. I feel lucky to be part of this kinetic transference between stage and spectator.
Bria Bacon in Hardness 10; Photo: Yi-Chun Wu 
When have I been as alert and engaged observing a dance performance? I applaud Petronio for his inventiveness that grows out of his commitment and a knowledge of what and who came before him. And I bow to his dancers: Bria Bacon, Ernesto Breton, Elijah Laurant, Jaqlin Medlock, Tess Montoya, Nicholas Sciscione, and Megan Wright. 
---
The Dance Enthusiast Shares IMPRESSIONS/ our brand of review and Creates Conversation.
For more IMPRESSIONS, click here, to read IMPRESSIONS of Petronio's earlier Bloodlines program, click here.
Share your #AudienceReview of performances for a chance to win a prize.