Related Features
Contribute
Your support helps us cover dance in New York City and beyond! Donate now.
The Dance Enthusiast Hits the Streets: Stuart Meyers' "The Shabbos Queen" at Repair The World NYC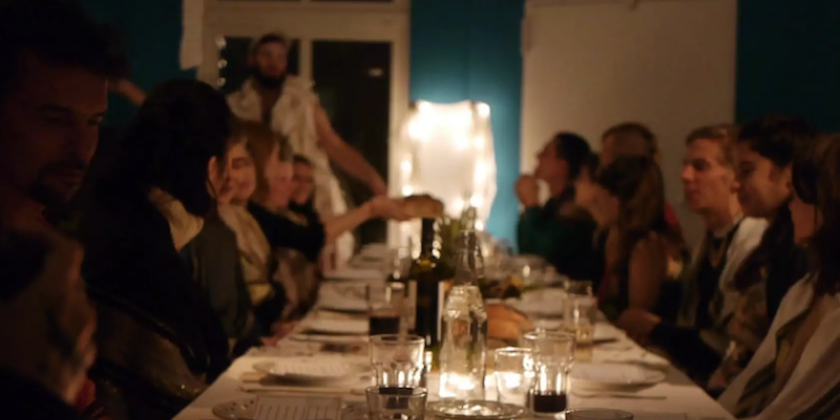 February 23, 2018; 7PM
Creator, host, and performer: Stuart Meyers
Menu: Sam Szabo
Presented in Partnership with Brooklyn Jews and Repair The World NYC
---
Nestled in Crowns Heights between a hip wine store and a West Indian restaurant sits Repair the World NYC. Inside, on a Friday night, the lights are dimmed, but the lobby is abuzz with people sipping wine and munching on crisp hors d'oeuvres of apples, mint, and strawberries. No, this isn't some new DIY event space hosting an art opening or album drop. Rather, it's a Jewish service organization co-presenting the New York premiere of The Shabbos Queen. Part ritual, part performance, and part dinner, the event is the brainchild — or shall I say lovechild — of artist Stuart Meyers.
Meyers, a Berlin- and New York-based performer who is a certified hypnotist, leads us through an eccentric Shabbat that feels like a mash-up of a Barbra Streisand revue, Friendsgiving, and group therapy session.
This was my first Shabbat. My closest experience was visiting my Italian grandmother for Sunday sauce growing up. Tonight, however, had less yelling and no bad jokes courtesy of my Uncle Steve. But the two do share one thing: wine. Lots and lots of wine.
Stuart Meyers in The Shabbos Queen; Photo: Emily Giovine
After a bit of mingling, the event officially commences. Wearing stacked heels, a dress that looks like an alpaca's coat, and baby pink lipstick, Meyers blissfully dances to Madonna's "Deeper and Deeper." Gold glitter flecking his palms falls to the ground. Throwing his head back, the performer revels in a moment of ecstasy. This single, simple gesture rivals any pop diva's slow-motion close-up in a sultry music video.
Meyers soon assumes the role of a Jewish mother. In a convincing accent, he says, "this is my dream Shabbat," and gives the uninitiated his understanding of the tradition: It's a day of rest where time stands still. Though this Shabbat is far from traditional, we do perform some of its rituals. We light tea candles and arrange them unintentionally in a lopsided heart while Meyers recites a blessing. We sip from a communal cup of wine and then take turns washing our hands in a bowl as another attendee pours water over them.
Standing in a circle, friends and colleagues hold hands with strangers. There's Marissa, an NYU student whose mother is best friends with Meyers'. There's Shi, a young Israeli actor who recently moved to New York. And there's me, a writer and performer, who met Meyers in a dance class. It's refreshing to attend a performance where artists like myself are few amongst the crowd.
Our final resting place is a long table adorned with candles, a five-course vegan meal, and more wine, naturally. Between courses, Meyers sings along to Barbra Streisand tracks. A middle-aged woman joins in, belting, "Happy days are here again/The skies above are clear again/So let's sing a song of cheer again/Happy days are here again."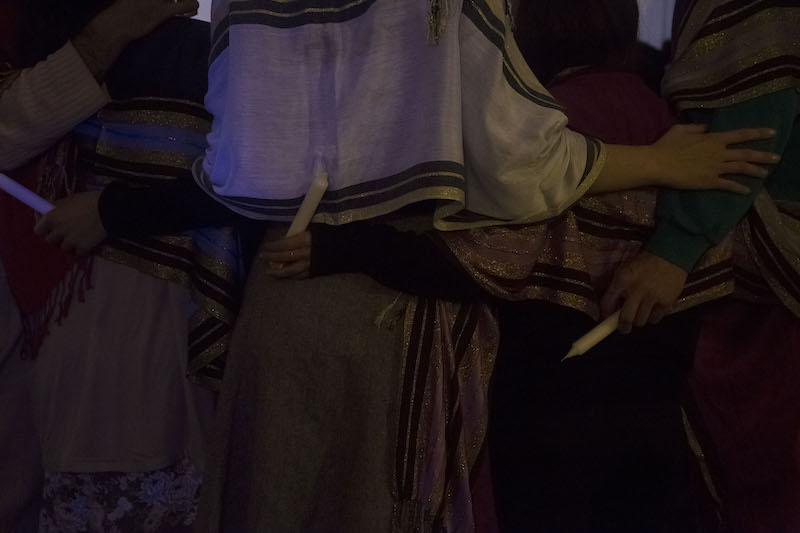 The Shabbos Queen; Photo courtesy of the artist
He asks the table how we take rest. "Dancing naked," one exclaims. "Cuddle with my pit bull," says another. As more and more people share, good cheer fills the air, and I forget my looming deadlines, the Parkland shooting, and my ever-growing pile of laundry. It feels like a gooey love bubble that I don't want to leave. But soon we must.
In our divisive culture, more gatherings like this should be welcomed. Moreover, they're needed. Underneath its glitter and camp, Shabbos Queen shows us that breaking bread fosters connection and purpose. And, spending time with strangers isn't so bad either. The experience may even lead to us respond more compassionately to the other strange birds that fly in our path.
---
The Dance Enthusiast Hits The Streets To Discover What is Going On Behind The Scenes in The Dance World
Read More of Our Dance Enthusiast Hits The Streets Articles in our Day In The Life of Dance Section, Here.