Related Features
Contribute
Your support helps us cover dance in New York City and beyond! Donate now.
IMPRESSIONS: StylePointe at Dixon Place with Dance Visions NY, Sheep Meadow Dance Theatre, ELSCO Dance, DoubleTake Dance and Armada Dance
Dixon Place
September 13, 2018
Fashion Designers: Aimee Nielsen, Anna Grynko, Subin Hahn, Alienz_Incorporated, Leetal Platt
Dance Companies: Dance Visions NY, Sheep Meadow Dance Theatre, ELSCO Dance, DoubleTake Dance, Armada Dance
Host: Mike Lockyer
Director and Co-producer: Sangeeta Yesley
---
The runway is the blank canvas of the fashion world, displaying designs that range from the unimagined to the reimagined. Like a plank, it's longer than it is wider, sometimes stretching to two-thirds of a room. Reed-thin models stroll down it, their extreme beauty augmented or diminished to highlight the reason why everyone is gathered — the clothes.
Now in its fourth year, StylePointe at Dixon Place takes the runway but with a bona fide twist. Five fashion designers team up with five choreographers to create movement tableaux that show clothes can be more than just worn; they can be embodied.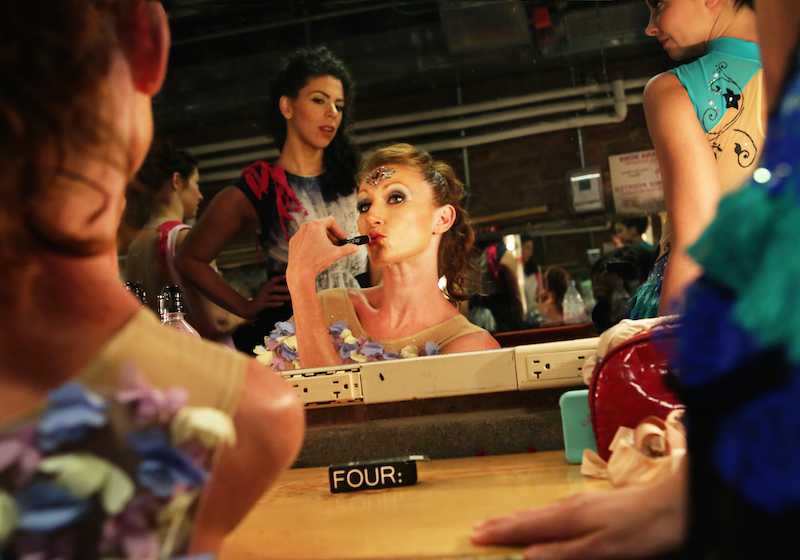 Photo: Peter Yesley
Directed and co-produced by Sangeeta Yesley, the event explores the unique relationship between fashion and dance. The vibe is more fashion than dance, with boisterous audience members hoisting their phones in the air and snapping pictures. Between introducing the collections, host Mike Lockyer reminds everyone to please post to social media (#stylepointenyc). Even MySpace, he says. Regardless of where you post, the action is on the runway and the two spaces that bookend it.
Impression of Tomorrow with choreography by Jeffrey Gugliotti (ELSCO Dance) both flaunts Subin Hahn's multi-chromatic collection and succeeds as a compelling dance work. Clad in what could be dubbed gender-neutral pageant attire, an octet wriggles and pulses and poses sensuously. At various points, each luxuriates down the runway as the others vaporize on and off the floor. The seamless transitions and lack of artifice enhance the thesis — this is what utopia looks like.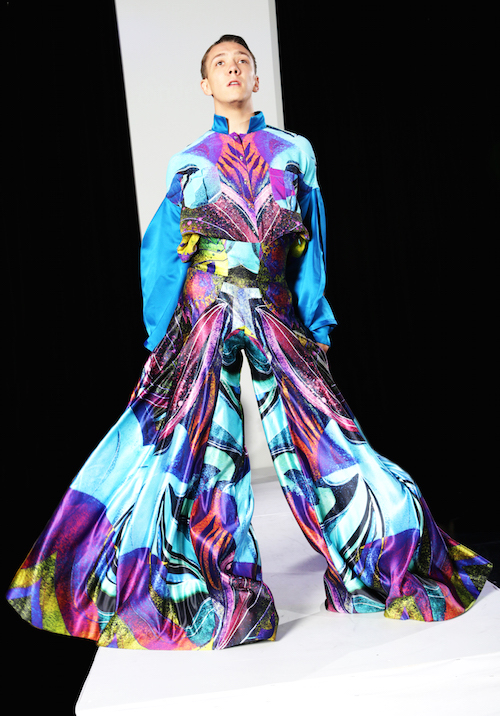 ELSCO Dance & Subin Hahn Designs; Photo: Peter Yesley
In other works, the fashion outshines the dance. The attractive color-blocked midriff tops and flowing skirts of Aimee Nielsen Couture 2018 Deco Collection evoke the Art Deco landscape of New York and Miami. Yet the jazz-lite choreography by Beth Jucovy (Dance Visions NY) of shoulder shimmies and chaîné turns with cactus arms feel too literal in shape and too dissonant in time period. Against a sonic backdrop that veers from Avicii to Astor Piazzolla, the piece never synthesizes its incongruent elements.   
Dance Visions NY & Aimee Nielsen Couture Collection; Photo: Peter Yesley
Any rhythmic gymnast would swoon to wear Anna Grynko's leotards, which sparkle and shine like bejeweled flowers. However, Billy Blanken's movement for Blossom doesn't register as intricately floral in its geometry or much inspired by the silken virtuosity of rhythmic gymnastics. The five women of Sheep Meadow Dance Theatre daintily lunge as they swoop their arms. Sometimes, they swirl through low-legged arabesque turns. It's pretty enough, but the dancers and the costumes could handle more complexity.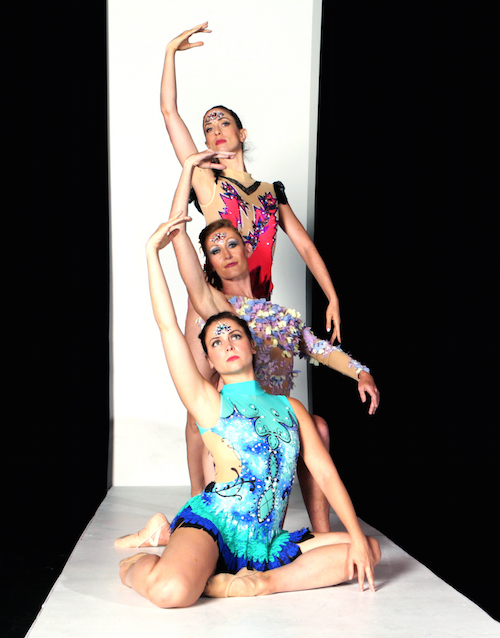 Sheep Meadow Dance Theatre & Anna Grynko; Photo: Peter Yesley
Fashion can have a tendency toward excess. Why take off one accessory when you can put on a dozen? In Lolita's Lollipop, with designs by Alienz_Incorporated, six women sport outfits that look as if Barbie went on a shopping spree at a stripper emporium. Wigs, glitter, and gloves galore in the color of Easter eggs articulate the aesthetic of "modern-day geisha." Choreographers Ashley Carter and Vanessa Martínez (DoubleTake Dance) take the wackiness in stride, forming a showstopper opener and closer with parasols. A middle section might include music-video posturing, but the costumes command so much attention that I don't remember.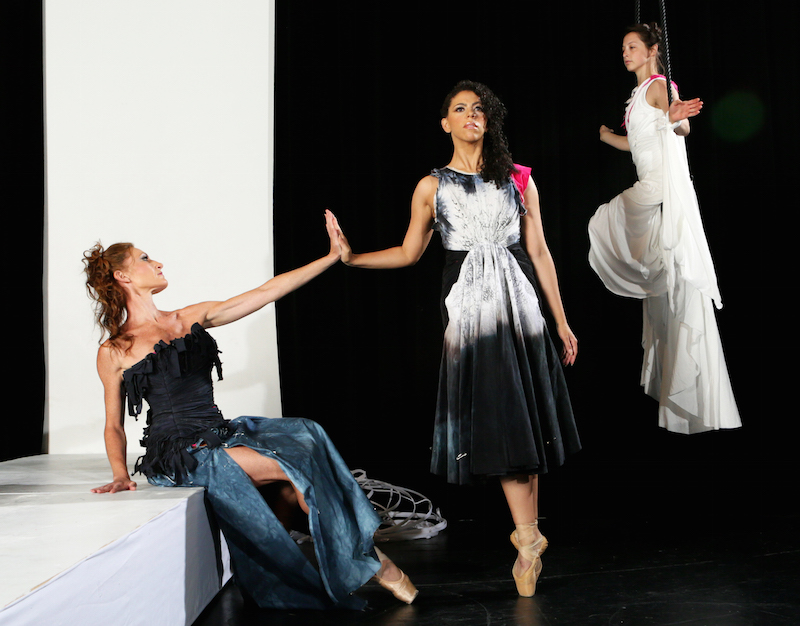 Armada Dance & Leetal Platt Designs; Photo: Peter Yesley
Dance-maker Jen Roit appears the most at home riding — or, to be more precise, bourréeing — the line between dance and fashion. The Trellis: Bougainvillea Reclaimed unfolds like a glossy magazine spread come to life. Wearing an exquisite pink gown, one performer on stage left revolves on a trapeze (aerial choreography by Amy Schulster). She drapes a leg over the rod as her body oozes over and down, just like the titular vine in Leetal Platt's comely collection. Meanwhile, a quartet executes rond de jambes that rotate in a circle. Toward the end, everyone walks in parallel down the runway. Here, the pointe shoe is the new stiletto. 
---
The Dance Enthusiast Shares IMPRESSIONS/ our brand of review and Creates Conversation.
For more IMPRESSIONS, click here.
Share your #AudienceReview of performances for a chance to win a prize.