IMPRESSIONS: TWYLA THARP "In The Upper Room" & "Nine Sinatra Songs" at New York City Center
Featuring Dancers:
Jeanette Delgado, Benjamin Freemantle, Jada German, Kaitlyn Gilliland, James Gilmer Jacquelin Harris, Daisy Jacobson, Ayaka Kamei, Lloyd Knight, Julian MacKay, Marzia Memoli, Stephanie Petersen, George Sanders, Reed Tankersley, Cassandra Trenary, Daniel Ulbricht, Richard Villaverde
October 19-23, 2022
Twyla Tharp
knows how to put on a show. She also has a knack for selecting dancers, and last but not least, she happens to be the most driven and hardworking living American choreographer.
Tharp (at 81) allowed herself to look back on an astonishingly productive career and pulled out two frequently seen chestnuts for her recent City Center season: Nine Sinatra Suites (1982) and In the Upper Room (1986).  While this might not seem like a revolutionary act, the casting of stars from the modern dance, as well as the contemporary, and classical ballet worlds signaled that Tharp's work originally helped bridge the gap between these formerly separated (if not feuding) aesthetics.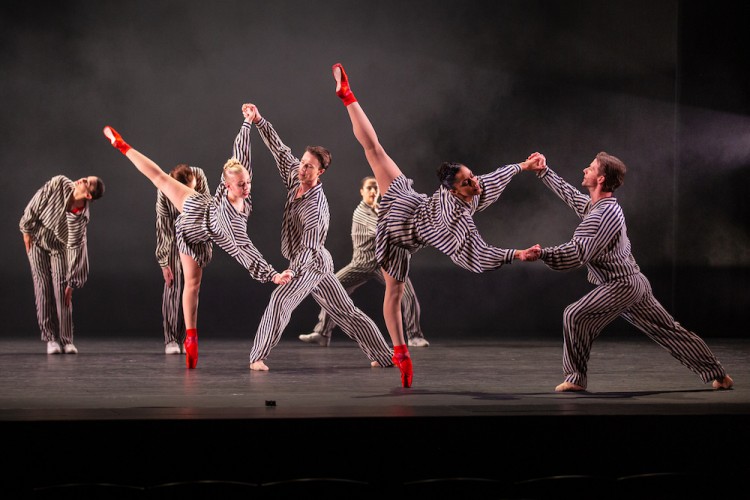 Twyla Tharp's In The Upper Room; Photo: Benjamin Miller
The handpicked performers seemed to have learned from one another. Modern stars excelled in balletic footwork, and ballet dancers showed an awareness of space and imbued their shapes with a sculptural quality. One would have been hard pressed to pinpoint which part of the dance universe any of the dancers originated from if one didn't know beforehand.
Twyla Tharp's In The Upper Room; Photo: Benjamin Miller
Costume designer
Norma Kamali
combines black and white stripes with shifting red accents for
In the Upper Room.
  Red leotards and flowing black and white pants are worn by both women and men along with red socks and white canvas sneakers. In other sections, some women sport black and white blouses over tights paired with red point shoes, while the men dance bare-chested. The juxtaposition of the elements earth and air transforms into a sweat-dripping,  spiritual quest to the repetitive, looping ecstatic sounds of
Philip Glass
. In my eye,  the dancers morph into gods and goddesses of motion under
Jennifer Tipton'
s light.
Twyla Tharp's In The Upper Room; Photo: Benjamin Miller
If Tharp plays with a lighthearted throwaway movement quality at the beginning of the ballet, the latter half has the dancers showing off precise and daring partnering maneuvers that require athleticism and split-second timing. Intricate shifting patterns spiral to a higher plane. It's hard work that gets rewarded. Heaven is here, and the audience jumps as one to their feet. What a treat to see amazing dancers in fantastic work.
After this group effort, Tharp lets the audience get to know the individual dancers through a series of duets in a ballroom setting by
Santo Loquasto
.
Nine Sinatra Songs
begins with "Softly As I Leave You" for Ailey dancers Jacquelin Harris and James Gilmer. She leans toward him,  and then manages to twist under her supported arm, which initiates a series of turns and whirls all around the stage.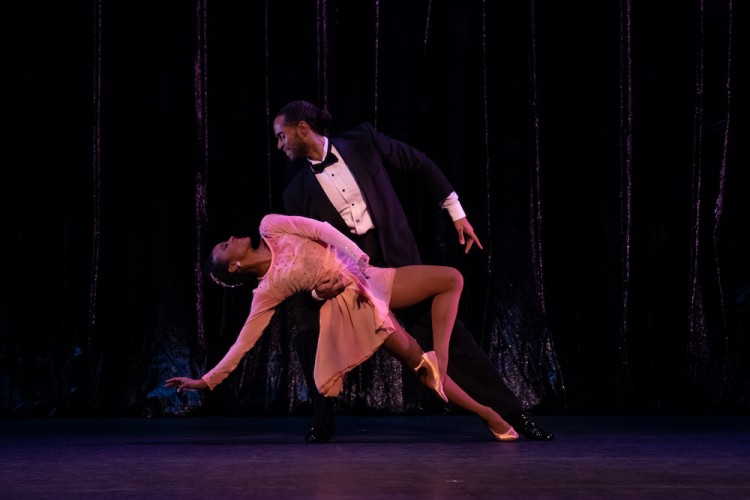 Twyla Tharp's Nine Sinatra Songs; Photo: Christopher Duggan 
It's  satisfying to see how Tharp explores the entire stage space in each and every pairing. Marzia Memoli and Richard Villaverde add tango accents to the smoothness of "Strangers in the Night," but it is the match of Cassandra Trenary with Benjamin Freemantle in "One for my Baby" that has me at the edge of my seat.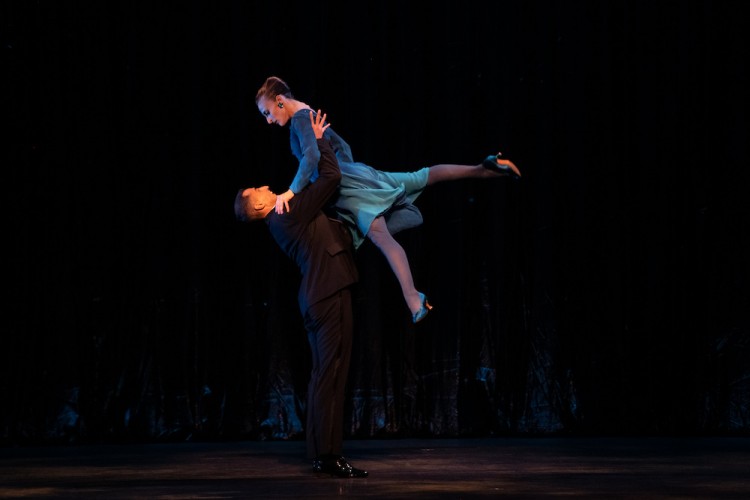 Twyla Tharp's Nine Sinatra Songs; Photo: Christopher Duggan 
Tharp aficionados might be more familiar with the male solo version to this song used in Sinatra Suite. While this pas de deux has a few partnering moves that could hint at an abusive relationship,  these masterful dancers are able to convey that they are playing with one another. Trenary shines in a glamorous, short black piece of fabric that compliments her every move. Freemantle's gentle mischievousness, excellent partnering skills, and the right dose of showmanship,  underscore true Tharpian qualities.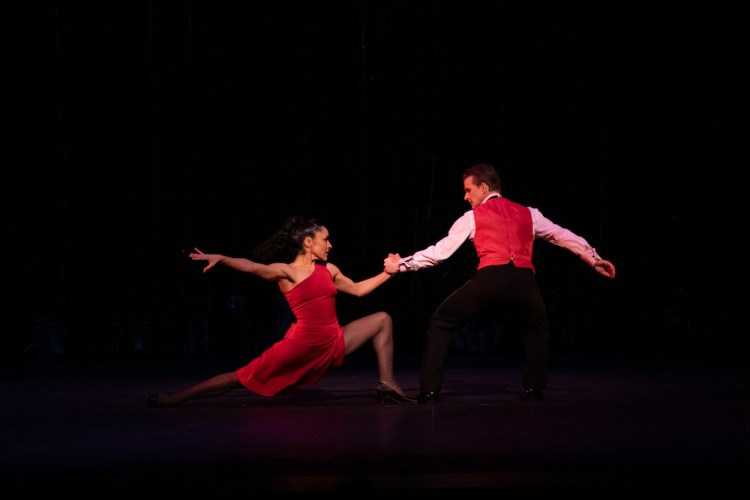 Twyla Tharp's Nine Sinatra Songs; Photo: Christopher Duggan
The three couples let loose in "My Way" before another set of four pas de deux leads to a full company reprise of the song. Daisy Jacobson and Reed Tankersley bob exquisitely in "Somethin' Stupid." The lanky, yet elegant, ex-New York City Ballet ballerina, Kaitlyn Gilliland, goes out "All the Way" with the lovely Graham principal,Lloyd Knight (disclosure: he performed with my company as well). Stephanie Petersen and Julian MacKay combine comic timing and star quality in "Forget Domani," and, Daniel Ulbricht (who becomes Danny in the Sinatra part of the program) shows Jeanette Delgado
, in such a loving way
, who is wearing the pants in "That's Life" that she can't help but dance with him. Gorgeous gowns by
Oscar de la Renta
seem perfectly suited for the different characters and moods of every section.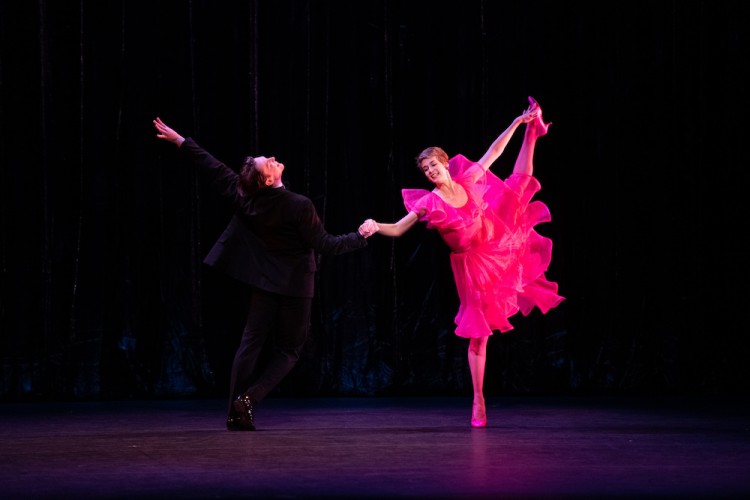 Twyla Tharp's Nine Sinatra Songs; Photo: Christopher Duggan
Tharp pulls out all the stops in the finale. While not one couple mirrors another, the music resonates in each individual step. Tharp -with the help of her associates
John Selya
and
Shelley Washington
- does it her very own way, and it's glorious.
---
The Dance Enthusiast Shares IMPRESSIONS/our brand of review, and creates conversation.
For more IMPRESSIONS, click here.
Share your #AudienceReview of performances. Write one today!
---
The Dance Enthusiast - News, Reviews, Interviews and an Open Invitation for YOU to join the Dance Conversation.