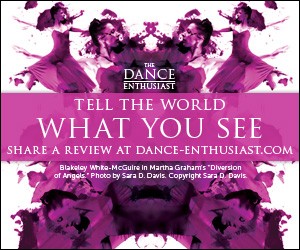 Related Features
IMPRESSIONS: Tere O'Connor's "Bleed" at BAM Fisher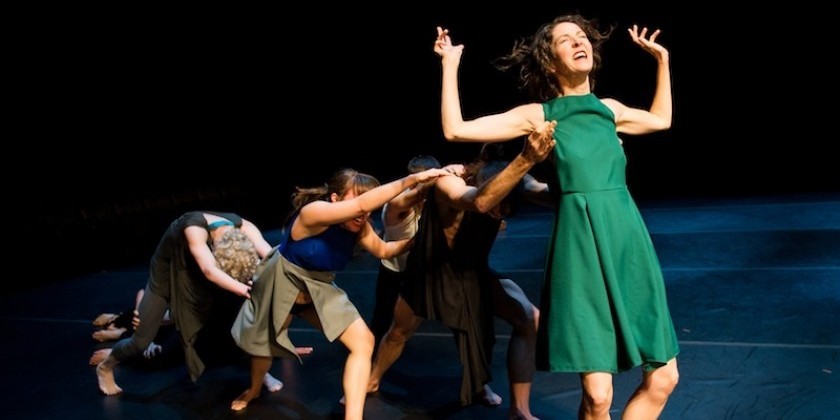 Presented by BAM's Next Wave Festival
December 11, 2013
Choreography by Tere O'Connor
Sound Design by James Baker // Lighting Design by Michael O'Connor // Costume Design by Walter Dundervill
Performed by Tess Dworman, devynn emory, Natalie Green, Michael Ingle, Ryan Kelly, Oisín Monaghan, Cynthia Oliver, Heather Olson, Mary Read, Silas Reiner, David Thomson
---
Tere O'Connor's Bleed, the result of a two-year process, folds three past works (poem, Secret Mary, and Sister) into a single sixty-minute piece for a cast of 11. Intrigued by how dances imprint themselves on the mind, body, and spirit, O'Connor appropriates the phantoms from his past choreographies to create an archive of new and old impulses.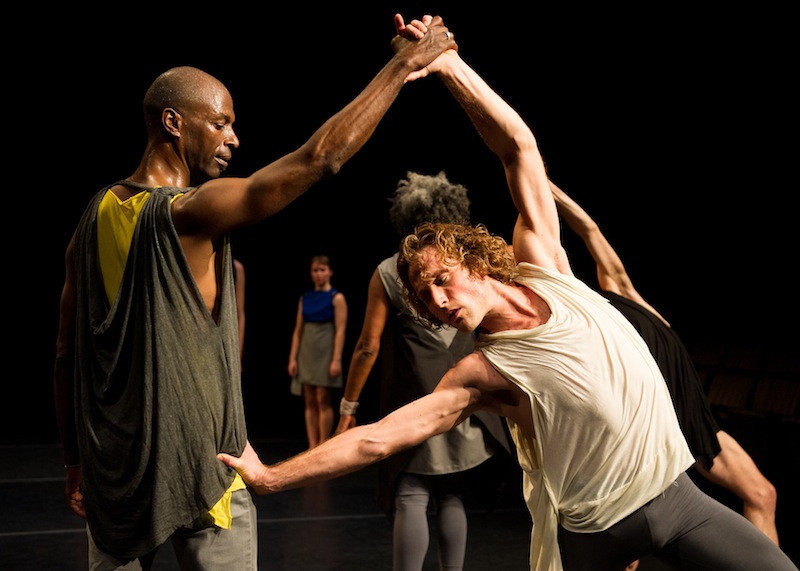 Photo by Ian Douglas.
The piece opens with Heather Olson, willowy in an emerald green frock, performing jaunty triplets and tracing sinewy crescents with her arms. Four male dancers line up like sentries at the back of the stage. They catch her as she crumples, body buckling reflexively.
O'Connor adopts the stance that dance making should be divorced from the themes, variations, and cyclic rhythms that characterize music composition. Preferring to embrace the infinite possibilities of movement, he stitches together fragmented phrases, which span from balletic jetés to springy jigs. It could be dissonant and jarring, but the dancers' unruffled vigilance provides a discernible through line. Clear spatial patterns and ample negative space between slicing limbs and composed trunks help us hone in on the details.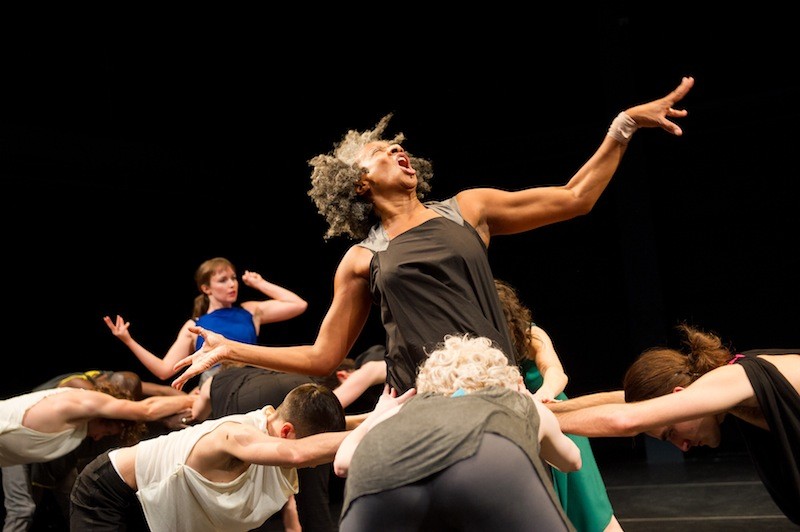 Photo by Ian Douglas.
Bleed seemingly casts us as anthropologists, observing a secretive tribe enact complex and arcane ceremonies. Scenes, which swiftly evaporate and reassemble, proliferate with games and rites. Dancers stride in intricate patterns, execute flopping hops, and rub their hands briskly together. These streaming, echoing sequences ritualize the effect.
The cast — embodying a strong sense of community — holds hands, peers into each other's eyes, and erects multi-bodied sculptures. Often, they gather around the perimeter, surveying the unfolding action. In one striking moment of solidarity, the performers clasp hands and position themselves in a winding sine curve.
Photo by Ian Douglas.
Wisps of stories and hints of characters swirl through Bleed. Oisín Monaghan, with cherubic blond curls and a penetrating gaze, seems to be the puckish hero. A grown up whom never grew up, he screeches operatically and lies prostrate in a pane of light. Two mature dancers, Cynthia Oliver and David Thomson, operate as mellow mentors: They demonstrate rhythmical African steps, which the younger members imitate. With no set narrative or meaning, we pick our own protagonists and follow their journey.
James Baker invents a patchwork quilt of a score, alternately meditative and pounding. While occasionally the dance and music converge, the soundscape mostly acts as a gauzy sonic layer, present but not important.
When the end arrives — Monaghan prone on the floor while the remainder bounce, mouths agape and eyes popping — we are no closer to understanding this enigmatic society and their cryptic sacraments. While Bleed may elude pat explanations, it functions as a powerful myth from another time and place — incomprehensible yet wholly true.
Follow Erin Bomboy on Twitter @ErinBomboy