Related Features
Contribute
Your support helps us cover dance in New York City and beyond! Donate now.
Twyla Tharp in Los Angeles: A Reckoning
Twyla Tharp 50th Anniversary Tour
The One Hundreds, Preludes and Fugues, Yowzie
Wallis Annenberg Center for the Performing Arts, Los Angeles
September 29, October 1-4 2015
---
Tuesday, September 29th, was a fine day in Los Angeles. No major traffic incidents, no busted water mains, no grisly a.m. news reports.  Sunshine, but not too hot.
Off Santa Monica Boulevard, between 12 and 1pm, a pop-up community of comfortably dressed people, spanning the generations, began assembling in the vaulted marble foyer of the former Beverly Hills post office, a lovely 1930s Italianate building renovated in 2013 to comprise the entryway to the Wallis Annenberg Center for the Performing Arts. Still displaying its serene historic stoneface, the elegant $50 million "Wallis" actually houses two luxe new theaters (500- and 120-seat) tucked neatly around its backside, plus a beckoning terraced courtyard with a 30x30 foot outdoor stage in the far west corner.  
The hushed lobby filled slowly with the kind of low-key, woman-dominated crowd you'd expect at a garden sale, but lured instead by the chance to perform in a public performance of Twyla Tharp's The One Hundreds, an early work by the legendary choreographer which employs both company dancers and 100 extras who come in for the final 11 seconds of the piece. In advance of the Tharp company's 4-day run of concerts at the theater -- the Wallis being one of four cities commissioning Tharp's 50th anniversary tour -- a free staging of The One Hundreds was to be held at 6pm that day on the outdoor plaza. (It was also performed back in June in NYC and will be done one final time on her tour in Santa Barbara.)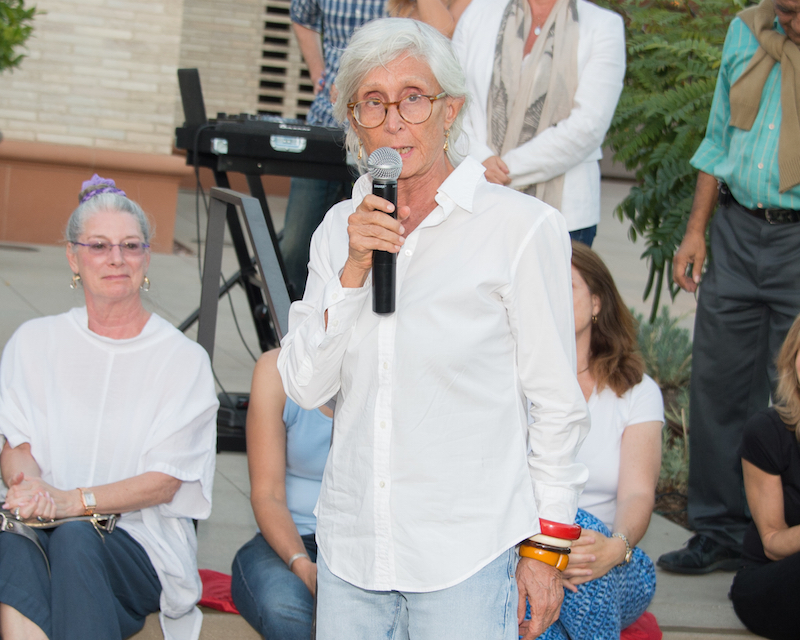 Twyla Tharp, speaking to the crowd after the performance. Photo: Robert LaTour
Diana Childs, 70, a retired UCLA librarian, couldn't believe she'd make it. She'd been on jury duty and only just rendered the verdict a half hour earlier at the City Courthouse. Both she and her fellow librarian, Marianne Afifi, 61, had danced only as children. In contrast, standing nearby, former Alvin Ailey dancer Héctor Mercado, 66, performed in Tharp's choreography for the 1979  film "Hair," and still teaches dance today. Of the many alliances in the room, one family spanned nearly three generations: five months pregnant Eva Angela, 37, manager of LA Contemporary Dance, brought along her mother, Kathy Wieland, 66.  
A cheery boy in a green T shirt named Phillip, 9, had never heard of Twyla Tharp,  but he'd left school early for the day, encouraged by his mom, Jennifer, who saw it as an "unmissable opportunity." (He must be a dance student? I ask. "Nope," says Jennifer, "he studies violin.") While Phillip keeps his nose in his book -- "it's about how to make home-made flame-throwers," he explains -- his mother says that even though he doesn't dance, "I figure if it's for 11 seconds, he should do fine."
Though Tharp's troupe toured to L.A. back in 2001, and her pieces have been performed on programs by American Ballet Theatre, the Joffrey, and others, most people here know only her film and TV work in the 1970s and 1980s ("Hair," "Ragtime," "Amadeus," "White Nights"). They learned of today's volunteer call because they'd previously bought concert tickets at the Wallis or saw a notice in the community newspaper.  
   
At 1pm, as she steps forward to engage the group, Tharp is a riveting sight, tanned skin playing off the luminosity of her white hair and crisp shirt over faded jeans. At 74, she looks ageless, but she stands tenderly on her feet. She speaks at low volume so the crowd leans to her. She says she has just one question: Who is the youngest (Phillip is acknowledged) and who is the oldest? (Two 81-year-olds vie for the spot.) True to her word, she says no more, but thanks us for coming and departs.
We're left in the hands of five young new company members now, many who've come to her through her Broadway work in last decade, shows like "Movin' Out" and "Come Fly Away." They stand at one end of the deep hall and we're told to just pick a dancer and line up. There's no counting off, no arrangement of size or age; just approximate numbers, speed over perfection. This sets the day's tone: brisk, hands-off, self-selecting, no coddling.
The groups then traipse across Santa Monica Boulevard to begin learning the 11-count phrases in the shaded grass of the Beverly Gardens Park. Each volunteer will have his/her own distinguished phrase, with all 100 unique phrases executed at the same time during the performance.  
Reed Tankersley, 23, teaches my assembled group. The newest/youngest Tharp company member, straight out of Juilliard, Tankersley wears shorts and a ratty One Direction t-shirt. Without preamble, he launches into a complex 11-count phrase, his bare pointed feet slapping at the grass like a pawing pony. "Swipe, swipe, shoulder roll, swipe your head, throw down," he says. The group drops its collective jaw. This is not pedestrian movement for the masses. The sight of the lightning shifts of impulse and direction plunges us straight to the center of the swiveling, hybrid ballet nuggets that Mikhail Baryshnikov imprinted onto the nation's eyeballs in Push Comes to Shove.
Kaitlyn Gilliland and Ramona Kelley perform in The One Hundreds. Photo: Robert LaTour
Tankersley has few words to express the steps; he just repeats the phrases as many times as he's asked. As a mover, Tankersley evokes Tharp herself, so cool and slippery, she'd seem as if her body had been hijacked by some challenging force with whom she was eager to compete.
The difficulty of the choreography builds community quickly. Volunteers pair up to assist one another. Theology professor Judy Aronson, 81, asks Tankersley for a phrase where she won't risk losing her balance. He gives her an improvised section: 11 counts of shifting from leg to leg, arms behind her back, gazing at the sky. Practicing my own gentle phrase -- a melting sideways bend that leads into a turn, repeated three times with three different arms -- I churn up bits of grassy turf.  
Company manager Alex Brady, a former Tharp dancer, surveys the rehearsals, calmy answering volunteers' nervous questions about the day's procedure. Since we'll all be performing our phrases simultaneously, the public section of the dance "is a very forgiving structure," he explains.  In contrast, he says, the two Tharp company dancers who open the piece -- performing all 100 of the 11-count phrases in unison, without music -- will be severely challenged.  As a company member, Brady says, "it was the hardest thing I ever danced." Their section is followed by five dancers each simultaneously performing 20 of the 11-second phrases. Then the final swarm.
After a long afternoon break, I meet up with 9-year-old Phillip during the staging rehearsal on the outdoor patio of the Wallis. He demonstrates his phrase: a low vaudevillian walk, as if Groucho were twisting in place. It's actually pretty hard, and he completely nails it.
At performance time, the light is soft and evening traffic is thick in the streets outside the plaza. Soon after 6pm, company members Ramona Kelley and Kaitlyn Gilliland take the stage, while volunteers line the both sides of the outdoor space, ready to swarm during the final 11 seconds. 
Under warm natural light, the dancers begin unspooling the 100 tangly phrases, pausing to reassemble themselves upstage between each one. The potential of 11 seconds was Tharp's inspiration in The One Hundreds -- she measured the time it took for an average baseball pitch -- and watching the specificity and challenge of each phrase, the juxtapositions of phrases, and the vastly different women dancers -- feels like tiptoeing on the edge of chaos. In this maelstrom of devilish movement, behind the two young dancers, the word VERTIGO is blazing in all capitals from a storefront sign on Canon Drive.
Because I am part of the swarm, the dance remains unfinished for me somehow. My lingering image, instead, becomes the earlier moment when Kelley and Gilliland began to crouch in a low twisty squat, and I sought Phillip's eyes across the plaza. It took only a count or two before he recognized that they were performing his phrase -- at which point his smile lit up as bright as a flamethrower.
---
Preludes and Fugues; Photo: Kevin Parry
Three nights later, during the troupe's formal concerts at the Wallis, Tharp unveiled two premiere pieces: Preludes and Fugues,  set to Bach's Well-Tempered Clavier, and Yowzie, featuring Jelly Roll Morton and other songs recorded by Henry Butler with Steven Bernstein and the Hot 9. Both are preceded by short Fanfare pieces by John Zorn.  In the program notes, Tharp writes: "Simply put, PRELUDES AND FUGUES is the world as it ought to be, YOWZIE as it is. The FANFARES celebrate both."
Ron Todorowski, John Selya and Matthew Dibble in Yowzie; Photo by Kevin Parry
VERTIGO, perhaps, remained with me from the earlier in the week, because I saw the works in reverse. The six couples in Preludes and Fugues, with men in silky beige pants and shirts and women in gently hued skater dresses, appeared effortful, disjointed, over-loaded with information and stimulation. It wasn't possible to follow how Tharp was spinning and multiplying phrases off the fugue structure, and it was her omnivorous lexicon at its lowest point: the modern and jazz steps looked to be thrown in just to make the ballet bits more tricky.  
Longtime Tharp dancer Rika Okamoto grounds the feral, fantastic antics of Yowzie, and the sight of her drunkenly, stubbornly forging through life's high and low seasons -- at one point Butler croons the words "Dirty Butt Stanky Butt" -- is glorious and miraculous.  In contrast to Fugues, every dancer in the company shines strongly in this fantastic romp, particularly old-timers John Selya and Matthew Dibble, along with Ron Todorowski, Daniel Baker, Amy Ruggiero, Kelley, Nicholas Coppula, Eva Trapp, Savannah Lowery, Tankersley, and Gilliland.
Tharp's ten-week tour concludes at Lincoln Center's Koch Theater, Nov 17.
---
Share Your Audience Review. Your Words Are Valuable to Dance.
Are you going to see this show, or have you seen it? Share "your" review here on The Dance Enthusiast. Your words are valuable. They help artists, educate audiences, and support the dance field in general. There is no need to be a professional critic. Just click through to our Audience Review Section and you will have the option to write free-form, or answer our helpful Enthusiast Review Questionnaire, or if you feel creative, even write a haiku review. So join the conversation.