IMPRESSIONS: "The Brooklyn Nutcracker" starring the Brooklyn Ballet at Kings Theatre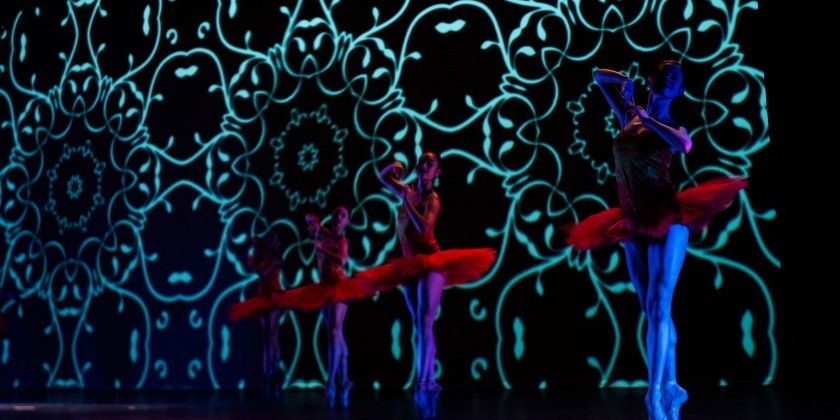 December 14, 2018
Choreography/Direction: Lynn Parkerson
Co-choreography: Michael "Big Mike" Fields, Claudia Jeschke, Nakotah LaRance, Sira Melikian, Meira Goldberg, Margaret Yuen, Thomas Baird, James "J-Floats" Fable, Keenan "Sylinsah" Thomas, Bobby "Anime" Major, Sydnie Mosley, Kendra Ross, Candace Thompson
Music: Pyotr Ilyich Tchaikovsky
---
Question: Where can you see Native American hoop dancing, flamenco, hip-hop, classical ballet, and light-up tutus in one performance?
Answer: At The Brooklyn Nutcracker.
Conceived by Brooklyn Ballet's founder and Artistic Director Lynn Parkerson, this new twist on an old favorite transforms familiar characters and scenes to represent the diverse and vibrant cultures of Brooklyn. Although not a perfect adaptation, this version translates the magic of the story quite well.
Large chunks of Tchaikovsky's score are omitted, including the ascension of the Christmas tree, the battle between the mice and toy soldiers, and the Mother Ginger divertissement. Electronic music at the start of Act II is added for a fluid and mesmerizing solo performed by Nakotah LaRance.
Nakotah LaRance in Brooklyn Ballet's The Brooklyn Nutcracker; Photo by Anna Kuzmina
The narrative is broken and unclear at times, especially for Nutcracker veterans. There is no heroine on the cusp of womanhood, no naughty and destructive little brother, no handsome prince, and no Nutcracker doll at all. The magician Herr Drosselmeyer (co-choreographer Michael "Big Mike" Fields) still gives out gifts, but a maid and butler, rather than parents, preside over the party scene.
LED technology provided by Interwoven Design Group and NYC Resistor, in collaboration with costume design group YMX by Yellowman, creates a Snow scene unlike any other I've seen. Six dancers waltz and leap in techno tutus equipped with motion sensor lights that mimic the pattern of falling snow. Wintry projections on the back wall use the dancers' movement to generate the image of a snowfall as the lights in their skirts flicker and twinkle. The snow pas de deux danced by Paunika Jones and Acee Francis Laird is joyful and buoyant, the couple bounding in and out of lifts like puffs of clouds.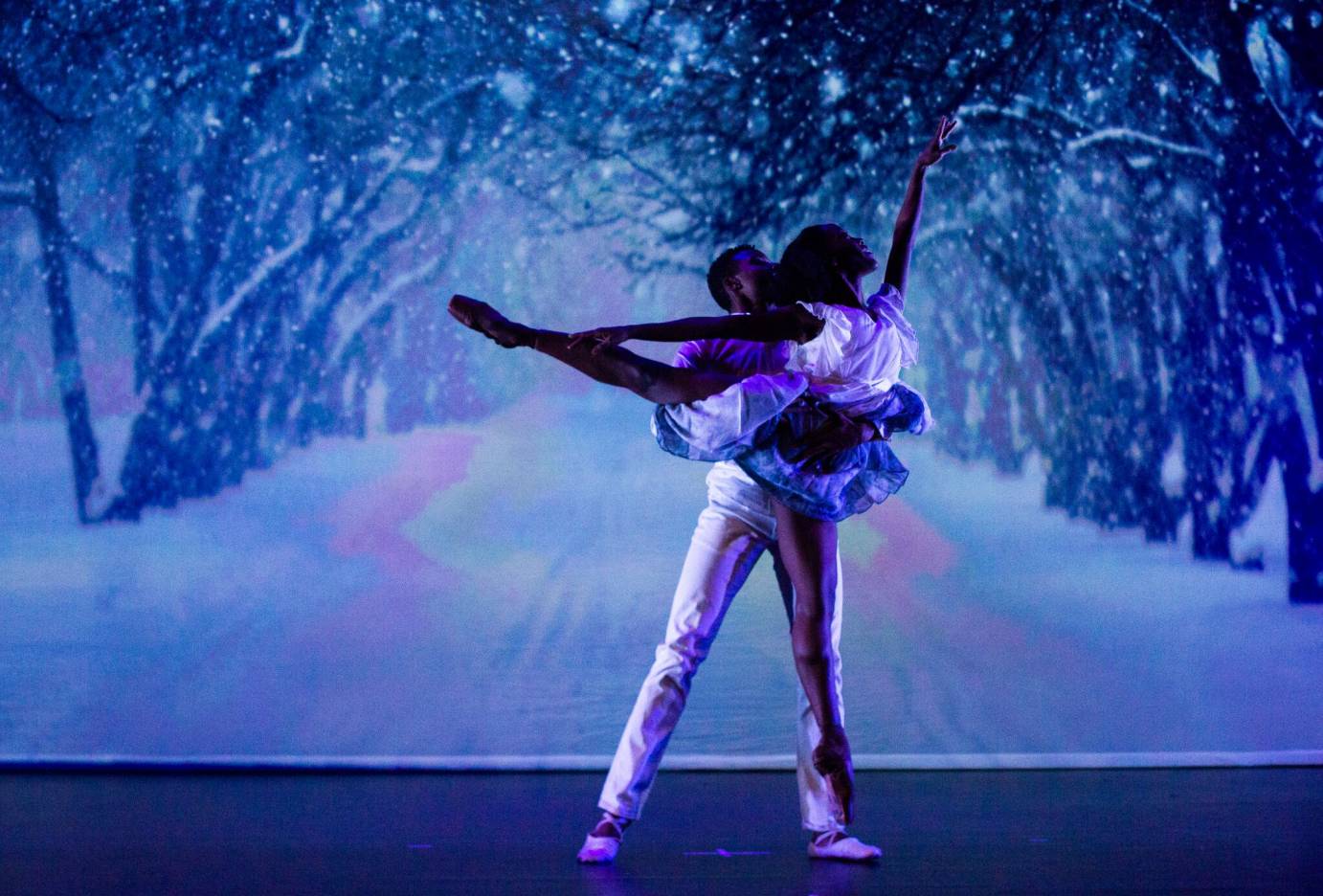 Paunika Jones and Acee Francis Laird in Brooklyn Ballet's The Brooklyn Nutcracker; Photo by Anna Kuzmina
The second-act divertissements offer plenty of excitement. The Spanish dance (or Hot Chocolate depending on which version of the story you prefer) is performed by flamenco dancer Aliesha Bryan. Her quick, rhythmic solo displays multiple circles at once: sensuously whirling hands, swaying hips, arcing arms, all spinning simultaneously in balance.
LaRance's Hip Hoop solo is a captivating mash-up of hip-hop and traditional Native American medicine dancing. Gliding, popping, and waving, LaRance is both laser-sharp and effortlessly relaxed as he manipulates five hoops. In constant motion, the hoops magically become an eagle, a butterfly, a flower, a ladder representing life stages from infancy to old age, and the Earth's sphere.
Sira Melikian's Arabian dance unfolds as a beautiful, sensuous belly dance. Her small, rapid undulations echo Tchaikovsky's trills flawlessly. Near the end, Drosselmeyer joins her and they move, each in their own style, yet in ideal harmony.
Miku Kawamura and Jose Carlos Losada in Brooklyn Ballet's The Brooklyn Nutcracker; Photo by Anna Kuzmina
Costume designer Rebeccah Pailes-Friedman's glittering fiber-optic skirts bring a lava-lamp-like feel to the familiar charm of Waltz of the Flowers, which is possibly the ballet's most popular section.
The Sugar Plum Fairy and her cavalier sign off on this love letter to Brooklyn. Gracious and crystalline in her movements, Miku Kawamura glitters like a diamond while the regal Jose Carlos Losada charms with graceful leaps and turns.
---
The Dance Enthusiast Shares IMPRESSIONS/our brand of review and Creates Conversation.
For more IMPRESSIONS, click here.
Share your #AudienceReview of performances. Write one today!