Related Features
Advertise With Us
Make an impression — place an ad on The Dance Enthusiast and receive thousands of eyes on your work every week. Learn more. 
Contribute
Your support helps us cover dance in New York City and beyond! Donate now.
IMPRESSIONS: The Joyce Theater Foundation Presents the Paris Opera Ballet in Rudolf Nureyev's "Swan Lake"
Recorded in 2016
Presented by the Joyce Theater Foundation March 11-24, 2021
Choreography by Rudolf Nureyev after Marius Petipa/Lev Ivanov
Performance: Paris Opera Ballet
Music: Pyotr Ilyich Tchaikovsky
---
For two weeks in March, the Joyce Theater Foundation is presenting Rudolf Nureyev's 1984 staging of Swan Lake for the Paris Opera Ballet via livestream. This is a welcome event for fans of the Paris troupe, which last brought the production to New York in the late 1980s.
Nureyev, who excelled in the classic roles of the repertoire, famously loved the prince roles.  Perhaps not surprisingly, then, his staging expands the role of Prince Siegfried, giving him far more dancing than in traditional productions. In many stagings, the first act, which takes place at a birthday celebration for the prince, seems like filler, a scene to sit through until the main interest of the ballet takes place in Act II, when Siegfried meets the Swan Queen, Odette, and her coterie of swan-women. Nureyev brings far more interest to the first act by using it to develop the prince's character.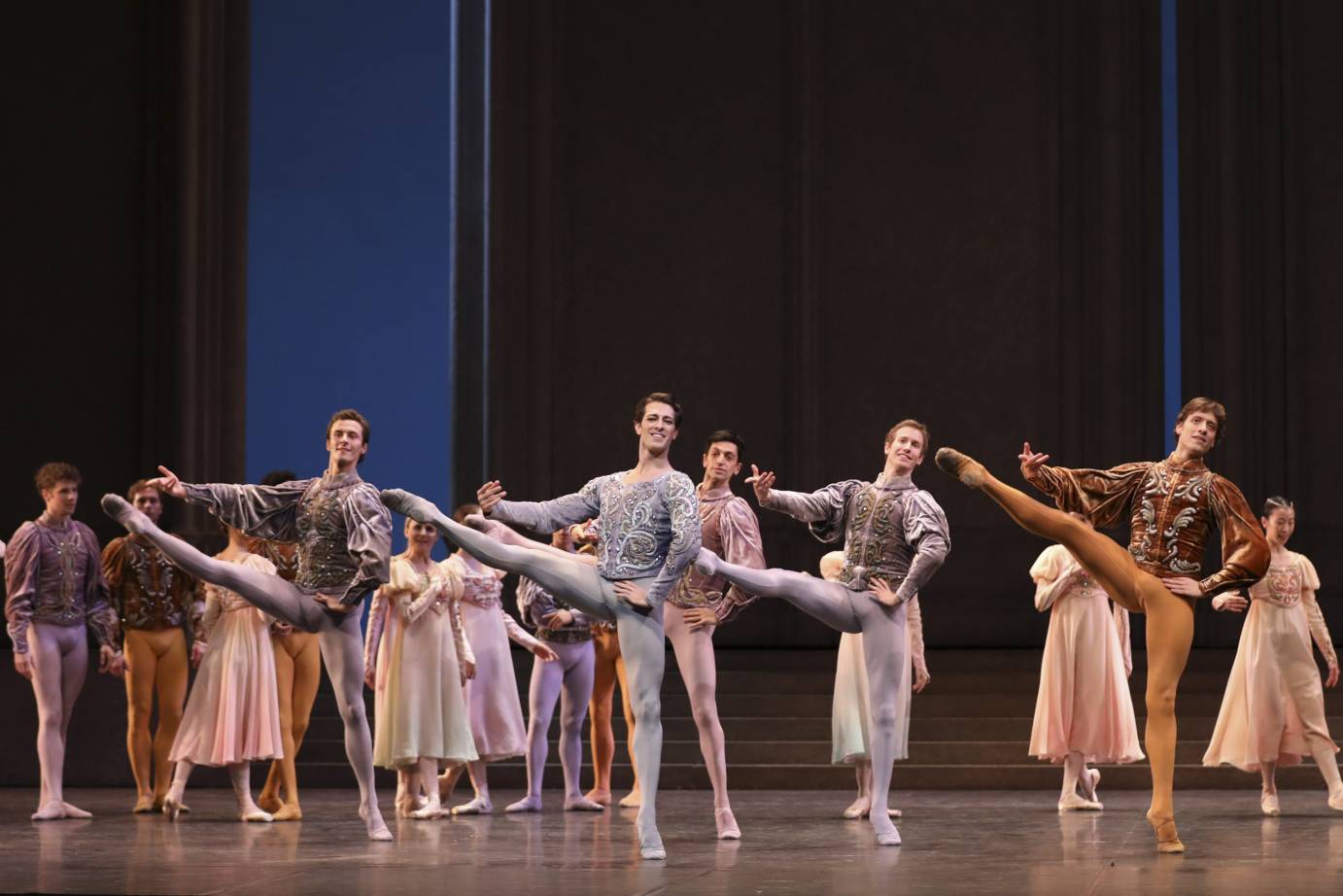 Paris Opera Ballet in Rudolf Nureyev's "Swan Lake"; photo courtesy the production
To underscore Siegfried's centrality to this production, when the curtain rises during the ballet's overture, we see him seated downstage on a throne, eyes closed and dreaming of a woman who is abducted by a birdlike creature, a premonition of Odette's abduction by the evil sorcerer von Rothbart.
In the 2016 film the Joyce is presenting, Mathieu Ganio is cast as Siegfried and his performance is superb.
Ganio's Siegfried is wistful and melancholy, a dreamer who yearns for a life other than that mapped out for him by his birth. During his birthday celebration, his mother tells him he must soon select a bride. Ganio seems reluctant, knowing that none of the six women from which he must choose will fulfill his romantic ideal.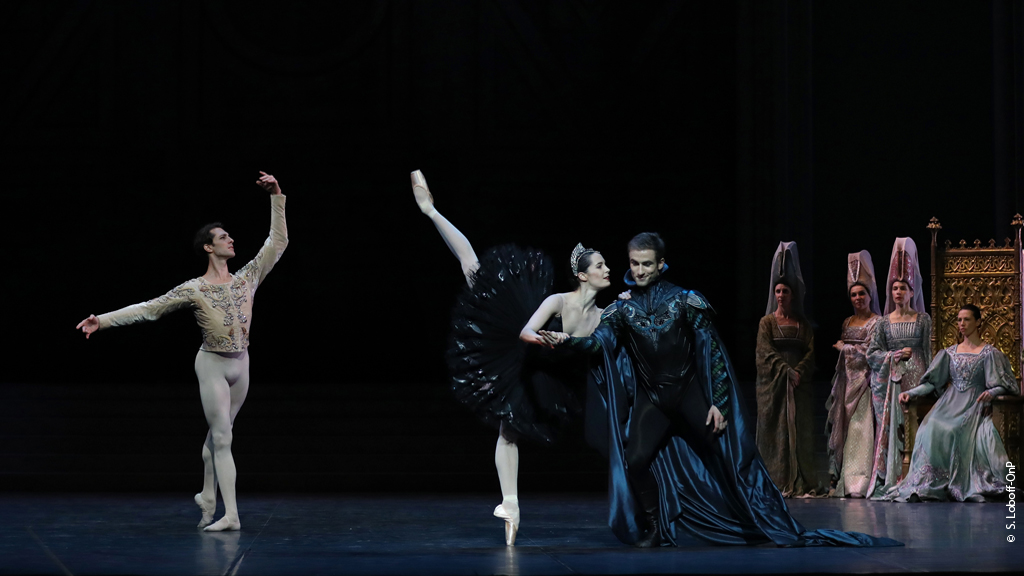 Paris Opera Ballet in Rudolf Nureyev's "Swan Lake"; photo Svetlana Loboff 
Ganio fleshes out Siegfried's character through his comportment and acting and also in his dancing, which is marked by elegance and gentle grace. For me, the ballet's most moving moment comes in a long solo to a mournful oboe melody at the end of the first act. The guests have departed, twilight has fallen, and on the blue-lit stage, Ganio's dancing has the quality of a reverie. He mirrors the sorrowful beauty of the music with melting arabesques and arms that reach out for some unobtainable otherworld. 
As Odette, Amandine Albisson performs her steps beautifully, but her performance is for the most part only about steps. She never attempts true characterization, and Odette's persona, which is tragic at its core, seems foreign to her. In her famous second act pas de deux with Siegfried, only one moment stood out: She leans back on him en pointe, one leg wrapped around him in attitude, and as he lays each of his arms on hers, the two rock together tenderly.
Paris Opera Ballet in Rudolf Nureyev's "Swan Lake"; photo Svetlana Loboff 
Albisson is more successful in the seductive, virtuoso role of Odile, the daughter of von Rothbart, who wants to ensure that the prince will never swear eternal love to Odette, which would break the spell he has cast on her. Odile looks enough like Odette to confuse the prince. At times she even mirrors Odette's movements but always with a sly look toward von Rothbart, who has accompanied her to the palace ball where Act III is set.
Siegfried falls for their trap, and in swearing eternal love to Odile dooms Odette. The fourth act is marked by her despair and his remorse. The ballet ends with von Rothbart tearing her from Siegfried's grasp, leaving him alone on the stage just as he was alone at the ballet's start.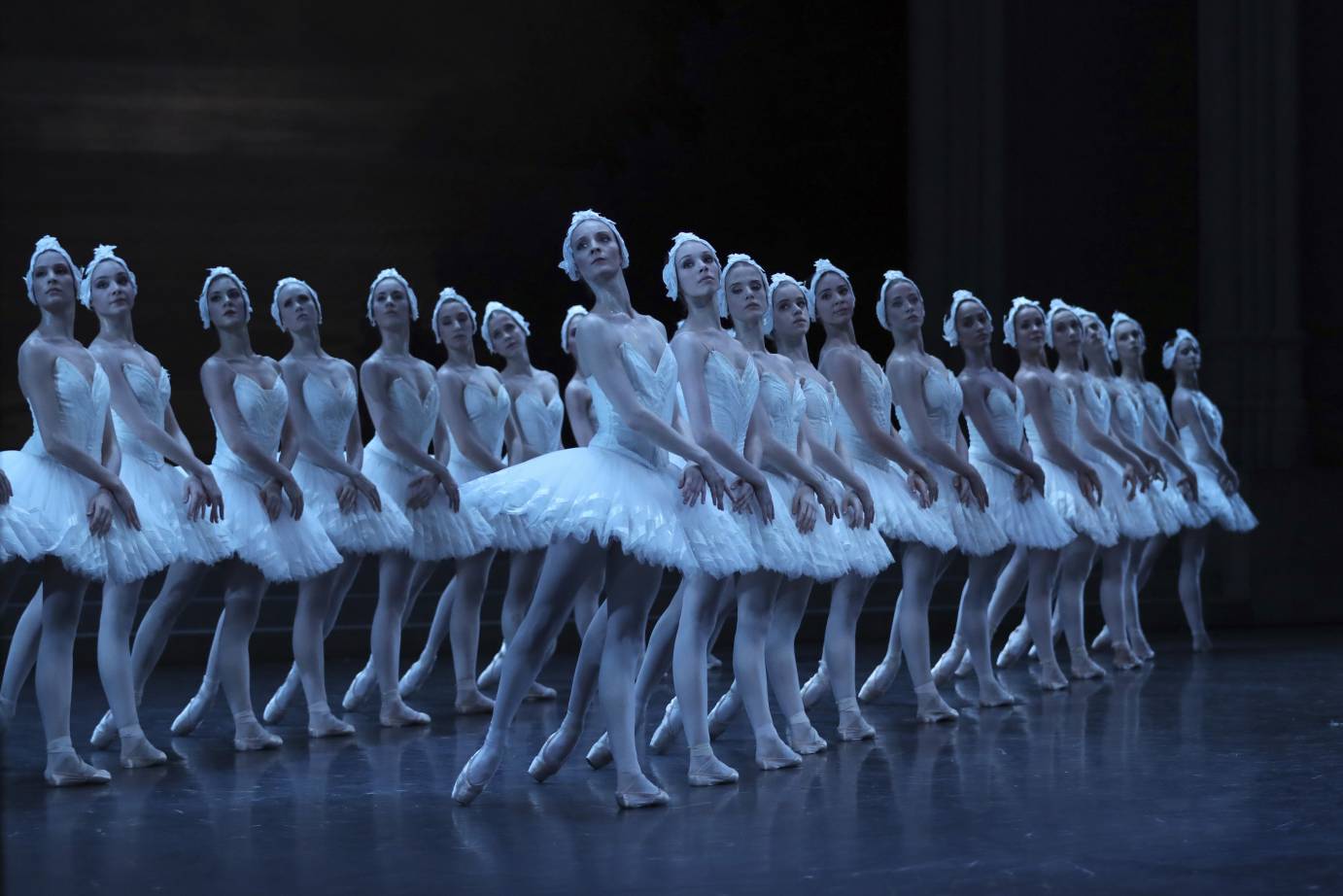 Paris Opera Ballet in Rudolf Nureyev's "Swan Lake"; photo courtesy the production
This production fields a large corps de ballet of 30 swans, and Nureyev's ensemble choreography is among his strengths. The corps' steps in the second act are traditional but the fourth act opens with an extended sequence for the corps filled with complex patterns and lissome movements. Here and throughout, the corps is excellent.
Indeed, the film shows the Paris Opera Ballet to be in fine form, with the dancing strong at every rung of the hierarchy. I quibble with some of Nurevey's "innovations," such as the twinning of the role of the prince's tutor with von Rothbart. But the greater scope the production gives to male dancing gives it a distinctive place in the pantheon of Swan Lake interpretations.
---
The Dance Enthusiast Shares IMPRESSIONS/our brand of review, and creates conversation.
For more IMPRESSIONS, click here.
Share your #AudienceReview of performances. Write one today!
---
The Dance Enthusiast - News, Reviews, Interviews and an Open Invitation for YOU to join the Dance Conversation.