IMPRESSIONS: "The Sun Still Burns Here" by Kate Wallich + The YC X Perfume Genius at the Joyce Theater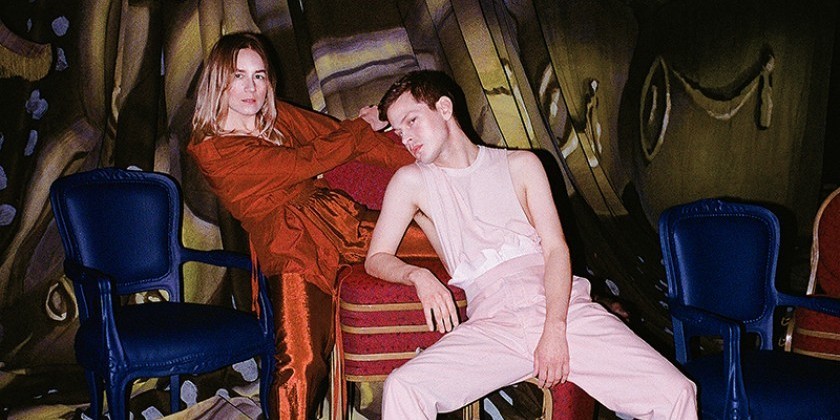 November 14, 2019
Co-director, Choreographer, & Performer: Kate Wallich // Co-Director, Composer, & Performer: Mike Hadreas
Composer, Performer, & Collaborator: Alan Wyffels // Musicians: Darren Weiss, Sam Gendel
Rehearsal Director, Performer, & Collaborator: Lavinia Vago
Performers & Collaborators: Andrew Bartee, David Harvey, Thomas House
Apprentice & Collaborator: Laura Carella
---
A glamorous friend is hosting a party. You're not sure when it starts, but the invitation promises diversions and excitement. The first guest seems to be dressed as a mime, in asymmetrical stripes. They lead you, gesturing with long suggestive hands toward the entrance. The curtain opens. A world appears.
The red fabric reveals a cavernous interior hung with opaque and translucent tapestries, tinged with lights the color of absinthe, mauve, puce, magenta. Bodies in tattered finery writhe and slink into view amidst the tapestries. There's a grand piano in the front corner, and the back corner is an alcove of amber light. In the center stands a scaffold bathed in pale moonbeams, atop which lounges a pixie creature grasping a silver microphone. It must be the host, the legendary Perfume Genius! The creatures here are the love children of Prince and Kate Bush; this realm they populate is a 1920's opium den and an 80's warehouse party.
Photo courtesy of the artists
Thus begins a night of gorgeous madness, indulgent revelry, and queer decadence. With The Sun Still Burns Here, Kate Wallich and her company, the YC, craft a distorted and lovely world with Perfume Genius (a.k.a. glam child Mike Hadreas and sidekick Alan Wyffels) to delight, shock, and satisfy.
The collaboration reaches a big audience and makes for a fun show. All sorts are in the house tonight. People usually found at Brooklyn Steel or Terminal 5 are congregating at the Joyce Theater; downtown dance aficionados are rubbing elbows with front-row fangirls. Smart move. When the cult celebrities of the live music circuit have play dates with notorious dance-makers, boundaries explode and all parties benefit from the cross-publicity.
The piece takes its shape from an assortment of songs Perfume Genius created for the project, which lends a beautiful unity to the whole affair. The tracks thrive on layered vocals, drums, synths, recorded strings, and live instrumental riffs. Campy piano ballads crash into sexy party anthems, then soften into lonely lo-fi confessions edged with scuzzy violins and guitar ostinatos. Perfume Genius is a sonic champagne punch spiked with vodka: bubbly, sweet, and sparkling, yet with a spicy bite and a heady aftereffect.
Photo courtesy of the artists
Wallich establishes an intuitive, sensual movement language to match the music. It's grounded, sexy, balletic yet wild, with a grooviness reminiscent of Ohad Naharin's Gaga. Bodies slip and slide with ribs, hips, and shoulders curving into infinite circles. Legs and arms shoot into geometric lines that melt as soon as they're visible. Sweeping backbends flow into elegant leaps. Both musicians and dancers share this vocabulary, and it is exaggerated or pared down for varied abilities.
This approach to movement facilitates exploration: through the common groove, the performers safely maneuver each other into gravity-defying lifts and dramatic clinches. Hadreas is borne aloft like a deity and deposited at the piano. He sings into his sparkly mic while Wallich tackles him into a missionary position, pinning him to the stage with her gyrating hips. Dancers toss each other like handfuls of confetti as cascading vocals emanate from Hadreas' lips.
Photo courtesy of the artists
From the moment the curtain rises, everyone on stage is hell-bent on seeking their pleasures or facing their fears. The mime acts as a foppish narrator, pausing the ensemble to flirt with the pianist and paraphrase the music through angular, comedic gestures. Throughout, the mime strives for individuality and control but can't resist joining the ensemble as they groove together. One dancer begins the work fully clothed and appears at the end stripped down to their underwear. Another starts alone in the corner, kicking, whirling, and spiraling as if trying to escape their skin, and the group gathers them into a group hug for the finale. Each small story arc is of equal importance; every character manifests their largest fantasy persona.
Consent to fantasy — be it frightening, kinky, delightful, or revelatory — is a key motif in The Sun Still Burns Here. Permission to live in wild physical possibilities resonates, especially to a young queer kid like myself. Wallich and Hadreas deliver a big yes to the audience: indulge in sensation, party hard, move your body.
---
The Dance Enthusiast Shares IMPRESSIONS/our brand of review, and creates conversation.
For more IMPRESSIONS, click here.
Share your #AudienceReview of performances. Write one today!
---
The Dance Enthusiast - News, Reviews, Interviews and an Open Invitation for YOU to join the Dance Conversation.