Related Features
Contribute
Your support helps us cover dance in New York City and beyond! Donate now.
IMPRESSIONS: Third Rail Projects at Brookfield Place and Ice Theatre of New York at The Rink at Rockefeller Center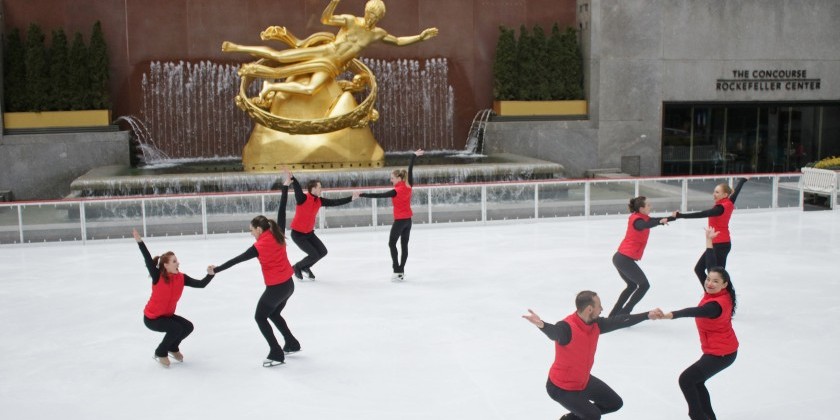 Lunch Break in New York
April 3, 2019
Third Rail Projects' OASIS
Artistic Directors: Zach Morris, Tom Pearson, Jennine Willett 
Performers: Julia Kelly, Madison Krekel, Edward Rice, Jessy Smith, and Ryan Wuestewald
Ice Theatre of New York in 2019 City Skate Concert Series
Founder/Artistic Director: Moira North
Choreographers: Elisa Angeli, Lorna Brown, Joel Dear, Christian Erwin, Line Haddad, Andrew Lavrik, Deneane Richburg, Jody Sperling
---
For most of us, lunch is a sandwich gobbled at our desks while catching up on emails. But if you can — and you really should — you could step out and into the city to catch a show while munching on that sandwich. If your boss gives you a hard time, point them to this article, which suggests that art boosts employee morale.
My sandwich (a BLT) and I did exactly this one Wednesday, hitting two brief but impactful shows that proved how much better lunch — and life, for that matter — is with art. 
First up was Third Rail Projects' OASIS at Brookfield Place's Winter Garden Atrium, a shopping, dining, and office complex built in in the '80s. An airy, tree-lined pavilion with a grand staircase and many benches, the area bustles with browsers and businesspeople.
Third Rail Projects' OASIS; Photo by Joshua Dutton-Reaver
If you missed the abundant posters promoting the site-specific work, then its beginning might look like an encounter you've seen a thousand times. A woman in scrunched white legwarmers (Julia Kelly), her arms brimming with receipts and dry cleaning bags, bumps into a fast-food worker. As she frantically gathers her belongings, oblivious folks stare at their phones and chat with their companions. 
Until she rolls over a bench and lands gracefully on the floor. Phones are ignored and lunches are abandoned as the harried, hurried Kelly dashes up the stairs. She backs into a small wedge decorated with grass, tropical plants, and a pair of palm trees.
A leather-jacketed woman greets her, and the two begin a duet of hip pops and circles to Kenny Loggins' "This is It." Kelly struts down and body surfs across the stairs before indulging herself in a full-blown '80s jazz routine complete with ponytail-flinging head swings. Reinvigorated by dancing like no one's watching (even if they actually are), she rejoins the horde. 
Third Rail Projects' OASIS; Photo by Joshua Dutton-Reaver
This episode, one of ten highlighting '80s archetypes, could be a well-crafted advertisement for the myriad wonders of Brookfield Place. Yet, as the rapt toddler who mimicked every move reminds me, even lunch holds the potential for unexpected delight.
Less than an hour later at The Rink at Rockefeller Center, Ice Theatre of New York presents a more traditional program. Capitalizing on the sweep and speed of blades across ice, the company emphasizes the artistic aspects of skating with lilting port de bras and emotional music.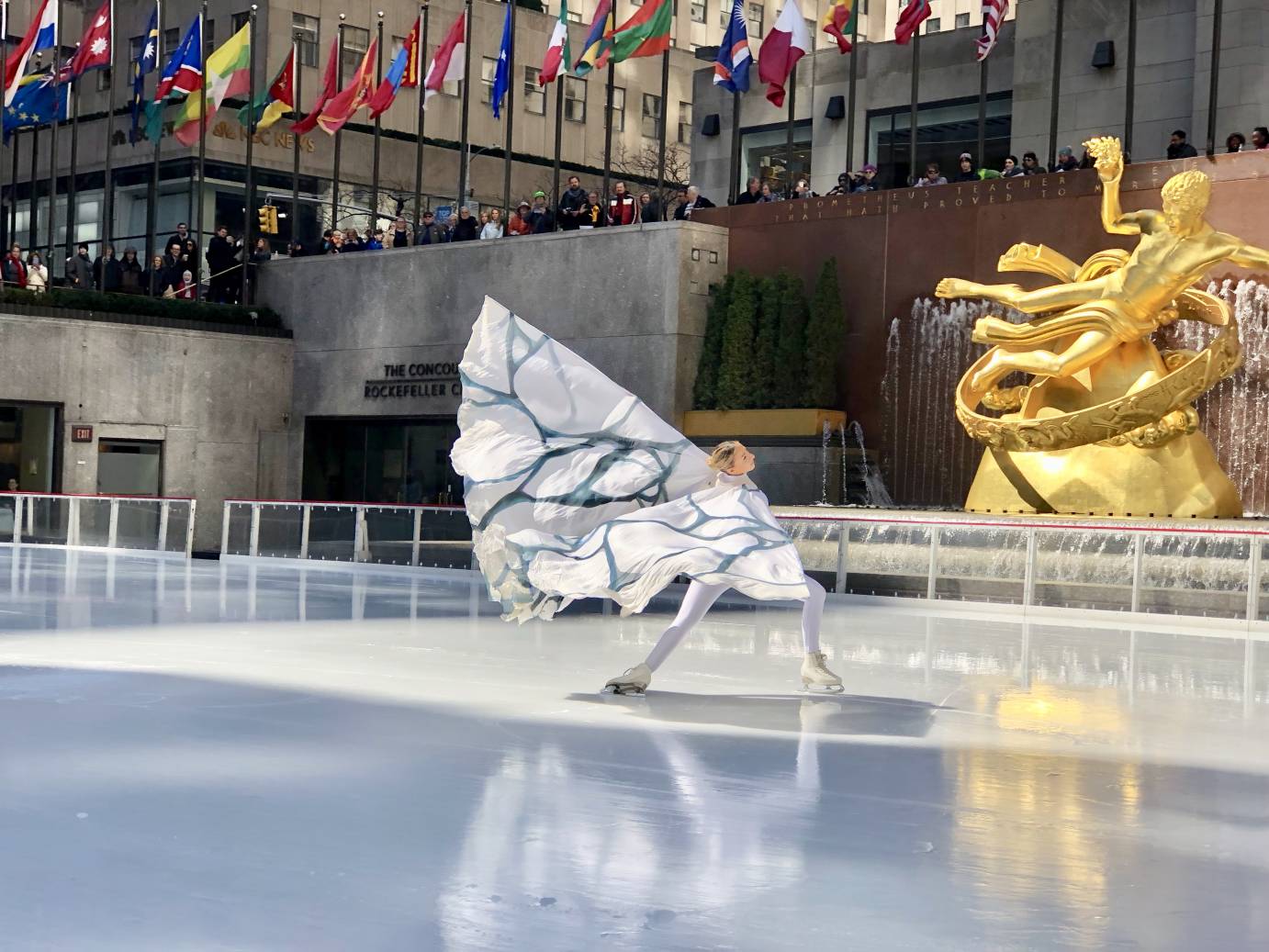 Ice Theatre of New York in Jody Sperling's Arctic Ice; Photo by Robyn Roth-Moise
The seven pieces range from a meditative solo by Theron James that asserts the Black body in a space primarily occupied by white ones to the pumped-up finale for six set to One Direction. 2019 US pewter medalists in the junior division, brother-and-sister duo Oona and Gage Brown, flaunt star power during their bluesy ice dancing number. Jessica Hunt and Conor Wagar bring the heat with their lift-filled Confessions (choreography by Line Haddad) to music by Florence and the Machine.
The opening work, though, extends pretty skating into an urgent plea. Imagined by Jody Sperling, Arctic Memory reflects on climate change. Valerie Levine, in a white, winged costume, swirls and streaks across the rink. As the warmer-than-normal weather melts the ice, she and the subsequent skaters gamely ignore the growing puddles.
It's an image that lasts longer than lunch.
---
The Dance Enthusiast Shares IMPRESSIONS/our brand of review and Creates Conversation.
For more IMPRESSIONS, click here.
Share your #AudienceReview of performances. Write one today!