IMPRESSIONS FROM PARIS: Victoria Thierrée-Chaplin's Murmures des murs (Walls that Whisper)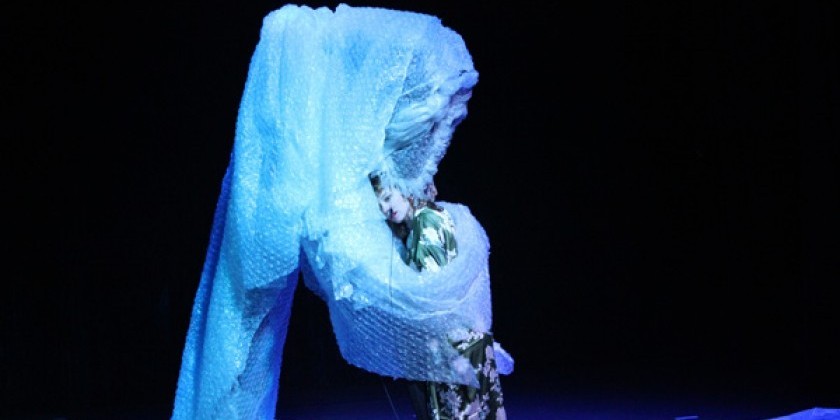 Compagnie des Petites Heures,Théâtre du Rond Point, Paris, France
May 4-23, 2015
Performed by: Aurélia Thierrée with Jaime Martinez and Antonin Maurel
Conceived and directed by: Victoria Thierrée-Chaplin -Sets by: Victoria Thierrée-Chaplin
Lighting by:Thomas Dobruszkes
Costumes by: Véronique Grand, Jacques Perdiguez, Monika Schwarzl, Victoria Thierrée-Chaplin
---
Physical theater virtuoso James Thierrée (brother  Aurélia Thierrée and son of  Victoria Thierrée-Chaplin, reviewed here) will be part of BAM's 2015 Next Wave Season in TABAC ROUGE. It is a smoke-and-mirror-filled "choreodrama" featuring the acrobats of Compagnie du Hanneton. In it Thierrée is a limber-limbed despot lording over a cockeyed band of subordinates. Sept 30th to October 4th at BAM. For tickets go to BAMs website
Brooklyn Academy of Music: Tabac Rouge
Boxes are strewn about -- not yet filled. Aurélia Thierrée can't pack. She gets distracted. Dust pours down from the ceiling. The Moving Man (performed masterfully by Antonin Maurel) insists on a signature, and she wants to comply, but her 'red shoes' keep reappearing on her feet despite the fact that she has tucked them into one of her cartons more than once. When she tries to pack herself into one of the boxes, she climbs right out of another.  It's as if her world won't allow her to sign the Moving Man's papers.
There is a logic that defies the logical mind, and tonight it stands firmly on the collapsing walls on the stage of the Théâtre du Rond Point in the form of Victoria Thierrée-Chaplin's Murmures des Murs (Walls that Whisper). This is the second work that Thierrée-Chaplin has created for her daughter Aurélia, a charming circus-dance-theatre performer. The mother directed, conceived, designed the sets, and worked on the costumes of this enchanting work. Talent bursts forth from this family. Thierrée-Chaplin, the daughter of the silent-film, genius Charlie Chaplin and the granddaughter of Noble-prize winning playwright, Eugene O'Neill, was (in partnership with her husband the French actor, Jean-Baptiste Thierrée) an early innovator  in the genre of Cirque Noveau. The couple created mesmerizing works from the early 70's through the 1990's and their children Aurélia and James Thierrée are recognized as important cirque artists in France. Their work simply must be seen.
 Scenes from: Murmures des murs (Walls that Whisper)
In Murmures des Murs, Thierrée-Chaplin builds a dreamscape that borders on nightmare. Bubble wrap pops and dust continues to fall from the sky as faceless men in trench coats surround Thierrée, invading and analyzing her life. The Moving Man still wants her signature. A lover (the wonderful dancer, Jaime Martinez) seduces then rejects her for his obsession with writing. Tall buildings painted on fabric unfurl onto the stage. Thierrée  is sucked through the walls into an insane asylum, where she weaves herself in and out of a mattress-less bed. She adorns herself in feathers to capture her writer/lover's attention --as he works away with a quill-- and even raises her tail provocatively to reveal a single white plume. (How could he possibly resist?) When The Lover refuses to notice Thierrée, she grabs his quill and stabs herself, bleeding red feathers. The fireplace sucks her in as if it is devouring her, like the 'Death of a Phoenix'.
Murmures des murs takes us on a magical, mad, and intense journey. It is an epic story of a moment in time overwhelmed by memory.  
By the end of the whirlwind the Moving Man can't be bothered with forms and signatures -- he is busy listening to the walls. But Thierrée is ready, finally, to leave. She signs, and the walls come falling down.
---
Physical theater virtuoso James Thierrée (brother of Aurélia Thierrée and son of Victoria Thierrée-Chaplin, reviewed here) will be part of BAM's 2015 Next Wave Season in TABAC ROUGE. It is a smoke-and-mirror-filled "choreodrama" featuring the acrobats of Compagnie du Hanneton. In it Thierrée is a limber-limbed despot lording over a cockeyed band of subordinates. Sept 30th to October 4th at BAM. For tickets go to BAMs website
Brooklyn Academy of Music: Tabac Rouge