Impressions from San Francisco of Wayne McGregor's "FAR"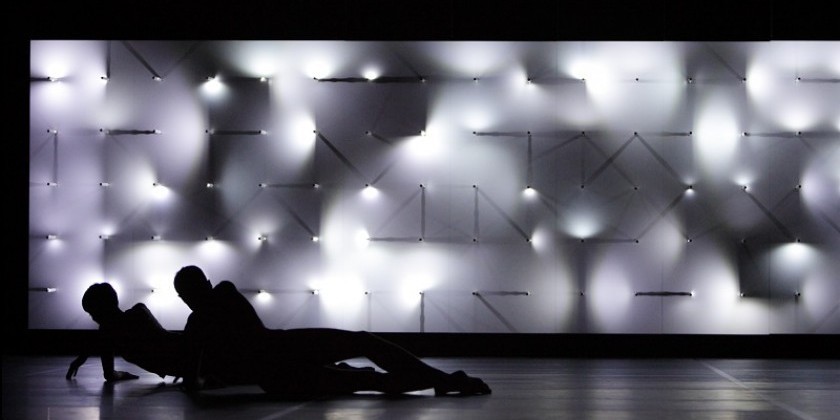 Yerba Buena Center for the Arts, San Francisco
Choreography: Wayne McGregor in collaboration with the dancers
Performers: Catarina Carvalho, Travis Clausen-Knight, Alvaro Dule, Michael-John Harper, Louis McMiller, Daniela Neugebauer, Anna Nowak, James Pett, Fukiko Takase, & Jessica Wright
Original Music: Ben Frost
Set Design: rAndom International
Lighting Design: Lucy Carter
Costume Design: Moritz Junge

EDITORS NOTE:  Wayne McGregor l Random Dance - ATOMOS will be in our area March 15-22nd.
Dates and Times: Mar 15 8:00 pm; Mar 16 3:00 pm; Mar 20 7:30 pm; Mar 21 7:30 pm; Mar 22 8:00 pm; Mar 23 3:00 pm
Venue: Alexander Kasser Theater, 1 Normal Avenue, Montclair, NJ 07043
Buy Tickets Here
---
"I wish we were but men clothed with bodies and governed by our imaginations."
Quote from FAR lyrics - Texts adapted from Flesh in the Age of Reason by Roy Porter
---

The question of what triggers movement lingers on stage in FAR, performed by Wayne McGregor's Random Dance at San Francisco's Yerba Buena Center for the Arts. A vivid, questioning piece, FAR sees its ten dancers, tightly clad in gray scale, executing rigorous choreography throughout the evening-length work. There are no breaks, just shifts of mood through a series of variously charged sections. Dancers propel through the space, sometimes picking along paths designated by light while other times illuminated by a soft glow.
McGregor begins with a powerful image of four dancers bearing torches, surrounding a couple weaving in and out of each other's space. Joint-focused movements and explosive reactions to one another make for a virtuosic and high-energy opener. The light from the torchbearers is the sole source of illumination, which slowly diminishes with the departure of each carrier to the sweet melancholy of a soprano voice.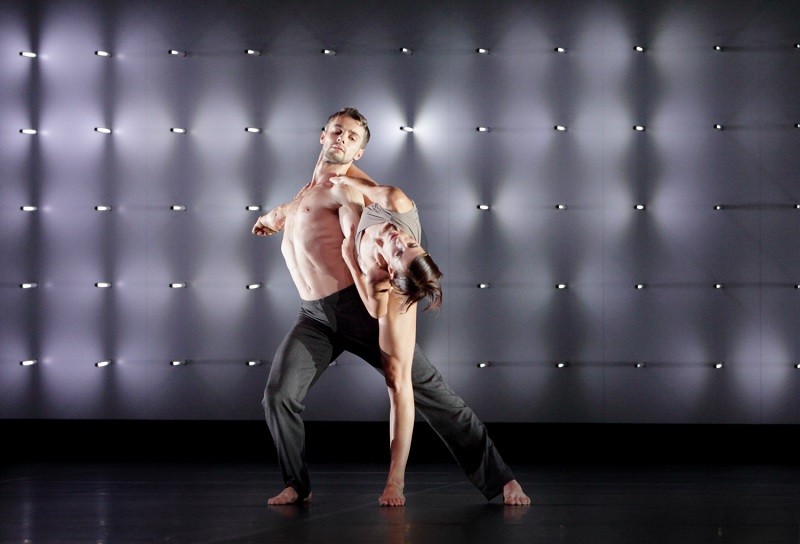 Photo: Ravi Deepres

The scene shifts as the warping of the operatic tones alters into something reminiscent of a space soundscape. The stage is dark and empty, save geometric pathways lit on the floor. Threading their way along these patterns with luxurious, fluid spines, dancers melt in and out of the background's black velour.  
A large rectangular board with rotating LED pegs soon comes into play. These lights create defined shapes, large washes of backlight, or in some cases, a countdown clock. As the board establishes stark images or blinking continuums, the dancers respond to the pulse in Ben Frost's score, which shifts from ambient to atmospheric. At the close, the audience is left with the image of a solo female lying upstage after a sensual duet.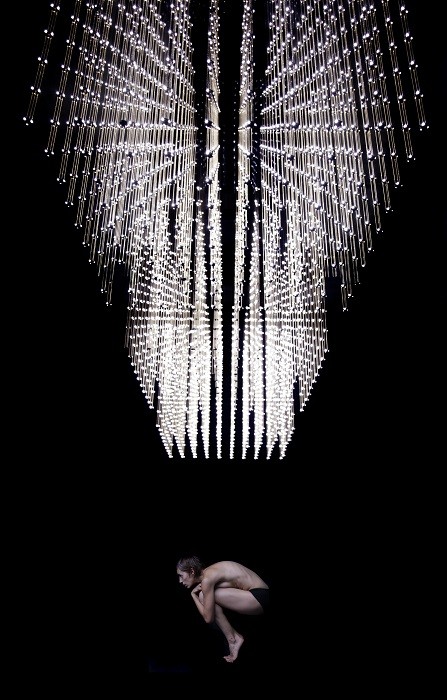 Photo: Ravi Deepres

The Enlightenment, a period in which people challenged long held ideas and stripped nature to its essence, is the inspiration for FAR. Using the root of his research, mechanics and humanity, McGregor negotiates the concept of the body as a machine and as a home for consciousness. He blurs the lines between the turbulence of physical exploration and humanity's tenderness. McGregor's fast-paced choreography asks for incredible technical precision, which is balanced with pushing the flesh to the precipice of disarray.
The body is both a machine, exploring its efficiency and its limits, as well as a sentient being, feeling and reacting to a gentle caress or a forced embrace. McGregor and company delve far into these concepts, thrillingly taking on the frontier of consciousness.