Impressions of Thirty Years and One Night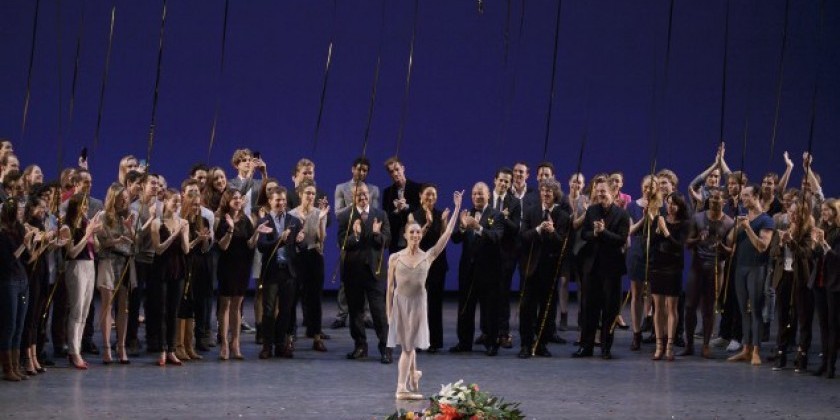 Reflecting On the Retirement of Wendy Whelan and Other Ballerinas of New York City Ballet
Saturday, October 18, 2014 at 8pm at Lincoln Center
Ballerina Wendy Whelan has taken her last bow as a principal dancer of the New York City Ballet. A sea of devoted fans applauded her singular achievements in a thirty-year career with that one company. I had the good fortune to witness the last 27 of it and will miss her presence in many roles.
Whelan was not a beautiful girl, as she freely admits in a film clip screened that night; instead, she had to find her beauty and let the audience acclimate to her unusual looks. It was through her dedication to her artistry that she was able to change the mind of many a balletomane about their aesthetic perceptions. Whelan's smile is open and inviting, her self-confidence disarmingly contagious. You root for her.
Ballet — even with all its body issues — embraced Whelan and her anti-establishment look, which gave the art form a contemporary edge. (In contrast, gorgeous Isabelle Ciaravola, étoile of the Paris Opera Ballet, who retired earlier this year and is the muse of many a couturier, is a classic beauty.) I contend that the change that Whelan brought about could only have happened in New York. In a city that is home to the center of the contemporary dance world, Whelan became the ballerina all dancers who were not perfectly shaped (and who is?), identified with. She symbolized the underdog who made it to the top. The thin and steely muscular legs without an ounce of fat, the boyish hips, the enormous ribcage that protruded in its lower half, the spine deformed by scoliosis, the non-existent chest, and the spindly arms all somehow worked together, and the artist in this body convinced us that what we saw was beautiful. Fashion designer Narciso Rodriguez paid attention, and names Whelan as an inspiration for his clothing compositions.
Wendy Whelan and Craig Hall in The Cage, Photo: Paul Kolnik
"That odd boy is really flexible," a companion of mine said years back when watching Whelan as 'The Novice' in Jerome Robbins' The Cage, one of her signature roles she inherited from Heather Watts. Whelan is odd indeed, but she can dance, as could Watts, who had similar body issues. But Watts, who retired in 1995 at the age of 41 (some sources say 42), coasted the last handful of years on her previously illustrious career and did not push herself in as varied ways as Whelan did. Watts, an inspiring writer, teacher, and advocate for the dance world, generously introduced Whelan in her own farewell talk with John Gruen as her successor. Watts paved the way for unconventional beauty, and then Whelan brought her own idiosyncratic look to the top and made it desirable.
The other ballerina Watts had at her side that evening almost twenty years ago was Kyra Nichols, one of the most brilliant ballerinas anywhere. Whelan took note and incorporated some of Nichols' attributes, molding herself as an artist open to influences. Thus, she became a favorite for visiting and in-house choreographers; she not only explored an encyclopedia of contemporary ballet styles but also helped choreographers define their vocabulary. Whelan not only took over Watts' and shared much of Nichols' repertoire, she also inherited Watts' partner Jock Soto. "Heather taught Jock how to partner; Jock taught me," Whelan explains in another film clip. She, in turn, taught dancers Craig Hall and Tyler Angle, who, after Soto retired, became her partners for nine and seven years respectively. It is touching that these were her partners in the pas de trois By 2 With & From, conceived by Christopher Wheeldon and Alexei Ratmansky to an arrangement by Max Richter of Vivaldi's "Four Seasons," for the occasion.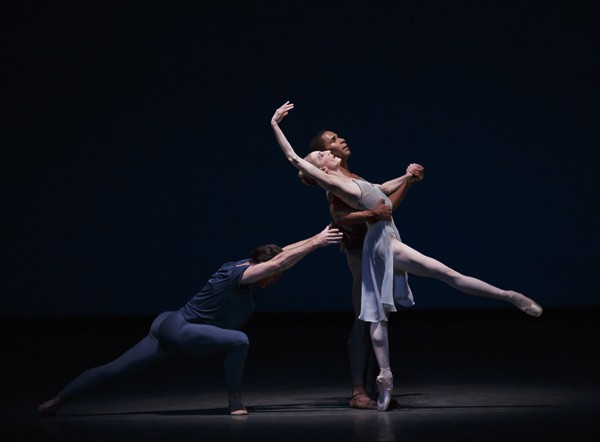 Wendy Whelan with Tyler Angle (left) and Craig Hall (right) in By 2 With & From. Photo: Paul Kolnik.
And what an occasion it was. With ticket prices through the roof, only selected members of the press were invited. Others had to buy their ticket at face value. In addition to the regular subscription audience, many ballet luminaries, contemporary dancers, and even some affluent first–time ballet-goers made curious through the preceding coverage filled the theater to the rafters.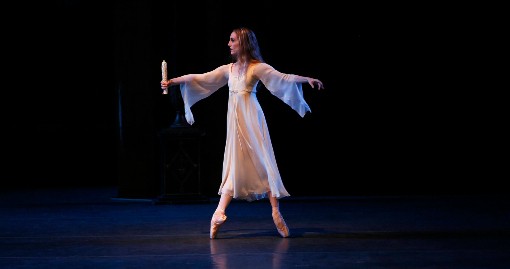 Wendy Whelan in La Sonnambula. Photo: Paul Kolnik.
Balanchine's La Sonnambula opens the program. A party is under way and Harlequin (Daniel Ulbricht) entertains the crowd with spectacular jumps. A poet (Robert Fairchild) joins the festivities and falls for the charms of The Coquette (Sara Mearns) who is also the love interest of host The Baron (Amar Ramasar). After The Poet steals several private moments with The Coquette, The Baron takes her away. The poet is left alone. It is then that a light wanders through the windows, and Whelan appears as a dreamy sleepwalker.  No wonder The Poet is fascinated and tries to get her attention: He stands, kneels, lies in her way, but sleep lets her waft over and under and around him. The only prolonged contact is a kiss he plants on her (which The Coquette happens to see) before they disappear. The Coquette's jealousy prompts her to whisper something in The Baron's ear while weaving in and out of a group dance. The Baron stabs The Poet offstage, who then stumbles onto his death.  Whelan, still asleep, carries the dead poet to her chambers.
An excerpt from Dances at a Gathering (by Jerome Robbins to Chopin) features Whelan as part of a sextet. The dancers (Rebecca Krohn, Abi Stafford, Jared Angle, Zachary Catazaro, and Adrian Danchig-Waring) as evidenced by their passionate performances, will miss her in their midst.
Wendy Whelan and Craig Hall in After the Rain. Photo: Bill Cooper.
The two contemporary works, the second movement from Ratmansky's Concerto DSCH and the pas de deux from Wheeldon's After The Rain, showed Whelan in other constellations. Unlike the sleepwalking muse and one of the gang in Dances..., here she is part of the principal couple (with T. Angle) interacting with a supporting cast, and then part of an intimate conversation (with Hall). It was a program carefully picked to honor her multifaceted roles and to pay tribute to the choreographers who matter to the company (Balanchine and Robbins) and to her (Wheeldon and Ratmansky).
Whelan's farewell is the third departure of a NYCB ballerina this year. Janie Taylor, (who retired in March) will be remembered for her daredevil improvisatory skills. One night in a performance of Peter Martins' Jeu de Cartes, Nikolaj Hübbe, injured himself on his first diagonal crossing. Taylor not only saved the ballet and partnered herself, she went on in his solo passages as well and danced with glee. Never have I enjoyed Jeu de Cartes as much. Her vulnerable frailty at the end of her career made her interpretation of the Sleepwalker in La Sonnambula especially poignant. Jenifer Ringer (who retired in February) joined the company in 1990 and might have been the most musical dancer of all. The ways Ringer conversed with the music and shared her joy are unmatched. When she was on stage, I could not take my eyes off her. Ringer's spirituality provided context for many ballets that seemed a void when others performed them. For many years, I made a point to see her in everything she danced.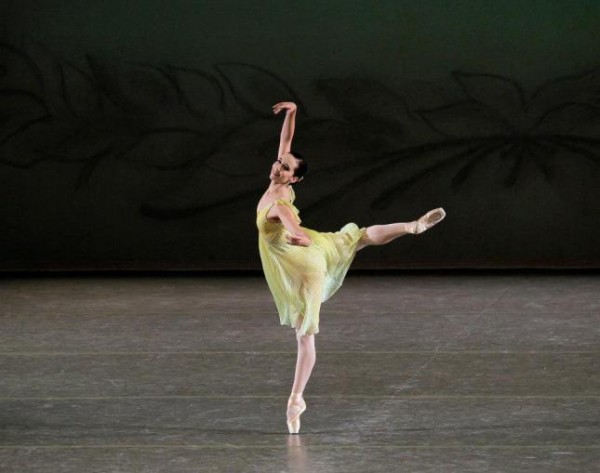 Jenifer Ringer. Photo: Paul Kolnik
Ringer and Whelan are the first important ballerinas whose career trajectory I was able to witness whole, or in Whelan's case almost whole. It made me think of many an evening spent at the ballet, conjuring up a list of ballerinas whose artistry is fondly remembered. The first farewell at City Ballet that I got to witness was by far the most glamorous. I had only seen the ballerina a couple of times, but I knew what she meant to the dance community and the art form. The special tribute to Patricia McBride in 1989 is an evening that will forever be ingrained in my memory. All the NYCB ballerinas, with the exception of Suzanne Farrell, danced the roles McBride created. It was a program that you did not want to end. She herself danced "The Man I Love" from Who Cares and blew kisses as 'Columbine' in Harlequinade (which re-enters the repertoire on Feb. 18, 2015) as the curtain closed. What a way to go!
Wendy Whelan. Photo: Henry Leutwyler
Between then and now there were many ways in which ballerinas left the stage. Legendary Farrell went after McBride later that same year, Stephanie Saland, ever the stylish lady with a flair for the dramatic, chose a broadcast of Vienna Waltzes for The Balanchine Celebration in 1993 as her last hoorah. The fantastic Maria Calegari left unceremoniously in 1994; only Watts in early '95 was given a proper farewell. The Lilac Fairies, Valentina Kozlova ('95) and Lourdes Lopez ('97) did not get to say goodbye, but Helene Alexopoulos ('02) did. I reported on utterly amazing prima ballerina Merrill Ashley's retirement in 1997 for another publication. Celebrated Kyra Nichols and beloved Darci Kistler bowed in 2007 and 2010 respectively. With Ringer and Whelan gone, the company becomes more homogenized, but plenty of talent still abounds. Whelan failed to introduce us to her successor, but honestly, there is nobody as oddly beautiful as she is. Ringer and Whelan overcame different body problems and served the art form with their generous spirits. They gave audiences plenty to cheer about, and I will miss one or the other in pretty much every work of the established repertoire, but most of all in Robbins' Opus 19/The Dreamer, a part they both shared for many years as the center of our dreams.