Impressions of Work Up 2.1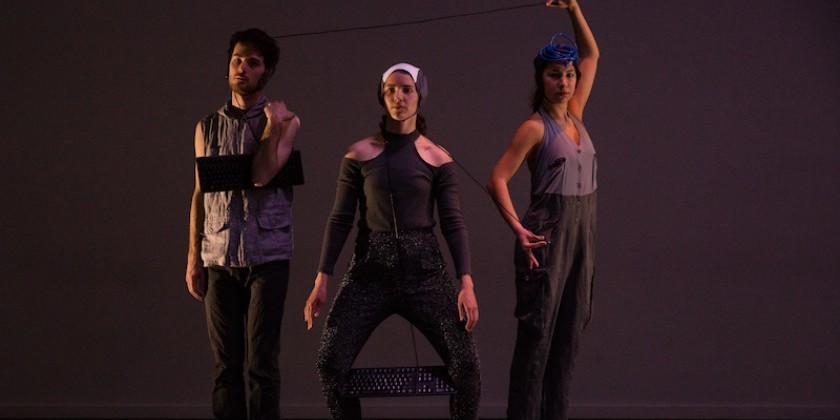 Gibney Dance Shares the Work of Three Emerging Artists
April 2, 2016
Gibney Dance: Agnes Varis Performing Arts Center, New York
Choreography by Lisa Fagan Dance Problems, Angélica Angulo Soledad and Jasmine Hearn
---
Gibney Dance's Work Up, now in its second year, is a highly competitive program in which emerging performers are encouraged to "put their ideas onstage." Three wildly different choreographers are grouped together for an evening that can be dissonant or informative — but rarely boring. The tight curation usually means that even if the evening falls flat, the individual dances show remarkable research in one way or another.
Work Up 2.1, strong as an evening and as a collection of individuals, opened with Lisa Fagan Dance Problems in DiffiDifferent, an uproariously funny piece of dance theater inspired by science fiction and a healthy skepticism for the future of artificial intelligence. The three performers honed in on Western anxieties surrounding communication and relationships through a series of elegant and deft scenes that included physical performance, spoken lines and a song worthy of Broadway.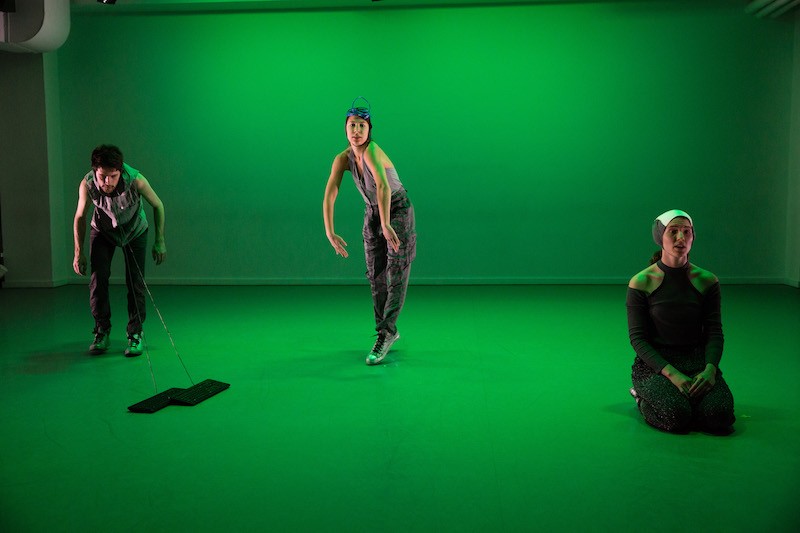 Milo Cramer, Lisa Fagan & Hannah Mitchell of Lisa Fagan Dance Problems. Photo: Scott Shaw
Comedy in dance is tricky, especially for performers who aren't versed in acting techniques. Slapstick — the natural recourse of embodied performers — will only take you so far. DiffiDifferent, created in collaboration with playwright Milo Cramer, can only have benefited from his perspective. Lisa Fagan and Hannah Mitchell excel when they speak or sing, revealing experience with vocalization that dancers often lack. In fact, a natural confidence permeates this work. It's apparent when Fagan, who takes on the technical dancing, floats through the choreography. It's also apparent in the way that Mitchell vocalizes in the stilted, mechanical tone of an automatic recording — she's utterly convincing and deeply unsettling, especially at the very end when her voice slowly transitions back to sounding "human".
As LFDP continues to develop this work, its physical language needs to play catch-up to the unique script and quality of vocalization. It's not clear that as much research went into the choreography. Hopefully the experimental success of DiffiDifferent's theatrical elements will push LFDP to take risks with, and clarify, its movement vocabulary as well.
Angélica Angulo Soledad's María is an examination of a Latina body at work. By using a vocabulary of effort and repetition — putting simple labor on display and calling it performance — Soledad forces the viewer reevaluate how worth is assigned. 
In an arresting opening, Soledad stands upstage left, repeatedly stepping forward in place. She reaches her hands out as if grabbing something that's slipping away, or casting a spell.  Silhouetted, with her hair flying forward over her face, the image of a woman as hysterical and emotionally overwrought was never so apparent in a simple gesture.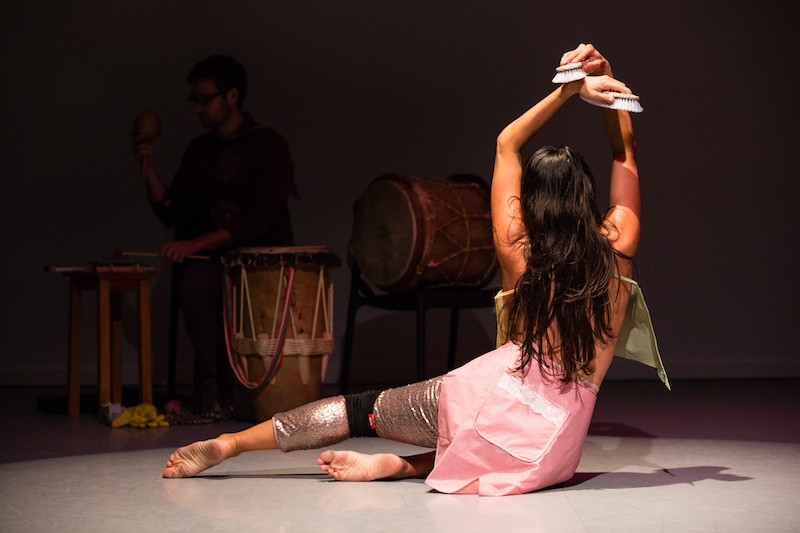 Andy Miller and Angélica Angulo Soledad. Photo: Scott Shaw
As Soledad gets down on hands and knees to scrub the floor with two small brushes, her onstage percussionist, Andy Miller, does the same, donning yellow rubber gloves and gently swiping one of his drums with a brush This small choice integrated Miller into the performance in a way that's rarely extended to onstage musicians accompanying dance. 
Disappointingly, María doesn't evolve past its intriguing opening. The floor scrubbing goes on for far too long. The modified social dance steps and dramatic soundtrack of a telenovela fight scene neither evolve nor refer to what comes before.
Jasmine Hearn. Photo: Scott Shaw
With her sequined dress, the ultra-saturated color that can only be achieved in a whitebox theater (in this case, a deep blue) and the wild quality of her voice as she sings into a lone microphone, Jasmine Hearn opens her solo as if calling from an underwater underworld. cinder is by turns witchy, bacchanalian, searing and confrontational. Developed as part of a residency at The Barn in Houston, TX, the work offers raw exposure countered with the confrontational armor of self-protection.
Hearn's dancing is breathtakingly precise and fluid, though, like LFDP, cinder's theatrical elements are far more developed than its choreography. In fact, the most profound moment comes when the lights change to a warm yellow, obliterating mystery and shadows to reveal Hearn's face. The music changes to "Strange Fruit" while Hearn sustains a monumental backbend, her eyes mocking.
cinder is powerful, but the dancing, which Hearn accomplishes with such ease, could take many more risks before it reaches the level of exposure displayed in the spoken lines and moments of stillness. 
---