Related Features
Contribute
Your support helps us cover dance in New York City and beyond! Donate now.
IMPRESSIONS: YYDC's "The Edge of 30°" at BAM Fisher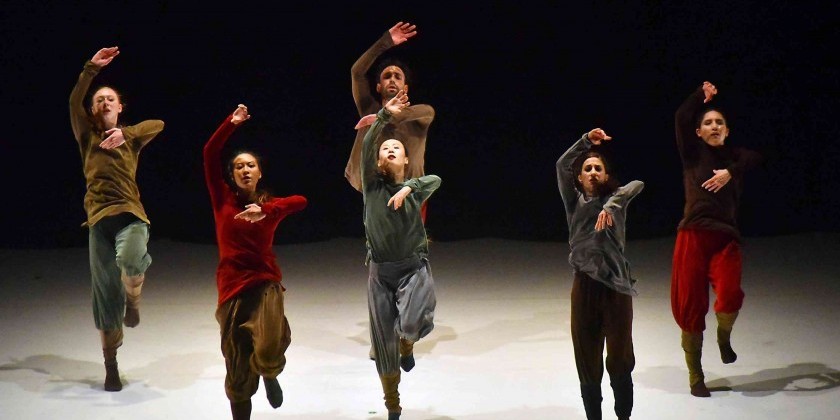 June 1, 2019
Founder and Artistic Director: Yin Yue
Costumes: Barbara Erin Delo // Lighting: Christopher Chambers
Music: Juliane Jones and Doug Beiden, Orphax & Machinefabriek
Performance: Lacey Baroch, Erika Choe, Omar Román De Jesús, Grace Whitworth, Yin Yue, Lizzy Zevallos
---
YYDC's movement looks like it feels yummy on the body, all elastic lunges, cushiony pliés, and gestures that sketch the air like cursive. Dancing in two of the three world premieres in the BAM Fisher program, The Edge of 30°, founder and artistic director Yin Yue embodies the genesis of her language. Her multi-faceted history includes training in Chinese classical and folk dance as well as ballet and modern.
The result of her east-meets-west background is FoCo Technique, which utilizes the five elements and three rhythmic stages of pulse, drop, flow. Yue's dancers appear well versed in the language, and their fluency realizes a consistent flair through The Edge of 30° even when the work itself is artistically literal.
The 85-minute production transpires in the round on a square of white marley. Regardless of your seat, and there's no bad seat, you'll notice the performers' unique relationship to their kinespheres, which stop at the end of their natural reach. This muted amplitude allows for delicacy and precision in the arm movements that arc around, strike through, and dab at the air closest to them. As if flames caught in jars, the dancers flicker and burn in a contained way — all the oxygen they want and need is right there around them.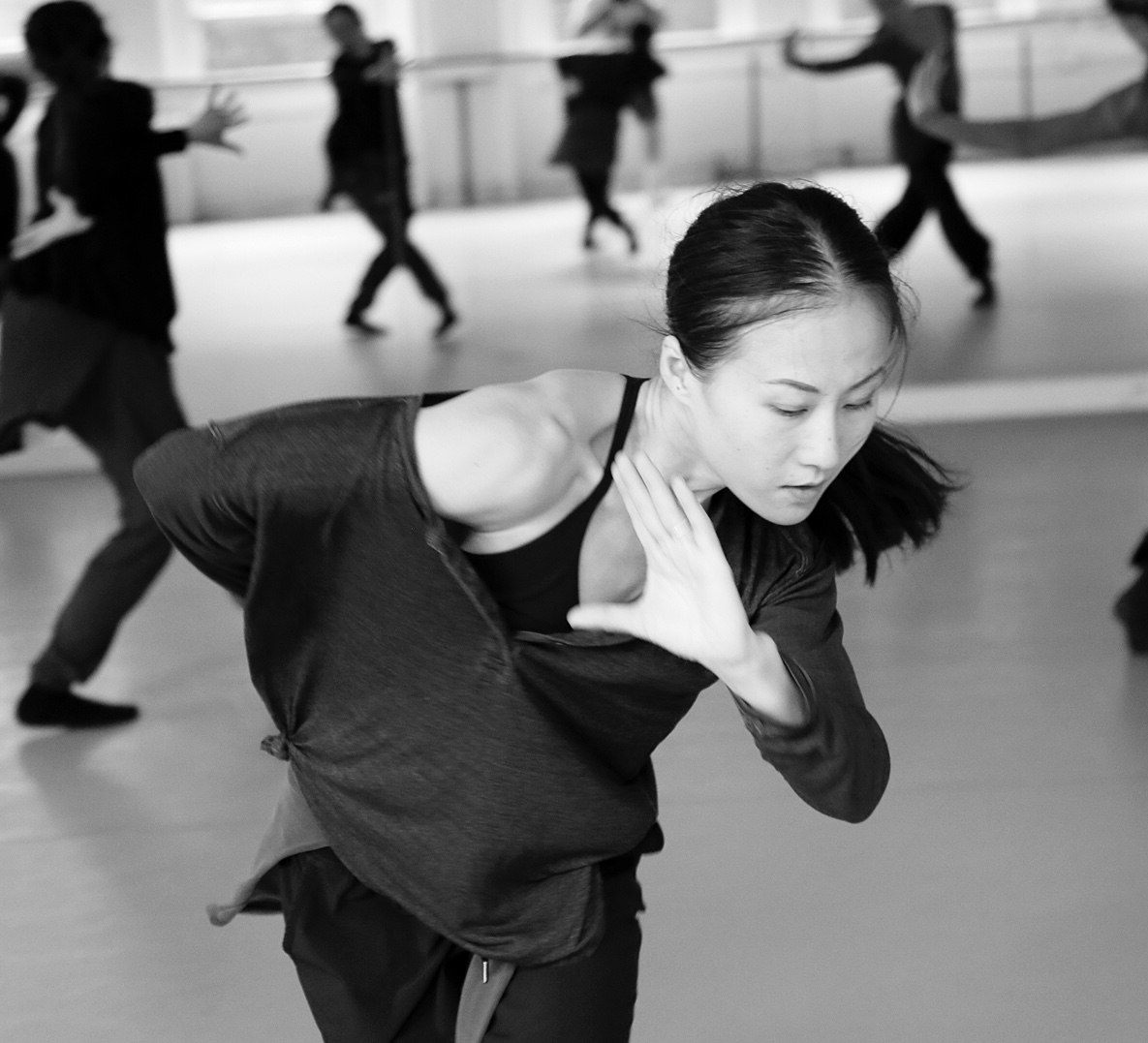 Founder and Artistic Director Yin Yue; Photo by Paul B Goode
More interesting is Yue's central motif. Although the phrases spoke in many directions, the cast often returns to a frontal lunge where, sometimes they linger while, other times, they pass through. Their backbones rise straight and tall like tree trunks as the legs root deep into the ground. Occurring regularly, these lunges act as a home base, an opportunity for the performers to stabilize, both inside and out.
The Time Followed, a duet for Yue and her longtime collaborator Grace Whitworth, flaunts the best of YYDC's aesthetic in a snaking duet. Usually touching, the two switch leading and following, darting into the negative space made by the other's limbs. Their bodies ooze like candle wax that hardens at the extremities to pointed toes and elegant fingers.
Duets also form the bulk of Stones and Kisses (the title alludes to theoretical physicist Carlo Rovelli's idea that the world is created from the eternal and the fleeting). This inspiration materializes most visibly in the costumes. Three women sporting beige Martha Graham-esque dresses, and one man and one woman wear gray trousers with pockets.
YYDC; Photo by Paul B Goode
As for the structure, a stone dances with a kiss, a kiss dances with a kiss, a stone dances with a stone, and then all the stones and kisses dance together. The music — happy for kisses, strident for stones, theatrical for the combination — emotionally overwhelms the choreography, and the consequence is a piece saturated in melodrama.  
Citizen offers a more intriguing premise — hope as a cause worth fighting for. Drenched in red light, the ensemble coasts through sinuous floorwork and stamps in folk-inflected footwork. Often, they hike up a knee to end in one of those signature lunges as a blood-and-thunder score blares.
With little dramatic development, Citizen drags as the military-inspired choreography begins to resemble drills. Even still, I couldn't help but be stirred. Hope is an imperative we should all heed.
---
The Dance Enthusiast Shares IMPRESSIONS/our brand of review and Creates Conversation.
For more IMPRESSIONS, click here.
Share your #AudienceReview of performances. Write one today!