Related Features
Contribute
Your support helps us cover dance in New York City and beyond! Donate now.
IMPRESSIONS: A Weekend of Dance in November in Three Parts: Yin Yue Dance Company in "RIPPLE"at the 92nd Y (Part3)
Prologue:
New York City. It's way too expensive. There's not enough space.  Crime is up and the place certainly looks grittier since the first wave of the pandemic.  But… barring more shutdowns from the dastardly Omicron mutation, our Twilight Zone Marathon of an existence, has been welcomely interrupted by the return of live theater. People, once afraid to breathe together in the same room, have left their solitary spaces for peopled venues. Now, I remember why I live here.
In one weekend I attended Yin Yue's premiere at the historic home of American modern dance, the 92nd Street Y; sat in a semicircle with 24 other souls in midtown's Theater Lab, where I contemplated motherhood's mythology with Stefanie Nelson and friends; then, whisked my way downtown to the La Mama Experimental Theater for a rare revisit of iconic older work by contemporary dance maestro, Stephen Petronio. I've been starving for this vibrancy, eclecticism, and intense physical commitment to art.

As Petronio claimed, heartily clanging a school bell to signal the start his performance, "We are here to reclaim our history as physical beings in the real world."

Amen to that.
---
Yin Yue Dance Company (Part 3)
Ripple ( World Premiere)  at the 92nd Street Y, Theresa L. Kaufmann Concert Hall
November 18th
Choreography by Yin Yue
Performers: Grace Whitworth, Kristalyn Gill, Nat Wilson, Jordan Lang, and Yin Yue
Music: Michael Nyman, Luca Yupanqui, Sub Basics, Echo Collective
Lighting: Haley Burdette
---
I first met Yin Yue in February 2013 when she invited me to watch her improvise before she presented a concert of her own works at Peridance Center. At the time, she was wondering whether or not to leave her lucrative job as a fitness instructor to go full throttle into  dance choreography. I am so glad she committed to dance.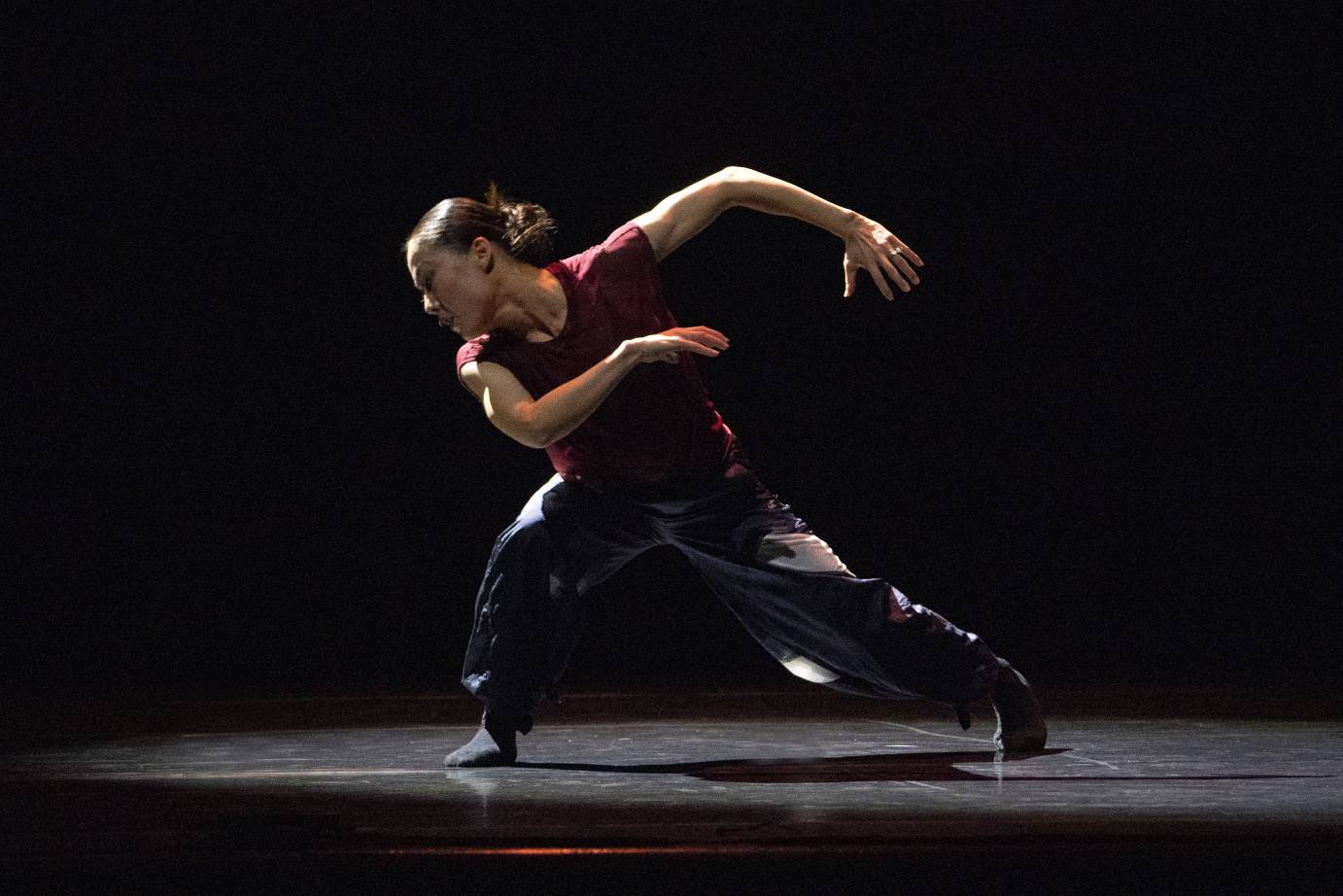 Yin Yue in her choreography RIPPLE ; Photo Richard Termine
Yue is one of those movers you can't take your eyes off of, and she transfers that compelling magnetism easily to the artists she works with.  Perhaps her ability to do this so well stems from her invention, FoCo (FolkContemporary) technique, which encourages a concentration on five elements  —earth, wood, water, fire, and metal— and the traits they elicit from various parts of the body.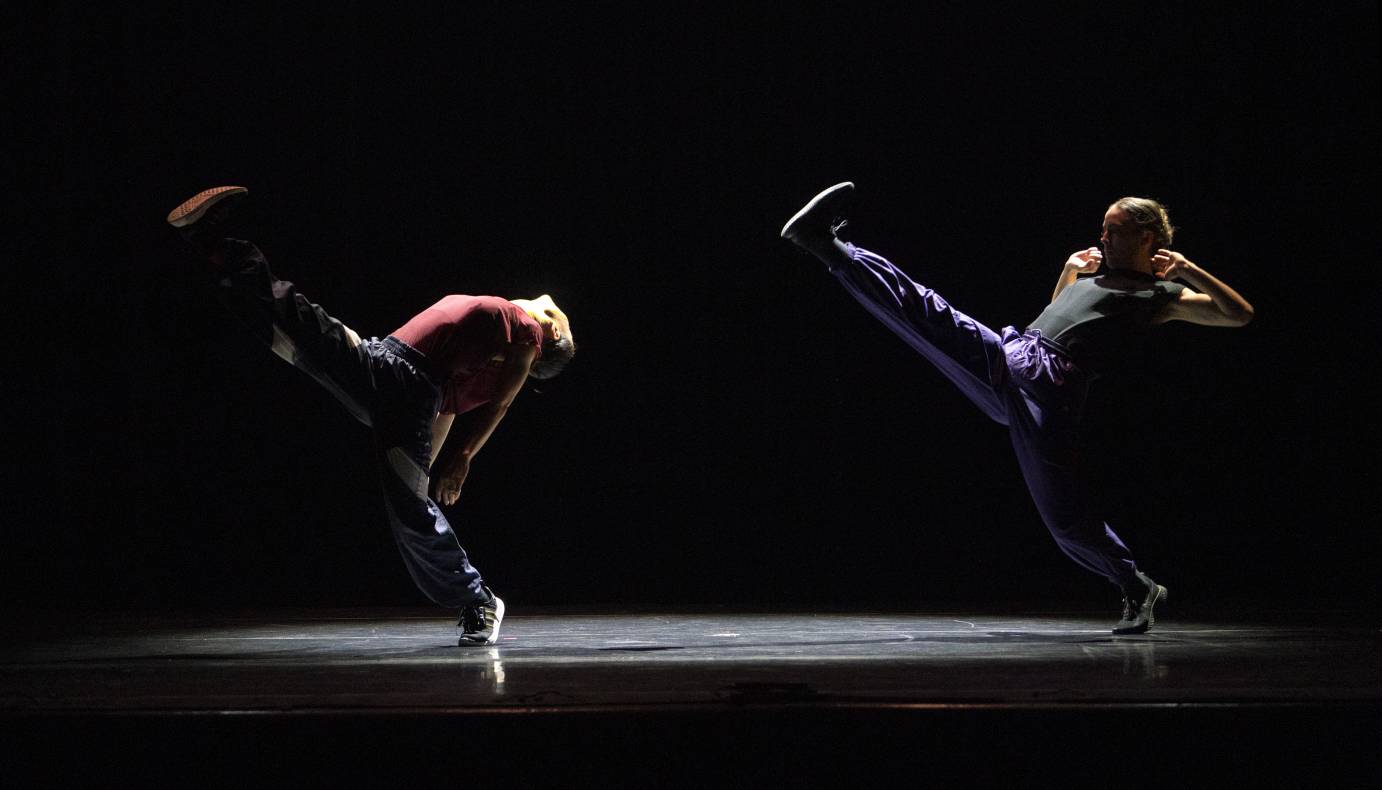 Yin Yue and Kristalyn Gill in RIPPLE; Photo  Richard Termine
What most captivates when taking in Yue's choreography is the sheer amount of movement and dynamics she packs into her phrases. If she were writing a composition it would be stream of consciousness, chuck full of unrelated verbs, and difficult to decipher without a handbook.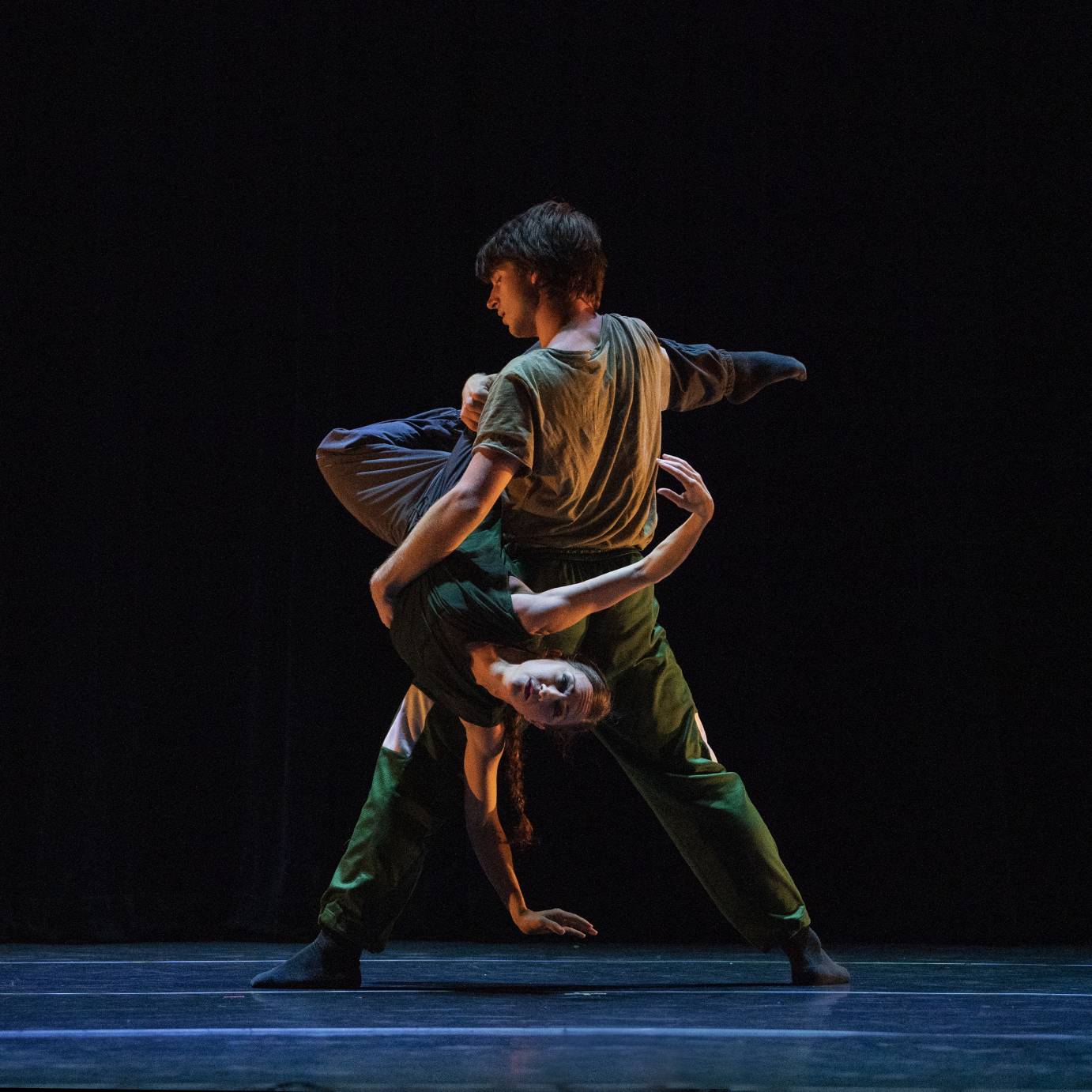 Grace Whitworth and Nat Wilson in RIPPLE: Photo Richard Termine
Though she doesn't narrate a story or create characters, an evocative duet between Grace Whitworth and Nat Wilson  provides a touching example of a modern love, (if one choses to view it that way. )The couple sustains one another, cradling each other, bearing equal weight, sharing emotion. Without dominance of one person over the other, or of one gender over the other,  we witness generous and complete support.
Jordan Lang in RIPPLE; Photo Richard Termoine
Jordan Lang's untamed, airy arabesque transforms into oozy reptilian floor work. His assured command and purpose suddenly shatters, as he pulls at his skin addressing his  body as if it's a foreign object. "Nijinsky in sweatpants," was a phrase that kept coming to mind.
Shifting from one distinct quality to another, Yue and her dancers sew contrary threads of energy together with marvelous dexterity. We become lost in pure movement fascination.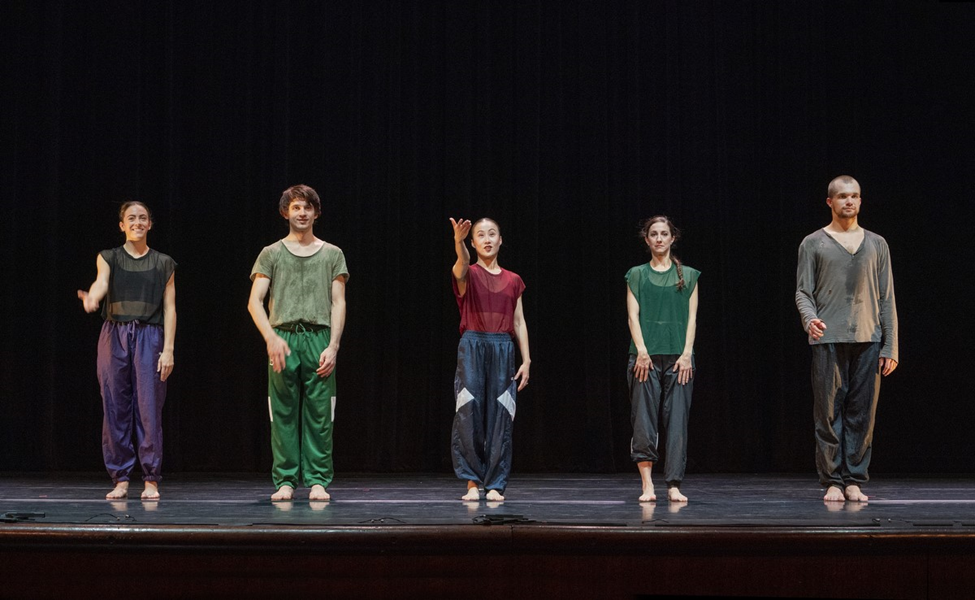 The cast of RIPPLE takes a bow; Richard Termine
The  entire experience was made all the more special because it was housed in the 92nd Y's Theresa L. Kaufmann Concert Hall.  Thank you to Taryn Kaschock Russell ,the Director of the 92Y Harkness Dance Center, and team. Brava. This is the stage danced on by our fields' pioneering dance greats: Martha Graham, Anna Sokolow, Alvin Ailey, to name a few.  Today's talented dance artists deserve to be up there, supported by history and elegantly framed.
---
---
The Dance Enthusiast Shares IMPRESSIONS/our brand of review, and creates conversation.
For more IMPRESSIONS, click here.
Share your #AudienceReview of performances. Write one today!
---
The Dance Enthusiast - News, Reviews, Interviews and an Open Invitation for YOU to join the Dance Conversation.