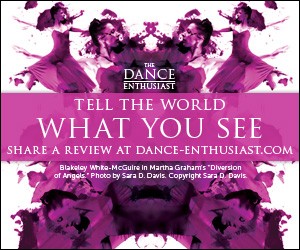 Related Features
Impressions of zoe/juniper's "BeginAgain Installed"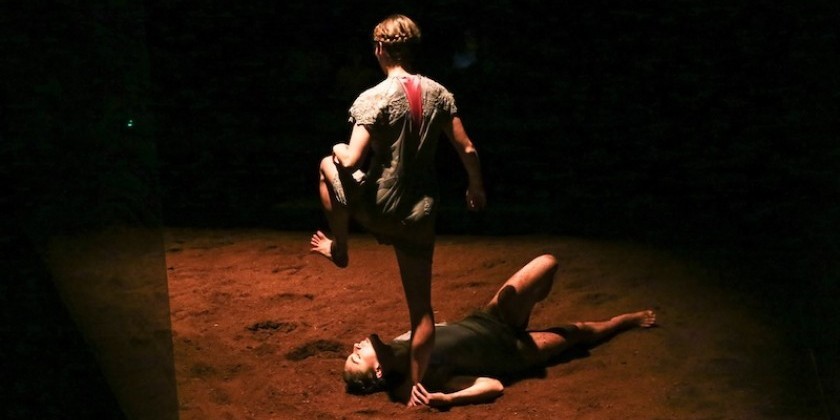 As Part of Joyce Unleashed at 3-Legged Dog
3-Legged Dog (80 Greenwich Street, New York, NY)
Concept, Design, and Direction by Zoe Scofield and Juniper Shuey
Choreography by Zoe Scofield and Ariel Freedman
Video and Spatial Design by Juniper Shuey
Sound Design by Julian Martlew
Lighting by Thomas Dunn
Costume Design by Christine Meyers
Performed by Ariel Freedman, Zoe Scofield, and Annie Rigney
---
In dance, the dancing comes first. Design, no matter its role, usually appears later, sometimes much later. Seattle-based zoe / juniper, a collaboration between choreographer Zoe Scofield and artist Juniper Shuey, reverses this practice in their work, BeginAgain Installed, which received its New York premiere at the 3-Legged Dog as part of the Joyce's Unleashed series.

Scofield and dancer/co-choreographer Ariel Freedman create movement motifs and emotional subtext in response to Shuey's set. His design, incorporating 3-Legged Dog's eyeliner (technology that allows three-dimensional forms to appear in a live theater setting), slices the performing area into three triangles with the audience stationed at the ends like goal posts. The outer triads are covered in dirt, the color and texture of coffee grounds, and two panes of glass slicked with a reflective gloss encase the central wedge. Festooned with curlicue cutouts, a gray drape hangs across the rear. This backdrop, depending on whether you focus on the negative or positive space, suggests silhouettes of female faces or a fanciful panorama of birds and leaves.
Photo: Stephen Delas Heras
Upon entering, it's the prone form of a girl (Annie Rigney) that commands our attention. She, seemingly in the deepest slumber, lies on her side, body crimped in a serpentine shape. Like a partially birthed butterfly, half of her physique is encased in a paper mâché chrysalis. For the piece's first part, she reposes until, abandoning this husk, she ghosts in and out of Scofield and Freedman's pursuits.

The choreography shimmers with a strange, stirring beauty. Reminiscent of busted-up, broken-down baby dolls, limbs creak at awkward angles, necks jut, and torsos crumple. Scofield and Freedman connect these angularities through creamy, elastic transitions and pops of ballet academicism. While often in unison, their harmony is ragged, suggesting twinned seeds that have developed personalized responses to identical stimuli.  Two exquisitely calibrated solos accent this: An inwardly absorbed Scofield wrings herself into peaks and troughs whereas a paranoid Freedman, fraught by external provocations, darts glances over her shoulder and flares into heaving attitudes.
Photo: Stephen Delas Heras
The duo, their hair twisted in Grecian braids and clad in silvery dresses slivered by rose pink, resemble celebrants of some type of goddess cult. Acknowledging pairs —between earth and air, between lassitude and vigor — they loll in the dirt and operate as curios in their glass cage. It's only when they leave this spare, enchanted garden, the root of their inspiration, that the work loses its center. Freedman warbles in a reedy voice, and the two press their backs against a wall, smacking and stomping their hands and legs like cheerleaders.
BeginAgain Installed has some very cool video effects and a turgid score by Julian Martlew, which veers from eerie to blaring, but the real interest resides in Freedman and Scofield's complex sisterhood. They grapple in antagonism, but resolve outbursts with businesslike tendus. Spent from their exertions, they bow to each other and sink to the floor as the faces in the backdrop glimmer.