Related Features
Contribute
Your support helps us cover dance in New York City and beyond! Donate now.
Impressions of Christopher Wheeldon's "Alice's Adventures in Wonderland"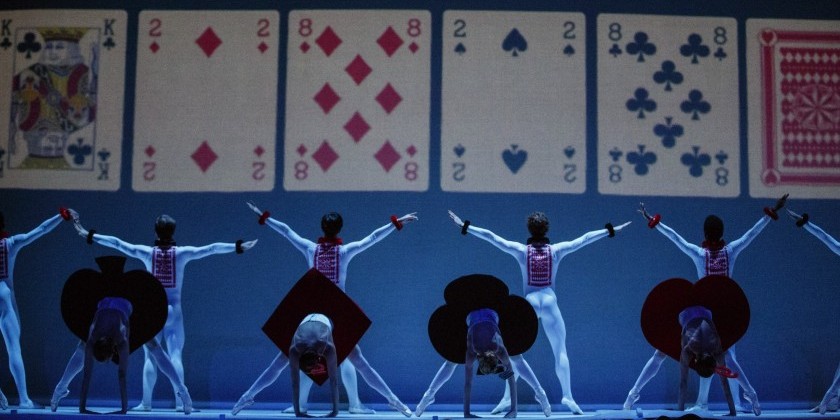 Performed by The National Ballet of Canada
Presented by The Joyce Theater at David H. Koch Theater
Choreography by Christopher Wheeldon
Music by Joby Talbot
Designs by Bob Crowley
Scenario by Nicholas Wright
Lighting Design by Natasha Katz
Alice: Sonia Rodriguez
Jack/Knave of Hearts: Naoya Ebe
Lewis Carroll/The White Rabbit: Robert Stephen
Mother/Queen of Hearts: Svetlana Lunkina
---
Since it's publication in 1865, Lewis Carroll's Alice's Adventures in Wonderland has remained a staple of the literary canon. The work, initially panned by critics, found an audience with children and adults who delighted in its cunning wordplay, surreal cast of characters, and Alice herself, a curious, opinionated girl based on a real child with whom Lewis Carroll (this is suspected but not substantiated) was infatuated.
Much in the way that Alice grows and shrinks by nibbling on a magical mushroom, the raw footage of Alice's Adventures in Wonderland lends itself to reshaping.  Christopher Wheeldon's interpretation, performed by the National Ballet of Canada, inflates the source material into lurid proportions.

The ballet opens as maids and butlers bustle about, hoisting trays and stealing kisses; they are preparing for a garden party given by Alice's parents, the Dean of Christ Church and his wife. It is here we meet Jack, a handsome gardener on whom Alice has a crush; Lewis Carroll, snapping pictures with his Victorian camera; Alice's mother, a paranoid, domineering social climber; and Alice, an artless 15 year old, who, when Lewis Carroll transforms into a bunny, can't resist following down the rabbit hole.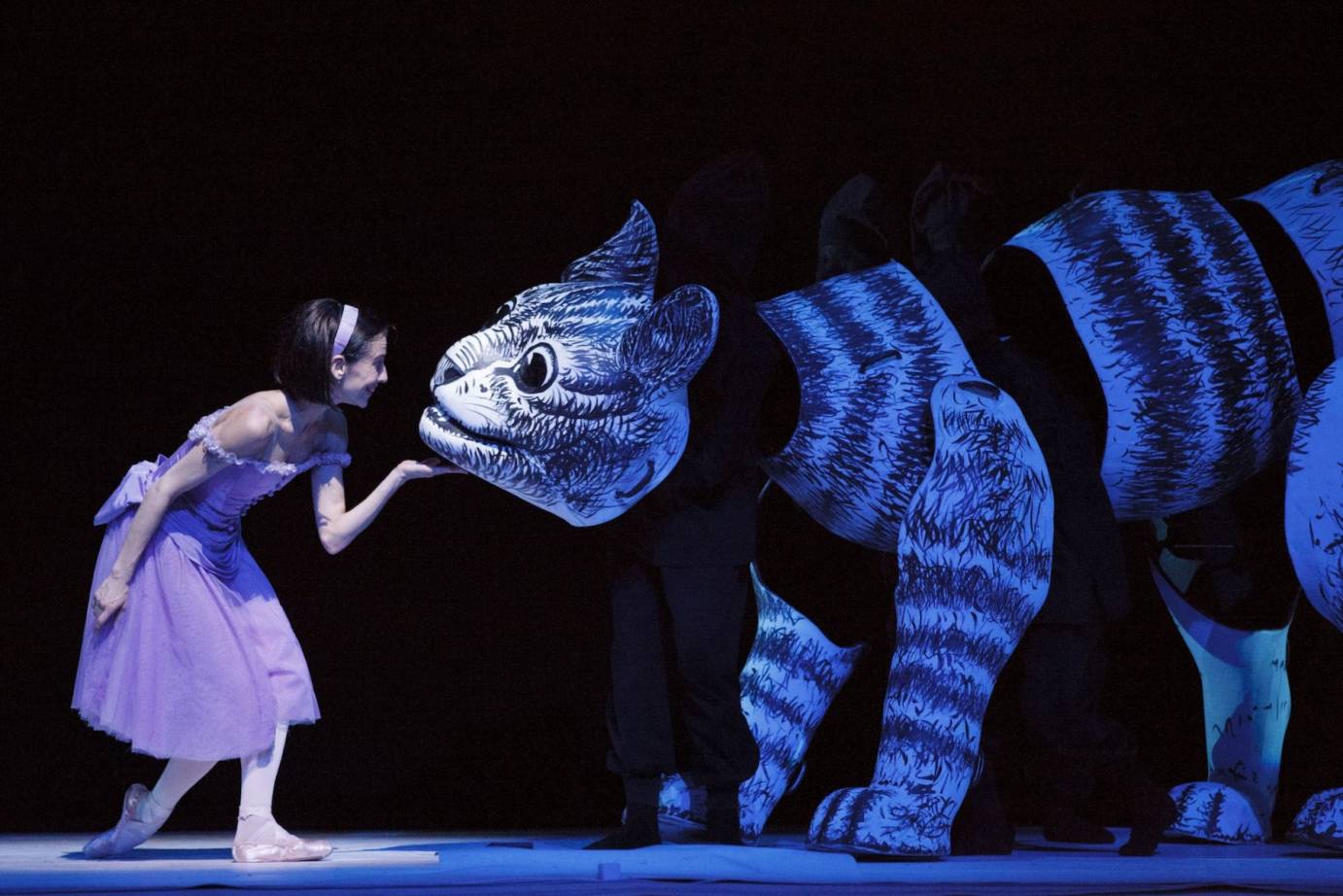 Sonia Rodriguez in the role of Alice. Photo: Bruce Zinger.
Once she alights in Wonderland, Alice encounters these same individuals, now reimagined into fanciful characters.  Jack is the Knave of Hearts, on the lam after being accused of filching tarts; Lewis Carroll, the flustered White Rabbit; and Alice's mother, the sadistic Queen of Hearts (performed with campy abandon by Svetlana Lunkina) who separates luckless courtiers' heads from their necks.
From here, well, not much happens. Wheeldon hits the highpoints of the book, but there's no plot, just a string of madcap episodes stretching over the next two and a half acts. Alice, played by Sonia Rodriguez, is our stand-in through the nutty nonsense. While Rodriguez, petite and pretty like a china doll, desperately tries to give Alice nuance, there are only so many "amazed" expressions she can conjure up.
Sonia Rodriguez and Piotr Stanczyk. Photo: Bruce Zinger.
Wheeldon has indicated that he strove to create something akin to a Broadway musical, but even those productions, with all of their razzle dazzle, need a motor to propel them forward. Alice's Adventures in Wonderland feels less like a splashy spectacle on the Great White Way and more like highbrow vaudeville. The Mad Hatter tap dances during a show-stopping tea party; the Caterpillar slinks in a juicy, vamping solo; and fantastical animals lumber through a silly race, a section tailor-made for the five-and-under set. There is a looping garden scene in which Alice and the Knave of Hearts perform soppy embraces and vertiginous lifts while myriad couples waltz and waltz and waltz in circle after circle after circle. Lots of things are happening, but nothing happens, to them or us.
The true star is the design. Splendidly imagined by Bob Crowley, the sets look ripped wholesale from a Vegas casino with their exaggerated proportions and sensational hues. Video, a streaming alphabet soup of twitching letters, is used to great effect to portray Alice's fall down the rabbit hole. The costumes, all polished fabrics and glittery accouterments, dazzle; even when the stage swarms with activity, it is easy to locate our favorite characters. The only misstep is the purple chemise that Alice sports. With straps that dangle halfway to her elbows and a tightly fitted bodice, the costume suggests a bawdy milkmaid, not an ingénue in the throes of first love. 
These seductive visual stimuli overpower the fine choreography. Wheeldon preserves the classicism of ballet technique but jazzes it up with winning, expressive twists. Academic pirouettes melt into sinuous spins, and grande jetés (a leap in which the dancer splits his or her legs) soar sideways, rather than forward, capturing the production's giddy exuberance.
The National Ballet of Canada in Alice's Adventures in Wonderland. Photo: Bruce Zinger.
The genial National Ballet of Canada handles these swivels from classical to modern with aplomb. From the waist up, they are outstanding — animated without devolving into caricature, and they execute milky port de bras that sweep from supple spines. Footwork, if you can wrench your eyes from the other enchantments to observe it, suffers. From Rodriguez through the corps de ballet, the dancers do not roll through their feet. This lack of articulation gives actions that start on pointe but end on flat an oscillating stutter, which jars with Joby Talbot's sumptuous, cinematic music.

It's this score with its lavish swells and vigorous syncopations that encapsulates the magic in Alice's Adventures in Wonderland. If you close your eyes and ignore the bloated stage production, you can be transported to a wonderland where anything can, and will, happen.