Related Features
Contribute
Your support helps us cover dance in New York City and beyond! Donate now.
Impressions of The BEAT Festival's "Crossing Over"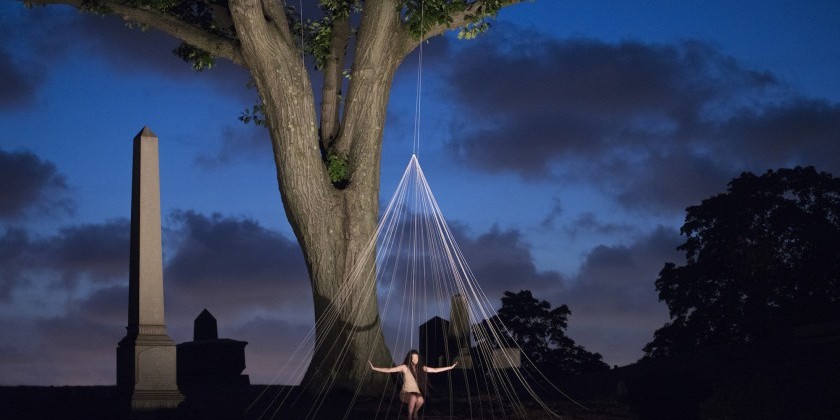 In Brooklyn's Green Wood Cemetery
Tours by Atlas Obscura
Thresholds by LEIMAY (Ximena Garnica and Shige Moriya)
Phoenix by Shirel Jones
Somnambulists' Tango by Sophia Schrank
Martinete by Elisabet Torras Aguilera
---
Do you think cemeteries are only appropriate for funerals and Stephen King novels? For the easily spooked, "Crossing Over," part of The BEAT Festival's showcase of Brooklyn-based artists, is best avoided. Set in the rolling hills of Green-Wood Cemetery, "Crossing Over" incorporates a traditional guided tour with site specific performances.

It begins like every horrible tour you've been on before. There are stragglers, complainers, and avid Instagrammers. Our guide is soft spoken and must make repeated referrals to her notes. The first landmarks aren't particularly interesting: the headstone of 19th century actor William Wheatley and a landmark commemorating the 1876 Brooklyn Theater Fire. Even surrounded by graves and a rapidly darkening sky, there's nothing out of the ordinary.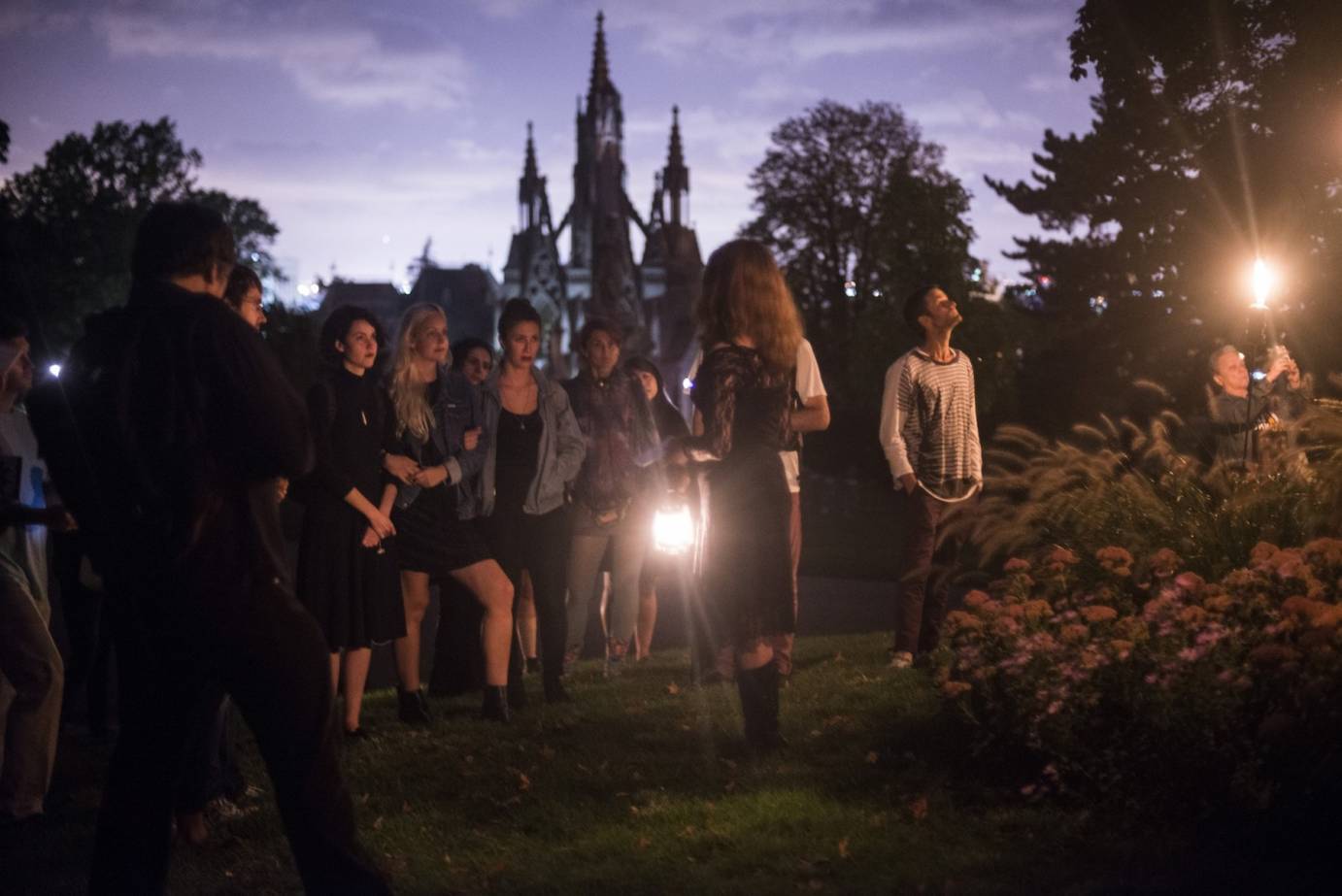 Photo: Monica Simoes.

That is until we turn a bend and spy a human body encased in a net dangling from a tree. It sways ominously. Everyone snaps to attention;  Thresholds created by Ximena Garnica and Shige Moriya of LEIMAY, reminds us that the pall of death hangs over this place. A few paces later, we congregate in a circular pit as an opera singer intones an eerie, dire melody. Spotlights flash on, five of them, illuminating men and women standing on mausoleums. They are like paper doll cutouts, arms pasted to their sides, expressions stony. One pitches backwards, and then another and another as the lights blink off and on. Under the cover of darkness, these dancers scramble into standing positions to repeat their death dives. Chaotic flops replace these board-like falls before the lights turn off for good. Dying, whether a straightforward plunge or a violent tumble, ends the same — in darkness.
After this chilling and extraordinary encounter, we pick through the rugged terrain, our way lit by electronic votives. At one juncture in these winding roads, a cloaked figure materializes. With come-hither eyes, Shirel Jones leisurely removes her mantle to reveal a flouncy top and short shorts. Catlike, she springs into the air, flexes into a deep back bend, and rolls her shoulders. Jones is an entrancing, committed dancer, but this choreography, overtly sexy and showy, clashes with the cryptic, creepy graveyard.
Shirel Jones in Phoenix. Photo: Monica Simoes.
Our next stop is theater impresario William Niblo's mausoleum. A street performer (Michael Cusimano), blackened eyes and lips against a blanched face, mimes tipping a hat and walking a tightrope until a ghostly female (Chloe Markewich) drifts into his path. Immediately bewitched, they enact every hokey cliché of a doomed love affair: To whiny pop songs and low-key French hip hop, they embrace dramatically, scamper about fervently, and tango inelegantly. The tango fares the worst in this blitzkrieg of banalities. Tango is a dance of subtle, twisting sensuality, but Cusimano and Markewich stride through the basic figures with pulled-up legs and extreme expressions, literalizing what should be figurative.
Elisabet Torras Aguilera in Martinete. Photo: Monica Simoes.
An impassioned gypsy vocalist (Ismael de la Rosa) sings us into our last stop, a long-halled mausoleum. At the end of the dim corridor stands a Flamenco dancer (Elisabet Torras Aguilera); she swirls and stamps in the glare of a purple light, her eyes spitting. A spirit — hers, ours, someone else's — is present, perhaps lured by the ecstatic dancing and impassioned crooning. It settles over us—awed and reverent. This is a different kind of church where death and life meet in dance.