Related Features
Contribute
Your support helps us cover dance in New York City and beyond! Donate now.
IMPRESSIONS: devynn emory's "deadbird," Presented by Danspace Project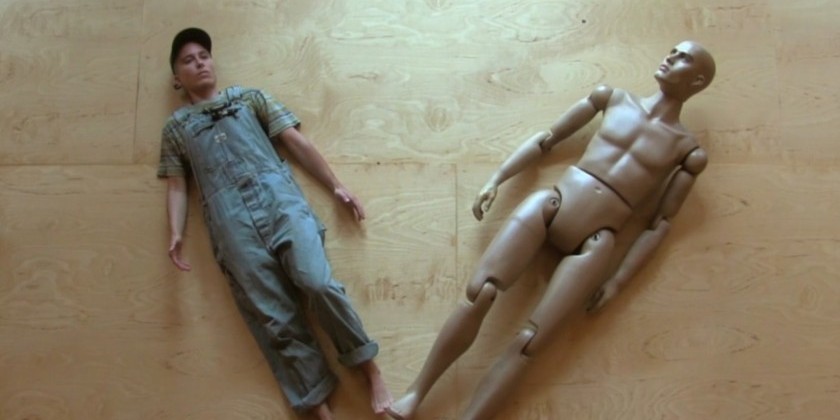 March 31, 2021
Choreography: devynn emory in collaboration with stevie may, Angie Pittman, and Jules Skloot
Direction: devynn emory
Text: devynn emory in conversation with their patients, Nana, and Mark Aguhar
Music mixing and composition: HPrizm, "Dancing Queen" by Hannah Grace
Cinematography and editing: Jorge Cousineau
Mannequin voice acting: Julia Bennet, Neil Greenberg, and Calvin Stalvig
---
I've been thinking a lot about death recently, and maybe you have too. An unlucky thirteen months and a few days from the first reported fatality in the USA, COVID-19 continues to thrust its unwelcome presence into our lives. The virus has taken so many people that, collectively, our nation must shoulder a coffin laden with over half a million bodies. The grief is personal for those who've lost loved ones and universal for those who're stunned by the staggering death toll, but together we grieve because we are humans who value other humans. 
Yet, although we've practiced grieving for multiple millennia, the world being a place where the story concludes for someone the same way, every day, processing grief, understanding grief, existing within grief remains a challenge. 
devynn emory is in a unique place to steward us through these rocky waters. A transgender, mixed-race indigenous artist who also works as a registered nurse, their embodied experience resides in the liminal space between here and there, now and then. They (emory uses they, their, and them pronouns) toiled on the frontlines during the pandemic, which led to the piece they intended to show last year at Danspace Project reimagined as the film deadbird. Although we've all been jonesing to get back to live theater, video presents a compelling medium to contemplate, in the comfort of our home, passing from this world into whichever one accepts us next.
devynn emory and Manny the mannequin; photo Reilly Horan
Like a song, deadbird unfolds in verse-chorus form. emory physically interacts with Manny, an affable, Kermit-the-Frog-sounding mannequin. Then, they play a talk show host who interviews end-of-life patients. These repeating, juxtaposing scenarios of gesture and text allow one to soak in the certainty of a pattern while swimming through the uncertain, potentially terrifying waters of pondering death. (emory tells us that people are more scared of public speaking than dying, which seems . . . odd but also very human.)
During the opening, they reverently arrange and then screw Manny's body parts together as, in a voiceover, emory and Manny share secrets and make promises. Under the wooden canopy of a cavernous barn-like structure, Manny confesses that if they could be anything, it'd be a folding chair since they long for contact with others. emory reveals they can communicate with spirits. The duo divulges these revelations with tentative confidence the other will counter with empathy and interest. Baring one's soul to another is a risk, but it also provides a witness to the messy, beautiful absurdity of being human. Our bodies will die, but our quirks may linger.
this is a photo credit
In a different scene, emory, in the style of Oprah or Ellen, twirls into a sunshine-strewn space where they sit beside Manny, who represents three different patients. Although Manny does what mannequins do, not move, their physical stillness emphasizes the disembodied voices. Richard from Richmond relates the oft-told near-death experience of unconditional love, which negates the fear from his demise. A cancer-stricken woman has a vision about reuniting with her stillborn baby. A third registers as young, queer, and understandably bitter. Reconciling oneself to death—or not—is deeply personal, and emory responds with compassion rather than judgment.
In between the talk-show interludes, emory, wearing a long-sleeved, white jumpsuit, tends to each of the three patients, for whom Manny also stands in. They sweep their hands above and along their plastic body in Reiki-esque strokes. Ethereal music tinkles. It appears as if they're a conductor, but are they coaxing forth the spirit or soothing it to stay inside a while longer? That's a place for you, the viewer, to interrogate your own beliefs about passing.
screenshot of can anybody help me hold this body ; the author's music box is top row center
In the end, emory and a comrade carry Manny through a grassy glade, first slung between their hands, then hoisted over their shoulders. As they head into the surrounding forest, the camera zooms out into a panoramic view of the Wabana'ki Mawuhkacik, the Wabanaki ("Dawnland") Confederacy, of the Abenaki and Pequawket Nations (Biddeford, Maine). The human shapes evaporate into the natural environment.
Like any grief ritual, the need for more may extend beyond the 40-minute limits of a video piece. The film and a public grief altar will be on tour in Philadelphia, Portland, and Los Angeles. If you can't make those, streaming options can be found here.
At deadbird.land, the virtual exhibit can anybody help me hold this body features an altar for folks to upload a photograph of an offering. These offerings range from the expected (flowers, feathers, and fruit) to the unexpected (a positive pregnancy test—congratulations! and a purple Happy Birthday balloon). I left a miniature, hand-cranked music box that plays "Twinkle, Twinkle, Little Star." Life may teem with unknowable mysteries, but one thing is for sure: each of us is made of stardust. 
---
The Dance Enthusiast Shares IMPRESSIONS/our brand of review, and creates conversation.
For more IMPRESSIONS, click here.
Share your #AudienceReview of performances. Write one today!
---
The Dance Enthusiast - News, Reviews, Interviews and an Open Invitation for YOU to join the Dance Conversation.