IMPRESSIONS: Jennifer Monson/iLAND's "in tow" at Danspace Project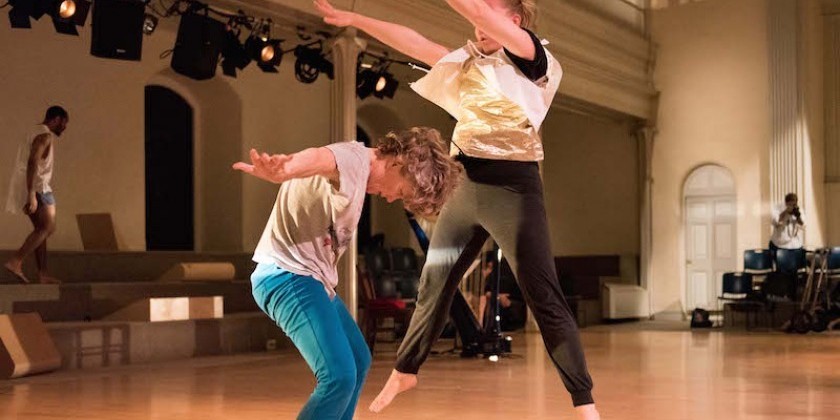 September 23 and 30, 2016
A collaboration initiated by Jennifer Monson and created by Susan Becker, DD Dorvillier, Niall Jones, Alice MacDonald, Carol Mullins, Valerie Oliveiro, Zeena Parkins, nibia pastrana Santiago, Angie Pittman, and (part of the process but not performing) Rose Kaczmarowski and David Zambrano
Objects built by Joseph Silovsky
---
Jennifer Monson has been making things since 1983, specifically dances and friends. In her new work, in tow, she revisits some of her long-term creative relationships and invites new artists into the fold. Congregating on and around the honey-colored floor of St. Mark's Church-in-the Bowery, these collaborators get together with Monson to pretty much see what will happen.
Improvisational and investigative, in tow has starts and stops but doesn't really begin or fully end. Eight performers including Monson mill around the space as the audience feeds into the two banks of chairs that are arranged in catty-corner wedges. Wooden triangles and tubes are scattered about, and a majestic blue harp rests off to the side.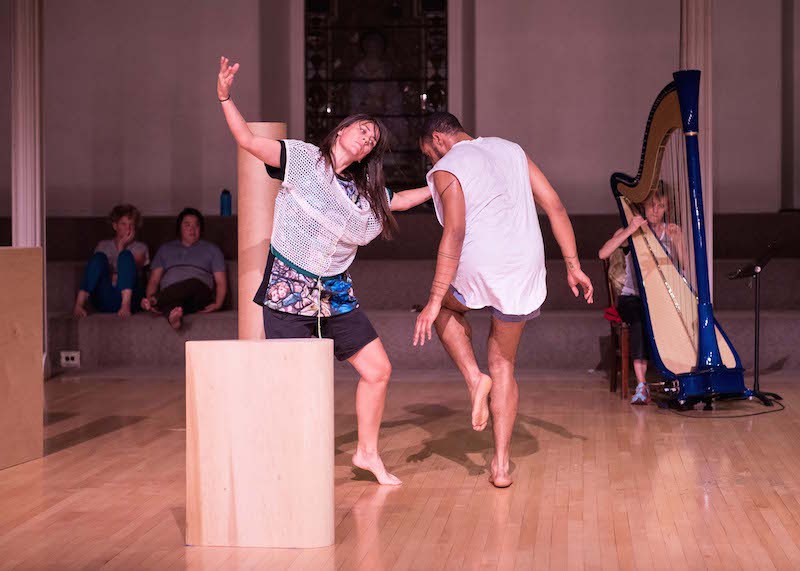 in tow. Photo: Ian Douglas
Gradually, as the whispers from the audience fade, the octet gets down to the business of in tow — interpreting a prompt or task until someone says "time." The performers interact with props, skip and skitter blissfully, and occasionally sit on the sidelines to watch. Scattershot alliances concentrate and dissolve; they're usually formed around a movement motif or an object manipulation.
The props provide a welcome organizing principle to what could feel aimless. A few performers get swallowed up whole in a length of net, green and rapacious like a snake. In another segment, a trio parades leisurely up the stairs and around the top floor ringing bells while, later, dancers loll and roll on the floor in a slick puddle of limbs and languor. A rack bulging with sartorial choices by Susan Becker encourages the artists to exchange workaday outfits for a jumpsuit printed with bricks or strangely cut black blouses.
During all of this, Zeena Parkins, attired in a white jacket akin to a lab coat, acts as the mad scientist of music. With harps and a laptop, she brews ambient, otherworldly splatters of sound that ground the proceedings in significance.
in tow. Photo: Ian Douglas
Each show of the two-week run at Danspace Project is billed as different (I attended both Friday shows). This is true; each performance is manifested afresh. One night, the dancing seemingly emphasizes spaces between the legs with scampers, low leaps, and yogic happy babies. Another night, the supple, circular joints — hips and shoulders — arc and protrude. One night, Niall Jones captivates by displaying huge slabs of negative space between his waspy limbs. Another night, nibia pastrana santiago shakes and shivers with bewitching intensity. Monson is the magnetic throughline. Wiry with a cloud of sandy hair, she texturizes her movements with an elegant twist of an ankle or the subtle bend of a finger.
For all the differences, though, in and between the shows, in tow registers as the same across the board: sometimes interesting, sometimes boring, sometimes too muted and distant to evoke any response. It's best when watched at, like a daydream, where consciousness washes in and out of reality. Take what you want, when you want it from in tow.
The Dance Enthusiast:
Sharing reviews/impressions and creating conversations.
Share your review.