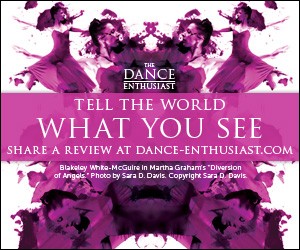 Related Features
IMPRESSIONS: Laurel Snyder's "LOOP" with Adam Schatz and Emma Judkins at The Footlight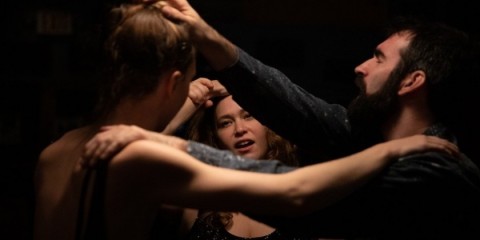 Saturday, December 1, 2018
The Footlight 465 Seneca Ave, Ridgewood, Queens, NY
Performers: Laurel Snyder, Adam Schatz, and Emma Judkins
---
Collaboration between dance and sound is nothing new, but the way in which Laurel Snyder and her collaborators, musician Adam Schatz and dancer Emma Judkins, execute it is refreshingly democratic and communal. In a spacious room of The Footlight, an unassuming bar in Ridgewood, Queens, the artists clink and clank utensils together against mason jars and twist the caps off of water bottles. These noises are captured by a recording device and distorted by Schatz, who's perched on a tiny stage. He may be the lead musician in LOOP, but Schatz is also an intrinsic mover. Likewise, the dancers, who perform the most vigorous parts of the choreography, provide support in the sound making.
Laurel Snyder's Loop with Adam Schatz and Emma Judkins; Photo by Maria Baranova.
Judkins is the yin to Snyder's yang, yet the two function in careful harmony. Judkins, wispy and long-limbed, exhibits a compelling steely reserve as she responds to her counterpart's playful buoyancy.
Her arms arcing into sumptuous, invisible cursive, the fair-haired Snyder moves like she's suspended in water. Locking eyes with audience members and even, at times, laughing to herself, she is giving and self-possessed. Perhaps it's the intimate space that affords these moments, but I get the sense that's just who she is. The artist drapes her arms over a person's lap and dances inches away from another. These interactions aren't intrusive. Rather, Snyder's warm spirit encourages us to lean in like she's beckoning us to move from the proverbial backseat to shotgun. Thus, we're transported from this place that resembles a suburban rec room with its parquet floor and worn-in couch to some abstract yet magical place.
Laurel Snyder's Loop with Adam Schatz and Emma Judkins; Photo by Maria Baranova. 
Snyder and Judkins, who are skillful improvisers, bump into one another like two kids in a game of tag. Judkins' leg levitates in a pitched arabesque while her partner gingerly dips below. Schatz soon enters from the room's outskirts and bellows into a saxophone. Seamlessly, he wedges himself between his collaborators, and they gently push his body off-kilter like a seesaw. His instrument changes in tone as he is passed between the two artists. Later, the trio tangles into pretzel-like shapes that unfurl in an unwieldy line. Their folksy voices sing out:
I'm flying / Ground down / What is this? / I'm running / I'm running / Quite right
Quite right / I'm command / Loving Loving Loving Loving Loving / I don't really know 
Laurel Snyder's Loop with Adam Schatz and Emma Judkins; Photo by Maria Baranova.
On the page, the song sounds random. Yet, when sung by the artists, who close LOOP humming and sitting cross-legged in a circle under soft lamplight, it strikes a deep chord that echoes their camaraderie.
---
The Dance Enthusiast Shares IMPRESSIONS/our brand of review and Creates Conversation.
For more IMPRESSIONS, click here.
Share your #AudienceReview of performances for a chance to win a ONE-YEAR SUBSCRIPTION to Marquee.TV for you and a friend