Impressions of Ilona Jäntti at the Emmett Robinson Theater at College of Charleston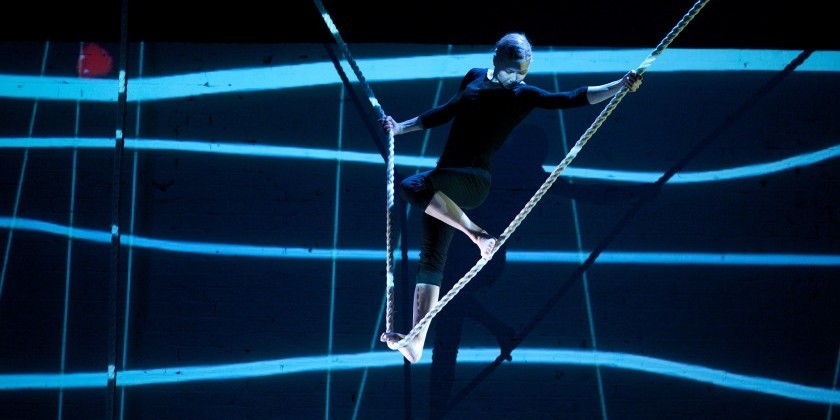 Charleston, SC
June 3-8, 2014, part of Spoleto Festival USA
---
Coming to Finnish aerialist Ilona Jäntti's show at the Emmett Robinson Theatre at College of Charleston, billed as "physical theatre," I have few expectations or preconceptions. This is the best of all ways to come to something (although I have my fingers crossed it won't be a Cirque du Soleil kind of thing—and I am surprised and relieved to find that is not the case). This is Day 4 of my 5-day Spoleto spree and a kind of festival fatigue begins to set in when you're seeing anywhere from 2 to 5 shows per day.
---
Jäntti's first solo, Muulla, delights. A fragment is available at the above URL of this confection, a jaunty performance completed by significant contributions from an animator (Tuula Jeker) and sound designer, Tuomas Norvio.
["Mindscape Music," a collaboration with Norvio and two other artists, is available from iTunes—worthy of a listen.]
---
Photo: Vojtech Brtnicky
I see her Laban training in it, and the shade of Mary Wigman's ausdrucktanz. Or the Weimar gamine Niddy Impekoven (immortalized by Hannah Höch in "Schnitt mit dem Küchenmesser Dada durch die letzte weimarer Bierbauchkulturepoche Deutschlands" translated as "Cut with the Kitchen Knife Dada through the Last Weimar Beer-Belly Cultural Epoch in Germany"). I guess a nod to Alwin Nikolais is also due for her playful use of props and set elements. But Jäntti's juxtaposition of these source materials seems entirely new — a mage's trompe l'oeil.
In this context, the idea of "whimsy," something that usually bugs me in concert dance, stands out, leaving me searching for rapidly cycling superlatives. There is a bit of that gymnastic hyperflexion that looks kind of grotesque when I see it—you know what I mean, you see it in any given poster for the Ailey Company. Here, in the context of circus, it fits.
The green insect-like critters in Jeker's animation against which Jäntti dances morph into blue marine animal abstractions. Sometimes the creatures look a bit like extras from a Salad Fingers cartoon. Then a terrible pink — I dislike pink.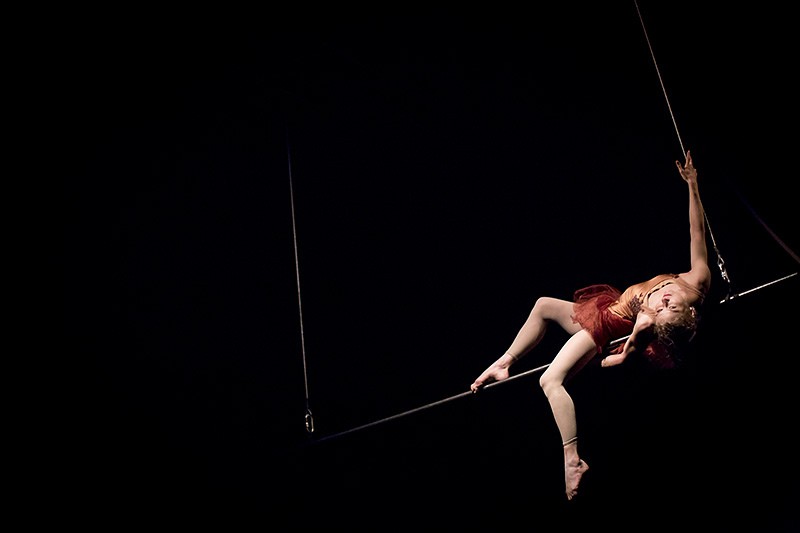 Photo: Vojtech Brtnicky
In her second solo, Footnotes , a Monet or Degas or Renoir ballerina dangles in limp dust-rose and sepia. Is that Piaf in the sound score? Damn, the program notes are not forthcoming.
A third solo, Gangewifre, seems more like what at the Olympics might be considered a compulsory exercise. Still captivating.
Let's say that Nijinsky brought spectacle of the female body to a previously unthought-of level with Le Sacre du Printemps. But the solo female figure has always balanced on a high wire of totem and delicate flower. Jäntti gets this. She also gets that balance is both a noun and a verb.