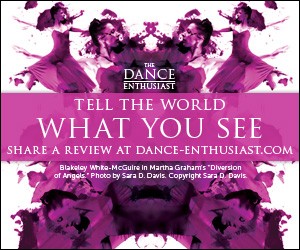 Related Features
IMPRESSIONS: marion spencer & collaborators in "to love the rise/pt. 2" at Roulette Intermedium
Director + Choreographer: marion spencer //Performers: Ogemdi Ude, Kimiko Tanabe, s. lumbert
Performance + Sound Design: slowdanger (anna thompson + taylor knight)
Collaborating Artists: Symara Johnson, Tara Sheena //Understudy Performers: Lindsey Jennings, Meghann Trago // Costume Designers: Malcolm-x Betts, Athena Kokoronis
Creative Archivist: Myssi Robinson // Experimental Archivist + Video Editor: Stephanie Acosta
Set Designers: HandyQueers (lily gold + opal ingle) // Dramaturg: Iris McCloughan //Creative Producer: jess pretty //Lighting Designer: Shana Crawford// Stage Manager: theo armstrong
---
marion spencer and collaborators' to love the rise/pt. 2 unfolds as a radical utopic convocation: an ongoing (and one hopes, unfinished) process of summoning, building, and questioning realms of hope and possibility through the imaginative power of community.
From its seed as a solo developed by spencer in 2019-2020, to love the rise has generated a series of collaborative interdisciplinary and multimodal incarnations, including a film and virtual zine, experimental solo studies, deconstructed installations, and performances at various scales.
Anna Thompson of slowdanger; photo by Maria Baranova
At base, the process is the project, and to witness its performance for a singular hour in the strangely intimate open field of Roulette Intermedium feels like a blip, a glimpse, a mere skim of the fingertips along the surface of a deep well. It is performance at its most generous: an offering, an act of sharing, an invitation to join the dance in daily life.
The "rise" of its title refers to the continental rise: the underwater sedimental plain that bridges land mass and deep sea, the liminal threshold of detritus from which the earth is made and remade. This ecological metaphor grounds the ethos and action of (post?) apocalyptic community building at the core of a shifting collage of physical presence, soundscape, and creative action. Its central question: "how do we rebuild together?"
Ogemdi Ude; photo by Maria Baranova
An altar-like installation in the lobby holds an array of objects and materials used in the creative process--everything from wood beams and nylon rope to dried leaves, live plants, nostalgic CD mixtapes, carpentry tools, and a bottle of sunscreen. Multi-channel video of the collaborators' process in residency at The Field Center in Bellows Falls, Vermont evidences the joy of immersive experimentation and the generative power of nature.
Tender playmates Kimiko Tanabe and Symara Johnson take a dip in the shallows of a sparkling river; the team dons work gloves and wields power tools, the smell of sawdust and sunlight almost palpable as their structure takes shape in time lapse. All an apt precursor to the live iteration to come.
s. lumbert and Kimiko Tanabe; photo by Maria Baranova
The performance space opens up on a deconstructed field of materials that echoes the installation: beams, branches, ladders, and simple geometric structures all seemingly at rest, lying in wait for the performers to bring them to life. s. lumbert is the first to animate the space with a meditative spiraling duet with a long, narrow wood beam, discovering prehensile possibilities in the simultaneity of constraint and support. Ogemdi Ude, Tanabe, anna thompson, and taylor knight enter and navigate shifting postures of rest among the structural fragments. Ude rises to plead and affirm her presence in a rippling solo inside a large wooden frame, Tanabe and lumbert weight share with the striking suspense of mutual care.
As the energetic aura builds, the performers lift beams from the space, sometimes intersecting to consider the possibilities of shape and structure, sometimes spinning and wheeling precipitously--it's a miracle they don't collide. They pause to don sneakers and work gloves, wielding bolts and ratchets and power tools in what's suddenly become a construction zone filled with chatter, laughter, and the occasional spontaneous boogie. A structure emerges, the frames and fragments from around the space fitted together by design, embellished with neon rope and Polaroids of the collaborators. Two colored LED light bars dynamically illuminate the space and color the performers as they move in and around their construction, swelling to a communal ecstasy as they fall, spin, rise, bound, whirl, embrace, and surrender in turn.
 Ogemdi Ude; photo by Maria Baranova
slowdanger's capacious soundscape ebbs and flows from a chorus of phantom footsteps, chimes, creaks, and rumbles to tonal radio static, voice memo meditations, live looped incantations, and pulsating multilayered beats, closing with a love song like an intimate prayer, sung live in thompson's tenderly echoing tones. Throughout, Myssi Robinson studies the shapes and actions in the field and sketches a live archive on a large roll of paper, pausing only to unfurl a vibrant collaged banner flown in on ropes from the upper level of the space--the emblem of this emergent utopia.
To close, Tanabe and lumbert reprise elements of their duet, conjuring a home for their dreams within the comforting confines of the structure. In a breathtaking counterbalance, Tanabe leans away to lower lumbert gently toward the floor. lumbert is full with trust in this suspended state, not reaching for the floor but patiently gazing at zis softened fingertips and allowing the moment of contact to approach, only then looking to Tanabe's eyes with grace as she allows zim to take zis own weight. They slowly exit the structure, moving in tandem to the raised stage to continue their shared meditation. As the lights go out around them, their afterimage lingers, a visual and sensory imprint that suggests they will continue long after the dark has come.
---
The Dance Enthusiast Shares IMPRESSIONS/our brand of review, and creates conversation.
For more IMPRESSIONS, click here.
Share your #AudienceReview of performances. Write one today!
---
The Dance Enthusiast - News, Reviews, Interviews and an Open Invitation for YOU to join the Dance Conversation.