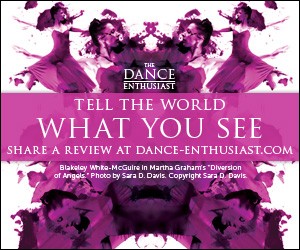 Related Features
IMPRESSIONS OF: "Soaking Wet" & "Bored House Guests"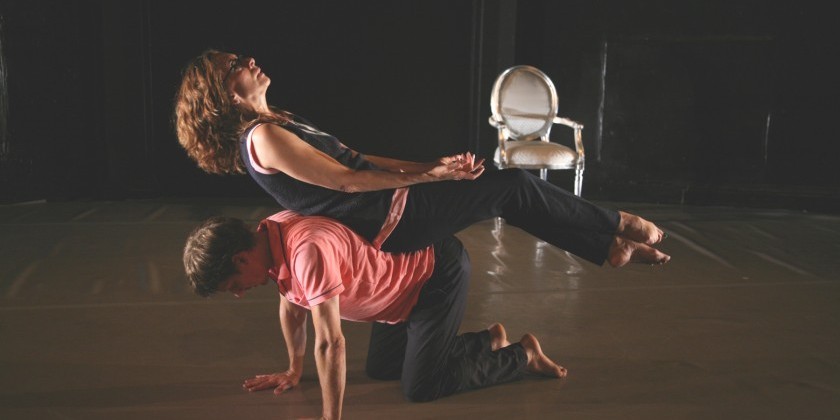 Venue: West End Theater, 263 West 86th St., 2nd Floor, NYC
Date: October 2, 2014
Choreographers: Seán Curran, Daniel Holt, Malini Srinivasan
(Soaking Wet)
Sara Hook & Paul Matteson (Bored House Guests)
Dancers: Elizabeth Coker, Dwayne Brown, Jin Ju Song-begin, Daniel Holt,
Malini Srinivason, Sara Hook, Paul Matteson
Music: Franz Schubert, Radiohead, Haan 808, Ancient Astronaut, Francis Harris,
Maharaja Swati Tirunal, Nick Didkovsky, Vomit First
Pictured Above: Sara Hook and Paul Matteson in Bored House Guests. Photo: Nicholas Burnham.
---
"Lord of the universe, let me please you with love-play," said Malini Srinivasan as part of her introduction for her heartfelt, exquisite solo, Pannagendra Sayana. From the moment she enters, she ensnares her audience with her petite, perfectly proportioned body and face, her serenity, rhythmic command, emotional and physical fluidity. She is a consummate storyteller, a master of her genre. A third generation Bharatanatyam dancer, she is a disciple of Guru Sri C.V. Chandrasekhar.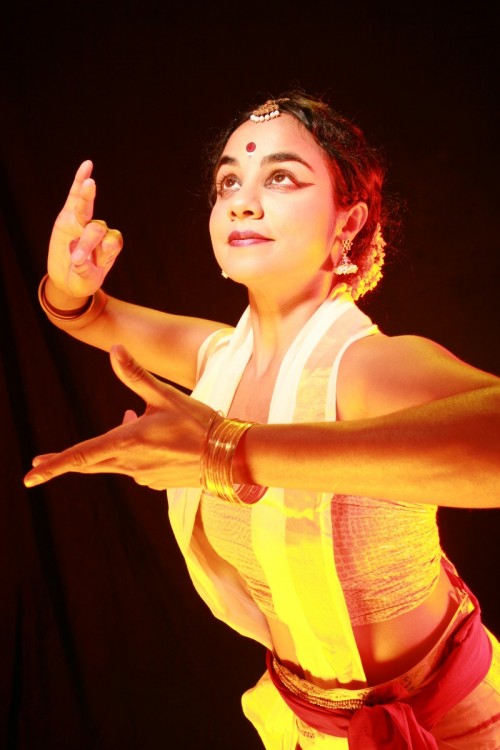 Malini Srinivasan; Photo by Nicholas Burnham
The intimate West End Theatre is a perfect venue for dances laced with nuances and subtle shifts. Contrasting the sublime solo by Srinivasan in the two programs were solos and duets that might have been introduced with the invocation, "Lord of the universe, let me tease you with angst-play."
Sara Hook and Paul Matteson have an extraordinary duet, Bored House Guests, that tv writer/actress Lena Dunham might have applauded for its deadpan struggle with intimacy and communication. Embarrassingly awkward, timid, and/or frustrated, the duo are brilliant and brave, though relentless, in their exploration of all that is not expressed in a balletic pas de deux. This style is also infectious. Hook, who wears glasses throughout the dance, is that rarity in the dance world, a gifted comedian!
The Soaking Wet program opened with Elizabeth Coker performing Better to be Looking at It Than to be Looking for It, a challenging solo created with exacting musicality by Seán Curran, as inspired by his terrors of performance. Coker brought a stoicism to the solo's rigors of making sharp, angular changes, and a clarity to its geometry, but the transfer of the solo from male creator to female dancer was not complete. Something is missed in the transference. Curran's lyrical Duet Event seemed jejeune in comparison with a special sweetness, though, from Dwayne Brown in his sensitivity and grace.
Daniel Holt; Photo by Steven Trumon Gray
Daniel Holt's Crusoe opens with a dirt-smudged, bandaged figure giving you the finger. He remains in this contracted pose in dim light long enough so that you begin to question his sanity. Slowly, he drops the menacing stance to begin to move as though a scream was trapped inside him, as though a gas bubble the size of pillow was ricocheting inside his chest.
David Parker, the curator (Bored House Guests), stepped in for the guest curator Valerie Gladstone (Soaking Wet) to lead the talk back with the artists. He asked Holt whether his work was narrative or abstract. Holt replied, "abstract." Opening his mouth as wide as possible, he posed that this facial shape could express distress or just a shape.
Soaking WET produced by Jeffrey Kazin is made possible in part through the generosity of The Jerome Robbins Foundation and supported by public funds from the NYC Department of Cultural Affairs in partnership with the City Council.