IMPRESSIONS: THISISPOPBABY's "Riot" at NYU Skirball Center co-presented by Irish Arts Center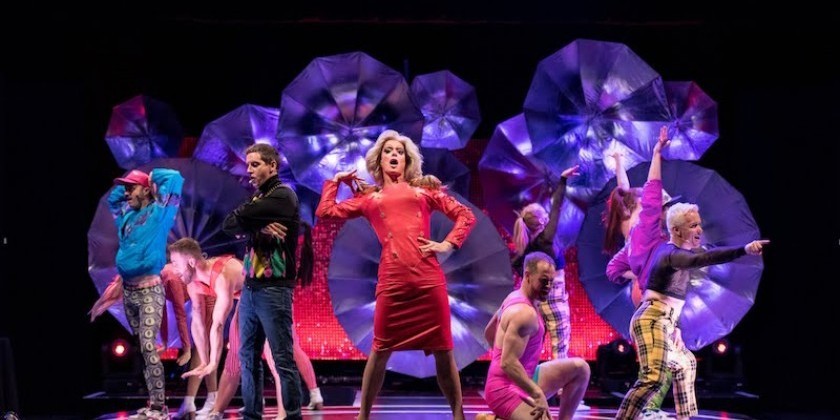 February 15, 2018
Creation and Direction: Jennifer Jennings and Phillip McMahon
Composition: Alma Kelliher / Original Text: Emmet Kirwan and Panti
Additional Text: Michael Harding / Designer: Niall Sweeney
Movement Direction: Suzanne Cleary and Peter Harding
Photo above: Panti Bliss (center) and cast February 15 - 17, 2018 at NYU Skirball 
---
R is for REVUE.
THISISPOPBABY swishes into NYU Skirball Center with Riot, a 21st-century vaudevillian extravaganza. With a wink and a hair flip, multi-talented performers take to a small, sometimes spinning platform to sing, dance, joke, and rant.
The sketches range from lowbrow bump-and-grinds to high-flying acts of bravado, hitting every increment in between. Drag queen Panti does double duty as sociable emcee and ribald comedian, her coif of blonde curls immobile as she prances in a figure-hugging dress. Circus artist Ronan Brady drapes his body inside a somersaulting Cyr wheel, and he preens good-naturedly through a striptease to "Whatta Man." In a one-night-only appearance (each evening boasts a special guest), author Irvine Welsh of Trainspotting fame reads a profanity-laden excerpt from his soon-to-be-released Dead Men's Trousers. Regardless of content or tone, everyone performs with such charm that the show could easily swerve into a parade of scene-stealing divas, yet the camaraderie stays as sky-high as Panti's heels.
Peter Harding and Suzanne Cleary in THISISPOPBABY's Riot on February 15 - 17, 2018 at NYU Skirball; Photo: Ian Douglas
I is for IRISH.
A Dublin-based performance company co-presented here by Irish Arts Center, THISISPOPBABY flaunts and satirizes its culture. Irish stepdance duo Up & Over It taps, stamps, and kicks; one time, they use their hands instead of their feet to display their blistering prowess. A quartet of musical sirens issues power ballads and disco anthems that lilt plaintively, poetically, the crests and troughs following the contours of the Emerald Isle.
Ireland's ubiquitous Catholic Church isn't sacrosanct. Lovable goofballs The Lords of Strut (two men in skimpy skivvies) offer a wicked skewering of Christ's crucifixion. They pass out swim noodles to audience members clustered by the stage's edge, and everyone smacks "Christ" as he giggles in titillation. When the party is this fun, even Jesus has to join.
THISISPOPBABY's Riot on February 15 - 17, 2018 at NYU Skirball; Photo: Ian Douglas
O is for OUTRAGE.
For all its balls-to-the-wall exuberance, the note that sounds the strongest is one of barely controlled outrage. Using poetry, spoken word, and rap, Emmet Kirwan delivers scathing critiques of governments that line their pockets at the expense of the poor. "This is about how artists use words and politicians abuse words," he proclaims.
In a time when the richest 1% holds half the world's wealth, Kirwan's tirades implicate us for our complacency and complicity. "It is easier to imagine the end of the world, than to imagine the end of capitalism," he says. He's not wrong.
THISISPOPBABY's Riot on February 15 - 17, 2018 at NYU Skirball; Photo: Ian Douglas
T is for TIMELY.
Queer culture is presented with unreserved gusto. At one point, Panti corners an older, conservatively dressed man in the audience. "Would you rather be me or sleep with me?" she asks. As he hesitates, she assures him that there's no wrong answer.
But that doesn't ring true because underneath this rainbow-hued celebration of camp and cheese lies a plea for us to do better and be better. "Kindness is a revolutionary act," Panti tells us near the end. Like glitter, it's a message that needs to stick.
---
The Dance Enthusiast Shares IMPRESSIONS/ our brand of review and Creates Conversation.
For more IMPRESSIONS, click here.
Share your #AudienceReview of performances for a chance to win a prize.