IMPRESSIONS: DANCENOISE's "Lock 'em Up" at New York Live Arts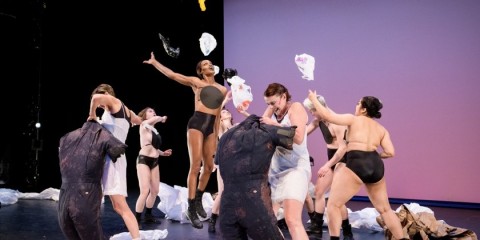 December 12, 2018
Choreography and Direction: DANCENOISE (Anne Iobst and Lucy Sexton)
Performance: Tyler Ashley, Laurie Berg, Heidi Dorow, Connie Fleming, Melanie Greene, Greta Hartenstein, Anne Iobst, Madison Krekel, and Lucy Sexton
Dramaturgy: Sarah Michelson / Video: Charles Atlas
---
The name — all caps, no space — tells you everything you need to know. Manic and loud, DANCENOISE has been sounding off for 35 years. Lock 'em Up, which made its world premiere at New York Live Arts, sticks with its time-tested formula of biting political commentary, ribald wit, and plenty of fake blood. Yet the piece still manages to surprise.
DANCENOISE in Lock 'em Up at New York Live Arts; Photo by Ian Douglas
Founded by Anne Iobst and Lucy Sexton, DANCENOISE has enjoyed a weeklong presentation at the Whitney Museum of American Art in 2015 and received laudatory notices since its inception. Here, the audience knows what to expect and chortles in glee when the performance begins on the sidewalk. In the bone-chilling night, seven black-clad dancers razzle dazzle their way through A Chorus Line's "One." At the end, they twerk on their hands and knees.
This skewering of pop culture speaks to DANCENOISE's ability to put a finger on the pulse of America — especially its ugly underbelly. Iobst and Sexton flaunt swastikas taped on their chests; they watch a Carl Sagan video from chaise lounge chairs, cracking feminist bon mots. The soundtrack — when it's not rapid-fire jokes — ranges from Hamilton, Joe Frank, and Reynolds' "Don't Pull Your Love Out on Me Baby" to buzzing insects. The volume, naturally, has been spun to the max.
DANCENOISE in Lock 'em Up at New York Live Arts; Photo by Ian Douglas
The stage is imagined as a trash-filled dystopia with black balloons, empty shopping bags, and crumpled lengths of paper. Through the detritus, the cast forms a precision drill line. "Pedal," a performer says as they rhythmically locomote. "Machine," calls another as they clump together, robotically lifting their limbs. At one point, they smooth out the wrinkles from the paper to hold up signs that spell out METAPHOR. They toss these into the audience and encourage us to throw them back.
Iobst and Sexton introduce a framing device for Lock 'em Up — they're creating a time capsule. Now you know what it was like to be alive. To spend and waste time like you had a million years, one says. This time capsule includes an early video of Iobst and Sexton arguing over a malfunctioning canister of blood, a scenario they riff on in present-day. It also holds a pair of wolf heads and blood-splattered slips although, to be fair, the duo spends most of their time naked.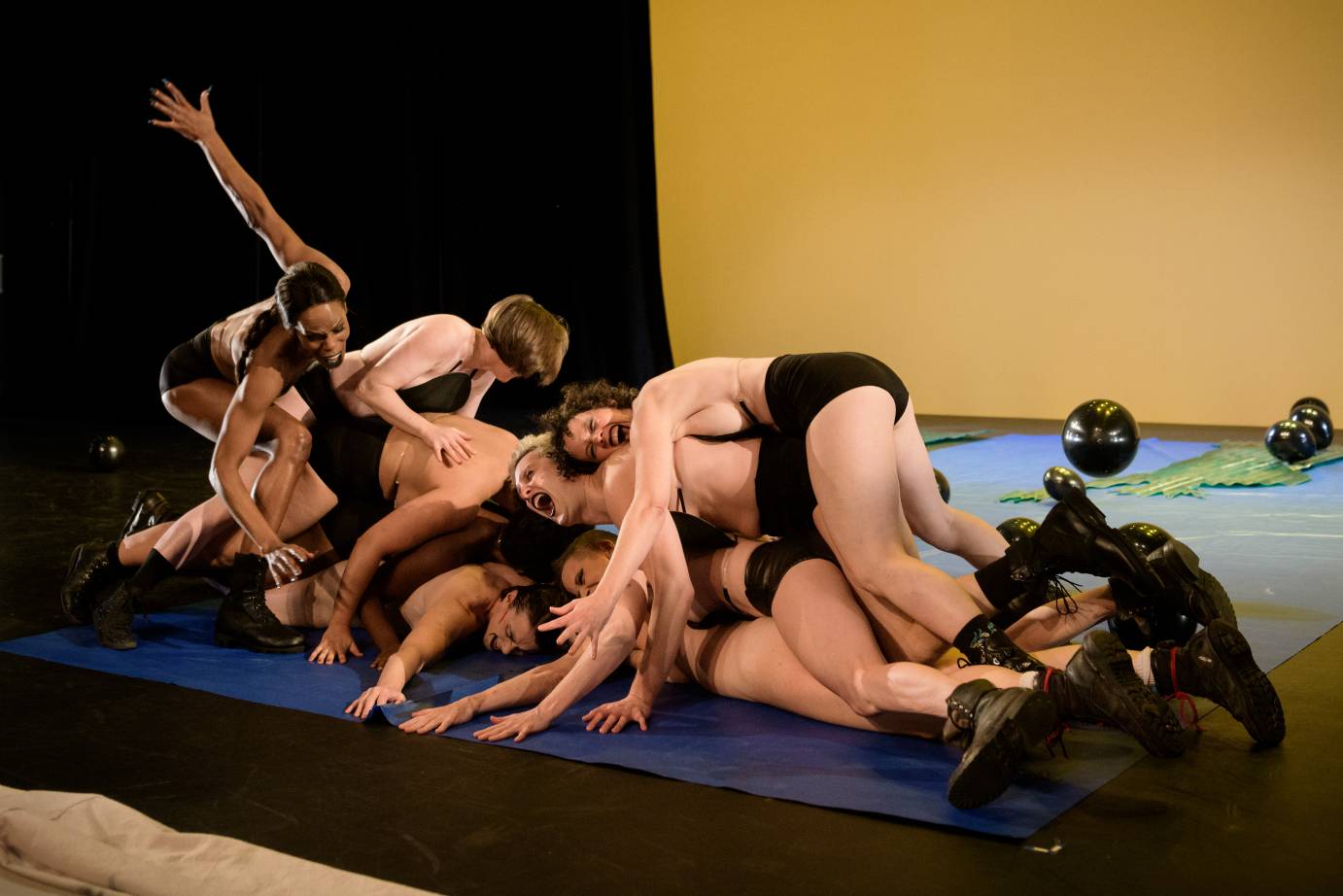 DANCENOISE in Lock 'em Up at New York Live Arts; Photo by Ian Douglas
This performance-art-as-a-variety-show shtick unfolds at a frenetic pace. Skits and dance revues pile up, one on top of the other, until it's impossible to remember the order. The bit where Iobst and Sexton discuss using the word "weltschmerz" (German for world-weariness) instead of "hysterical" might come before or after a mini-séance. I do remember they tell us near the beginning that fracking is not fucking, but it is fucking with our fucking although that could be inserted anywhere and not be out of place.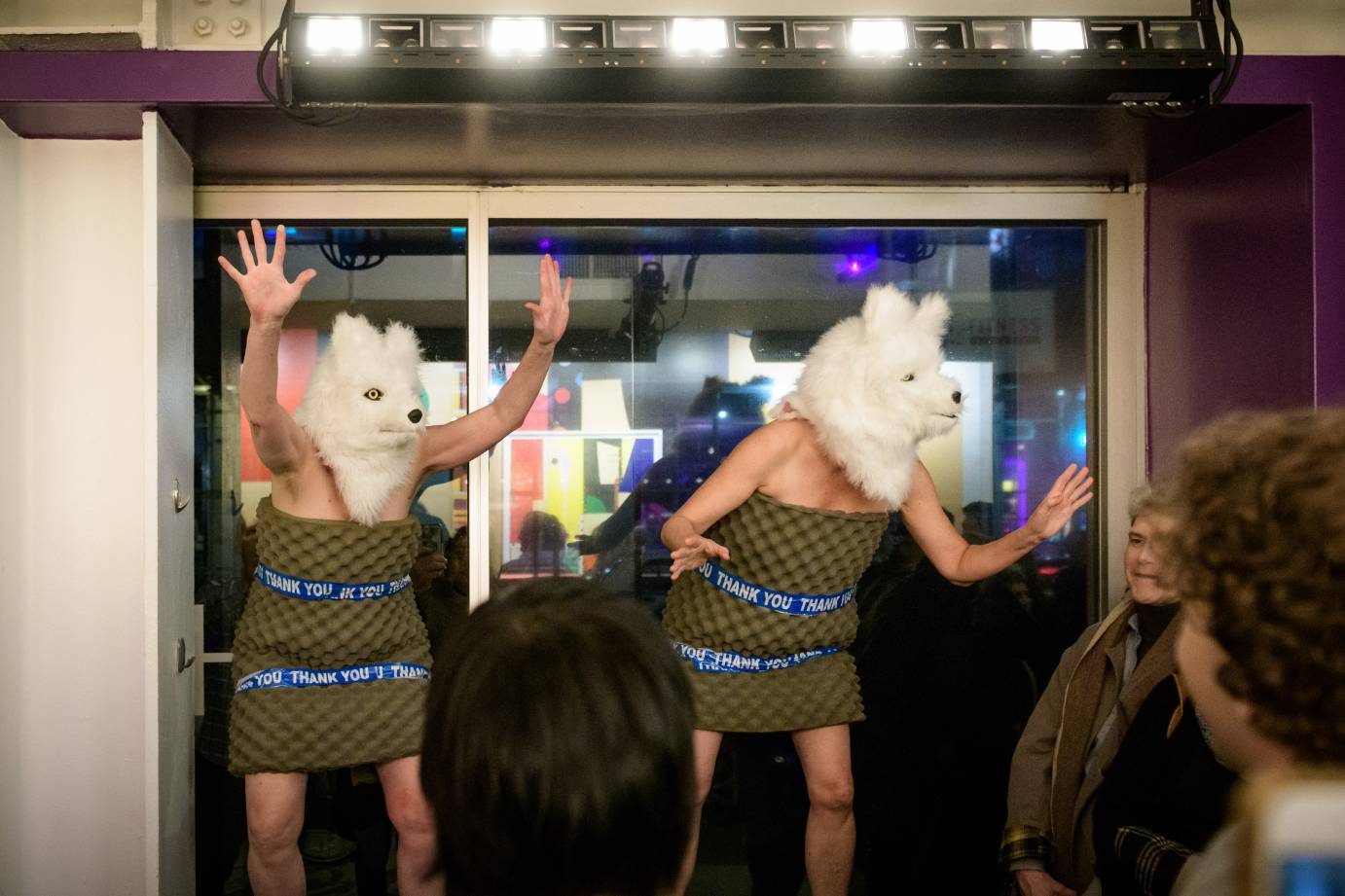 DANCENOISE in Lock 'em Up at New York Live Arts; Photo by Ian Douglas
Lock 'em Up ends, touchingly, with the cast walking and chugging in arabesque as  "Under Pressure" blares. "Why can't we give love one more chance?" Freddy Mercury and David Bowie plead. Through the irreverence, that seems to be what DANCENOISE wants more than anything.
And to smack each other silly with plastic caveman clubs.
---
The Dance Enthusiast Shares IMPRESSIONS/our brand of review and Creates Conversation.
For more IMPRESSIONS, click here.
Share your #AudienceReview of performances.