Related Features
Contribute
Your support helps us cover dance in New York City and beyond! Donate now.
IMPRESSIONS: Heat Wave, The Jack Cole Project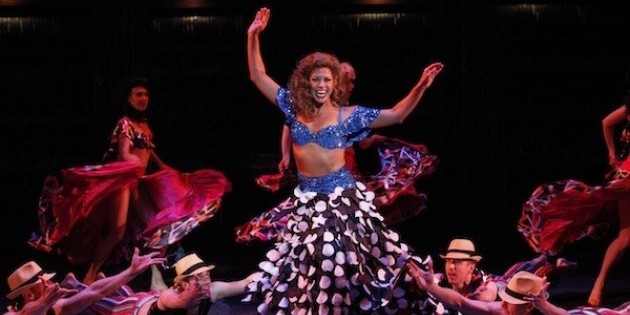 The Man Behind The Curtain
IMPRESSIONS: Heat Wave, The Jack Cole Project
a new musical tribute to legendary choreographer Jack Cole.
Conceived, directed and choreographed by Chet Walker—co-creator of the Tony-winning Broadway musical Fosse—and produced by Queens Theatre
May 3rd to May 20th, 2012 at The Queens Theatre in Flushing Meadows, Corona Park- New York
---
The Man Behind The Curtain
Pascal Rekoert for The Dance Enthusiast

Ever wonder where Marilyn Monroe got her sultry saunter in "Diamonds are a Girl's Best Friend"? Or who first inspired the idiosyncratic style later attributed to Bob Fosse with contorted shoulders and expressive hand gestures? And, who invented the fluid yet animalistic fusion of technique and emotion that Matt Mattox eventually became famous for?

One name answers all these questions: Jack Cole.

New Jersey born, Jack Cole spent his early days in dance with the Denishawn Dance Company later studying with pioneering modernists Doris Humphrey and Charles Weidman. He had a strong affinity for ethnic cultures, especially Asian, and even studied the classical Indian dance form Bharata Natyan. These early influences eventually led to him to create a unique theatrical form of jazz dance . Cole's style was first popularized in nightclubs, but eventually it became the basic dance vocabulary of Broadway musicals.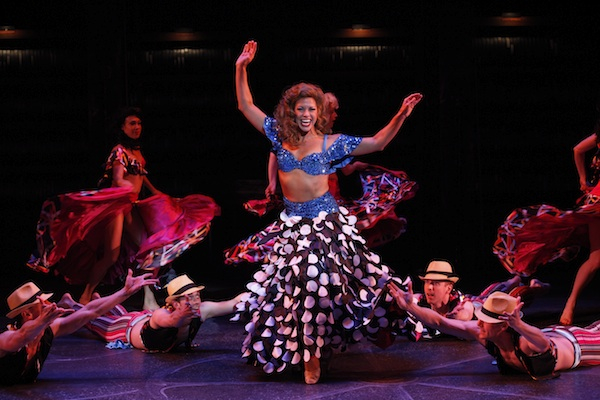 Rachelle Rak (center) and company perform "How Come You Do Me Like You Do," a number originally performed by Betty Grable in the 1955 film Three for the Show.
PHOTO CREDIT: Carol Rosegg

The musical Fosse, directed by Chet Walker, hit Broadway's Broadhurst Theater in 1999, successfully ran for 1093 performances. This year, Walker traces theatrical jazz dance's roots back even further with a momentous revival of Cole's signature choreographic works in Heat Wave: The Jack Cole Project.

Heat Wave: The Jack Cole Project moves from one dance number to another with the occasional musical interlude. Although there is no explicit story line, we are taken on a journey - around the world in 30 dances so to speak. Cole's angular acrobatic work lends itself perfectly to travels, providing a basic template that when coupled with ethnic mannerisms, creates distinct cultural landscapes. Each dance transports us to a different place and time.

Unfortunately, the musical interludes between the dances shift the focus from the choreography towards the more obvious role of 'song' in musical theater. I can't help but feel that song overshadowed Cole's gifts at times in the evening. Song without an accompanying dance feels out of place in a "dance musical".
Chet Walker on Jack Cole's Influence and History

We clearly see that some of the performers of Heat Wave... were born for the theater. The radiant personality of Rachelle Rak, the original "I Gotcha" girl in Fosse, shines both as a singer in Cole's "No Talent Joe" as well as the dancing muse ,Terpsichore, in "Nine Muses". Rak displays theatrical versatility throughout the night and, together with triple threat David Elder, proves an undeniable force.

Another choreographic gem is Sing Sing Sing, in which the men of the ensemble showcase the athleticism of Cole's choreography. The impressive jumps and tours in Joshua Schulteis' solo are a joy to watch. Another unforgettable moment is the ravishing dance of the heathen temptress -originally from the 1951 musical film David & Batsheba- delightfully embodied by boisterous Kristin Piro.

Why hasn't the general public heard of Jack Cole until this recent retrospective? Perhaps the answer lies in politics, chance, or timing. Often those geniuses that truly permeate culture go unnoticed. While we may never know for certain, thanks to Walker and his team, Cole finally gets recognition for his choreographic brilliance. After seeing Heat Wave: The Jack Cole Project one can detect the unmistakable influence Cole had on his many successors like: Bob Fosse, Gwen Verdon, Jerome Robbins, Gower Champion, Peter Gennaro, Michael Bennett, Tommy Tune, and Alvin Ailey. If you look close enough, behind all of the glitz and glam of today's hyper-kinetic choreography, you can see a bit of Cole in nearly everyone on Broadway.

The Jack Cole Project is not a regurgitation of Cole's creative work for the 30+ years that he choreographed. The show is a celebration of the Father of Theater Jazz; an ode to a pioneer of Broadway and Hollywood dance, as well as a eulogy to a giant choreographer. I applaud Chet Walker for this 2 1/2 week run and look forward to perhaps an encore on Broadway?
---
The Dance Enthusiast's DAY IN THE LIFE covers the stories behind dance/performance and creates conversation. For more behind-the-scenes stories from NYC and beyond, click here.
---
The Dance Enthusiast - News, Reviews, Interviews and an Open Invitation for YOU to join the Dance Conversation.