Jérôme Bel in the ​Crossing the Line Festival presented by FIAF at The Joyce, The Kitchen and MoMA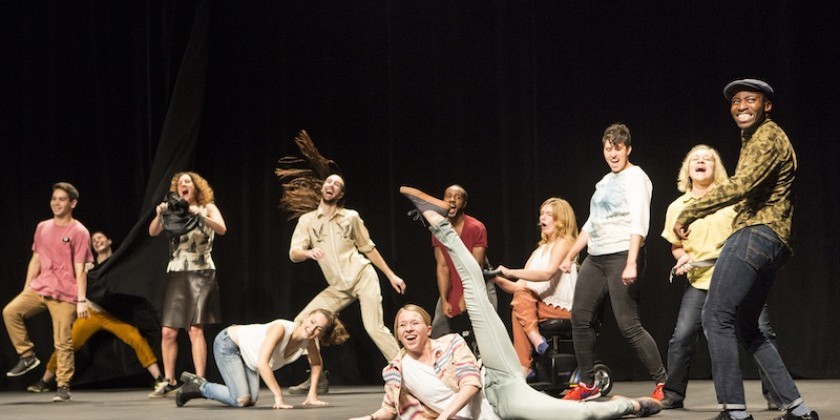 Crossing the Line Festival presented by FIAF (French Institute Alliance Français) 
The show must go on (2001)
The Joyce Theater
---
Jérôme Bel (1995)
The Kitchen
---
MoMA Dance Company (2016)
Museum of Modern Art
---
Pictured above: Jérôme Bel's The Show Must Go On at The Joyce Theater - October 2016. 
---
What is dance to you? A lithe ballerina whipping through thirty-two fouettés? A hip hop crew popping and locking and freezing? Fred and Ginger? Martha Graham?
No matter the answer, one thing stands out. Dance can stretch to accommodate any number of interpretations, even a movement called non-dance. Non-dance is a trans-disciplinary art form born in the '90s in France. While it includes physical actions, its practitioners abandon traditional dance phrases in favor of film, projections, music, or lectures. 
Jérôme Bel, one of non-dance's originators, showcases works both old and new as part of FIAF's Crossing the Line Festival. If the idea of sitting through three pieces of performance art fills you with dread, fear not. Bel is more class clown than pretentious provocateur, employing humor, pop culture references, and amateur performers in his bag of tricks.
Jérôme Bel's The Show Must Go On at The Joyce Theater - October 2016. Photo by Yi-Chun Wu.
In The show must go on at The Joyce Theater, Bel revels in gags of shape, sound, and light. An endless overture to "Tonight" involves us sitting in the dark, wondering if something — anything — will happen. To the strains of "Aquarius (Let the Sunshine In)," the stage brightens. The DJ, stationed at the front of the performing space, cues up The Beatles' "Come Together" as a cast of twenty enters. Some are old, some are of color, and some have disabilities. The presentation, though, is so matter-of-fact that no one sticks out. As if at a rousing wedding reception, the group lets loose, booty pumping to the strident thrums of "I Like to Move It."  
Get it?
Each song has inspired a tongue-in-cheek montage. During "Ballerina Girl," the men leave, and the women arabesque and plié. To "Private Dancer," the DJ (Gilles Gentner) abandons his post to twitch in a spotlight. 
It becomes anticipatory. Will they assume the famous pose of Jack and Rose when Celine Dion's schmaltzy "My Heart Will Go On" sounds? Will there be pink light during "La Vie En Rose"? Will one person remain defiantly onstage to "I'm Still Standing"? Will it end with the cast bowing to Queen's "The Show Must Go On"?
Yes, yes, yes, and — wait for it — yes.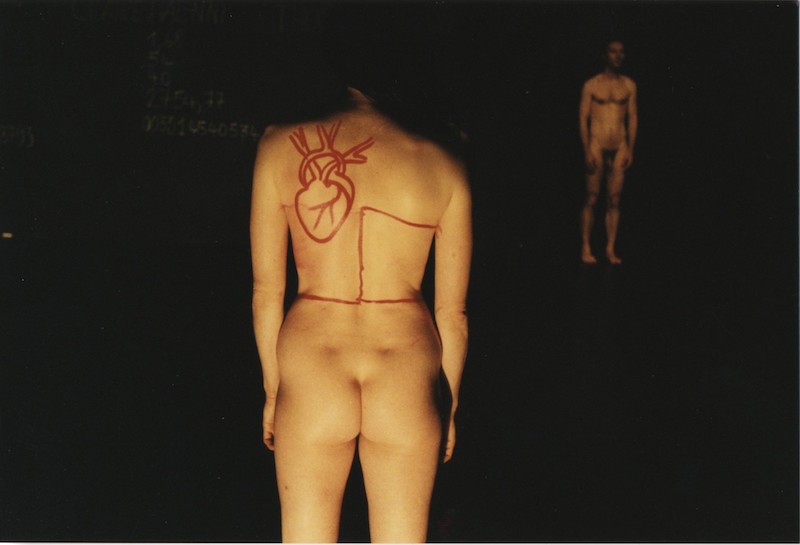 Jérôme Bel's Jérôme Bel. Photo: Herman Sorgeloos.
It's more of the same, but darker, moodier, more raw in Jérôme Bel (like a self-portrait, he named the piece after himself), which received its New York premiere at The Kitchen. Four buck-naked performers line up against a chalkboard of sorts. An old, gnarled woman, clutching a lantern, writes Thomas Edison in big, blocky print with chalk and then shines her light on the others. A man jots Johann Sebastian Bach across the board and proceeds to tunelessly croon "Goldberg Variations." The other performers — Claire Haenni and Frédéric Seguette — take turns with the chalk to etch their names, height, weight, age, and what appears to be spatial coordinates.
Get it?
The quartet represents the elements of a dance performance: light, sound, and bodies moving through time and space. Once established, the brunt of Jérôme Bel falls on Haenni and Seguette, who enact a series of vignettes using their flesh as clay and canvas. They scribble and sketch on themselves with a tube of red lipstick. They tug and tweak at their bodies, treating skin like elastic. Seguette pees and spits simultaneously, the streams forming a puddle around his feet. He dips his hands in it and erases letters from his name until it reads Eric. 
You can probably guess what happens next. Seguette leaves, and a man in jeans and a t-shirt enters to stand under his name. There's another pun where the hummer (he and the light-holding lady are unnamed in the program) uses his underarm sweat to blot out letters from Johann Sebastian Bach until ABBA remains. He places himself under the new moniker and embarks upon a heavily accented version of "Dancing Queen." Eventually, everyone departs, save Eric who sings "Dancing Queen" alone onstage. 
Jérôme Bel's The Show Must Go On at The Joyce Theater - October 2016. Photo by Yi-Chun Wu.
MoMA's Artist's Choice, inaugurated in 1989, invites artists to select pieces from the museum's permanent collection for an installation. Bel's version, MoMA Dance Company, opens with a pin-thin brunette wafting around the Donald B. and Catherine C. Marron Atrium to the moody strains of Chopin. She waves her arms gracelessly and looks down self-consciously. A smattering of applause greets the end of her solo as seventeen performers file in behind her. She repeats the choreography, this time with a "corps de ballet" attempting and mostly failing to follow her moves. 
It's rinse, repeat as different performers lead the group through short dance routines. There's spirited prancing to contemporary rock and awkward strutting to bossa nova and clunky moonwalking to hip hop. The quality ranges from okay to really, really bad.
Get it?
Instead of choosing works of art, Bel curated MoMA staff members via an open call. Junior and senior employees from various departments created solos to share with their fellow coworkers. 
While comprised of enthusiastic amateurs, a few of the numbers surprise with their professionalism. The Chief Technology Officer (Diana Pan), clad in pointe shoes, competently executes a classical ballet solo. The cast breaks for water after a high-stomping African dance number by Yannyck Kao-SY (Security Officer, Department of Security). The most intriguing number is by Kendra Isobel Samson (Senior Guest Assistant, Visitor Services) who planks and rolls through yoga-infused modern dance. No one can match her, but that's not a big deal. She captivates so thoroughly that everyone else melts into the background — a pointed depiction of the star system that permeates traditional dance companies and, now, a troupe of MoMA employees.
Rehearsal for Artist's Choice: Jérôme Bel/MoMA Dance Company (October 27–31, 2016), The Museum of Modern Art, October 26, 2016. © 2016 Museum of Modern Art, New York. Photo: Julieta Cervantes
Bel is a conceptual choreographer, cleverness being his modus operandi, which leads to a deeply divided experience. You might love his work, laughing and applauding and saying "oh yeah" like many did. To you, it's funny, it's communal, it exposes the ridiculous artifice of the performing arts. You might hate his work, frowning and groaning and wishing for the end like I did. To me, it's lazy, it's cynical, it diminishes the subtlety transformative power of theater.
The varied responses lead to questions. Is Bel highlighting the absurdity of performance where wit, familiarity, and flagrancy trump everything? Is glibness an undervalued theatrical commodity? Are we, the audience, just sheeple to him, easily primed and satisfied by a couple of jokes and pop songs?
While the experience is shared, the reaction is personal: What is dance to you?
---