MOVING PEOPLE: Daniel Gwirtzman on Maintaining a Company for 20+ Years, Optimism as a Choice, and His Love of the Polka, the Charleston, and The Hora Or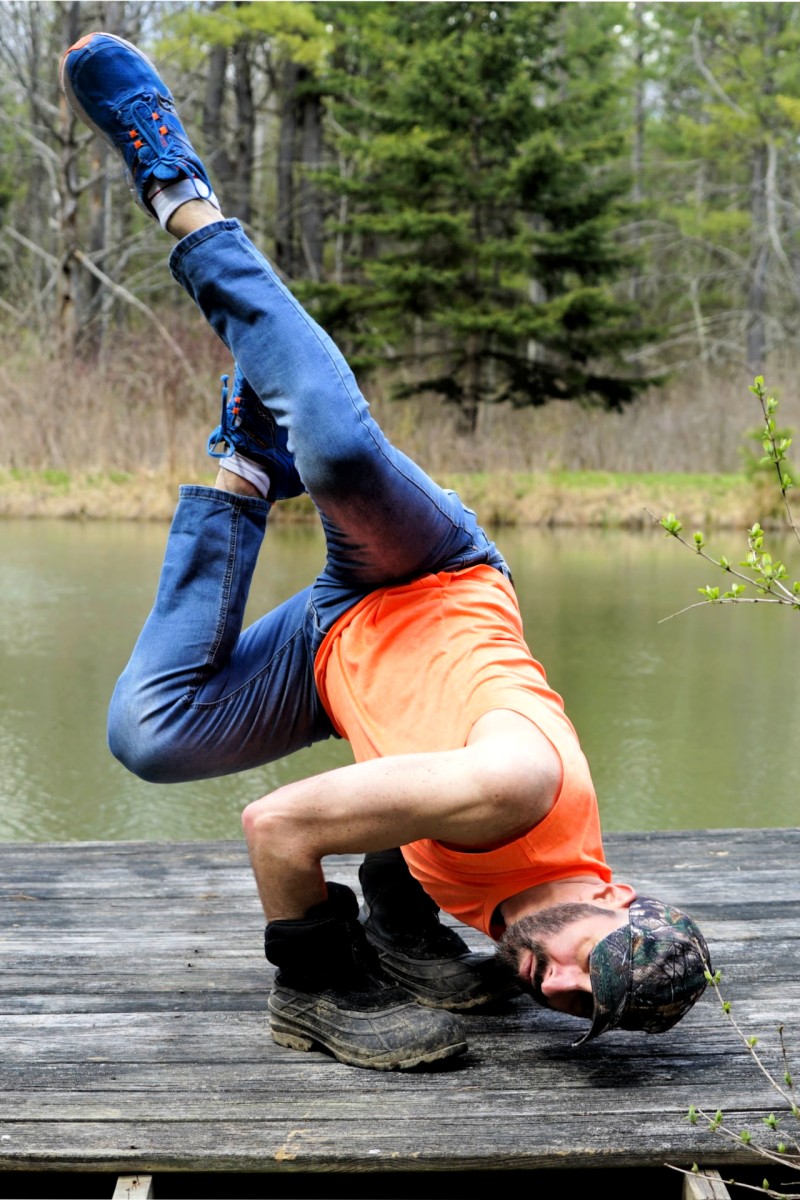 Daniel Gwirtzman
Biography
Daniel Gwirtzman—producer, choreographer, educator, filmmaker and dancer—directs Daniel Gwirtzman Dance Company, a performing and teaching company celebrating its 21st Anniversary in 2020. His diverse repertory for the nonprofit and other concert and commercial projects has earned praise for its humor, musicality, innovation, and accessibility. "Mr. Gwirtzman does know that in dance less can be more. And that's a good thing for any choreographer to know" writes The New York Times. The New Yorker describes him as a choreographer of "high spirits and skill." The NYC-based DGDC is known for its playful virtuosity and charisma: "A troupe I'd follow anywhere" (The Village Voice), a "troupe of fabulous dancers" (Backstage) that "can't help but smile" (The New Yorker). Highlights include performances at Jacob's Pillow Dance Festival, the Brooklyn Academy of Music, The Kennedy Center, Battery Dance Festival, Bryant Park, La MaMa, Edinburgh Fringe Festival, and Jazz at Lincoln Center. Since its inception the nonprofit has demonstrated a commitment to education through multigenerational interactive programming. He has been awarded commissions, residencies and fellowships from institutions including the Joyce Theater Foundation, The Yard, Djerassi Resident Artists Program, The Studios of Key West, CUNY Dance Initiative, Ucross Foundation, Raumars (Finland), Sacatar Foundation (Brazil), Sfakiotes Residency (Greece) Maison Dora Maar (France), Centro Negra (Spain), and Gdański Festiwal Tanca (Poland). The Company's 20th Anniversary season,  presented by Manhattan's 92nd Street Y, saw the premiere of Intersections. Reviewing this program-length dance OnStageBlog wrote: "Provocative, whimsical, and ethereal, the Daniel Gwirtzman Dance Company defies expectations of postmodern dance and soars, unafraid to take risks and dazzle with unflinching honesty." The Company's Dance With Us platform, a comprehensive educational resource currently in development, is poised to launch in March of 2021.
1
My earliest memory of dancing is _____________.
with my grandmother Evelyn, who my mom has always called "my first dance partner." We would sing, "How do you do my partner? How do you do today? We will dance in a circle. I will show you the way. Tra la la la . . . and off we would slide together, facing, holding hands, the same steps I teach and practice consistently, week after week, year after year. I've never not been dancing.
2
I knew I had to be a dancer when ___________.
I said so at the age of six. My mother remembers this clearly. Born in twenty minutes, I could not wait to get out and start moving. My parents loved to dance, were wonderful jitterbuggers, and my father had taken tap lessons as a teen. But while I had been dancing and performing folk dance since the first grade, and started studying modern at twelve, it was not until the summer I turned sixteen when I stopped going to sleepover camp with my childhood friends and ventured out to a summer of not knowing anyone: six weeks spent at Chautauqua Institution, the first moment of shaping a pre-professional path.
3
My favorite dance move is ___________.
4
I would describe running the Daniel Gwirtzman Dance Company for 20+ years in New York as ___________.
the defining spine from which my career has undulated. I am proud the Company is continuing to push boundaries, cultivate artists, and produce art; that it has a history of meaningful relationships with beautiful artists, audiences, and with the work itself. Every time a dance in the repertory is performed again, or a costume is used again, there's a deep sense of immense gratitude and joy. Maintaining the Company is the dream I first had as a child.
5
My motto is ___________.
"if you can't see the glass is half-full, try new lenses." I make an assumption that optimism is a choice, that there are opportunities to re-frame and embrace the possibility for positivity.
6
It's not a good day without ___________.
fresh ginger, carrots, and greens, getting lost in a creative project, going outside at least once to breathe, snacking at night, and reading The New York Times
7
My greatest influences are ___________.
my parents. My father influenced a rigorous work ethic, the capacity to manage a lot, and a sunny engagement with people. My mother, a visual artist, influenced my moods, my understanding of composition, and the need for solitude.
8
I look for ___________ in the dancers with whom I work because ___________.
charisma
everything else can be taught
9
A personal challenge I face is ___________.
spending enough time with family and friends
10
___________ is overrated.
11
My favorite time of day is ___________because ___________.
early morning 
there's another full day ahead
12
If I could invite one person to watch my dance film, "The Fantasyland Project," it would be ___________ because ___________.
South Korean filmmaker Bong Joon-ho 
I would welcome his feedback
13
I would like to learn to ___________.
speak Greek so I can communicate with my in-laws!
14
In the midst of Covid-19, one joyful thought I have is ___________.
how many more people are engaging with dance as a result. Access to concerts and performances has increased. Ultimately I believe the field at large will be the beneficiary of this.
15
Something that gives me energy is ___________.
the memory of my 102-year old grandmother and friends who have passed
16
If I could revisit a moment in my life, it would be ___________.
the first time I arrived in Bahia, Brazil
17
Outside of dance, my favorite activity is ___________.
cooking, photographing, and hiking!
18
When beginning a new piece, I always ___________.
create a framework or set of "rules" that helps to define the logic of the work. With Blowout, a dance film premiering November 21, I have written a script to articulate the rules of this specific universe—the dance takes place in the future—even though no one will be speaking any words.
19
The difference between choreographing for film versus choreographing for stage is ___________because ___________.
not necessarily so different because the same fundamental elements are at play: the body, space, and time. Bringing the imagery closer to the viewer creates more immediacy and intimacy, so I tend to push the framing when making films.
20
I am looking forward to ___________.
cutting no fewer than five new films this winter that were shot during the Company's summer residencies!
Moving People: Celebrating People Who Power The Dance World!
Do you know of a MOVING PERSON  we should celebrate on The Dance Enthusiast?
Please take a look at our 10th and 11th Year — People Who Power The Dance World — The Dance Enthusiast A to Z 
Related Features
More from this Author