MOVING PEOPLE: Lucien Zayan on The Invisible Dog, a Life-Changing Piece by William Forsythe, and the Outfit He Wears Every Day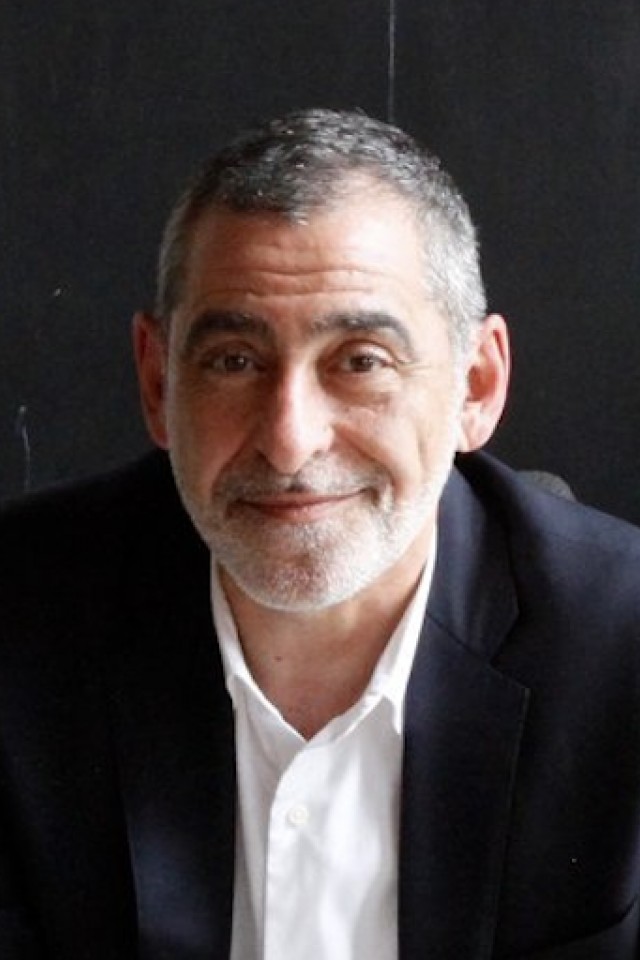 Lucien Zayan
Biography
Synonymous with The Invisible Dog, one of Brooklyn's most loved art centers, Lucien Zayan walks a delicate tightrope; his mission is twofold: to maintain the 1963 building's original form & to breath life back into the retired factory. Since 2009, the founder, artistic director and chief curator of The Invisible Dog has successfully managed both goals. Recently, Zayan has begun to take on a new role—as the charming chef and host of La Salle A Manger (SAM).
Photo: Simon Courchel
1
My earliest memory of dancing is _____________.
actually seeing my parents dancing cheek to cheek. They loved dancing together and they were beautiful at it. For my 18th birthday, they threw a party. When the orchestra started to play, my father stood up and instead of inviting my mother as he always would, he asked me (authorized me, I should say) to dance with my mother. It was an honor. Now, I'm more of the 'standing in a corner' kind, smoking a cigarette and watching the audience. 
2
If I could be fabulous at just one genre of dance, it would be _____________.
a back up dancer! I've always dreamed about that (until now). Once I told my mother that I wanted to be "a dancer behind the singer" but she immediately answered, "it's not a job" and I believed her. Otherwise, being Fred Astaire or Nagwa Fouad would have been fabulous.
3
An event that transformed my life was _____________.
William Forsythe, if you mean a dance event. It was the early 90's in Paris, and Stéphane Lissner, the new director of the Théâtre du Châtelet invited Forsythe as an artist in residency. It was a shock: the show started with a full house and ended with an empty one. But for the few who did not flee before the end, it is an indelible moment—the kind of moment that changes the way you think and see things (and not to forget Thom Willems' music).
4
Prior to breathing life into The Invisible Dog, I was ______________.
5
A truly good day in my books encompasses _____________.
a few hours at Coney Island, the first very (mean) email of the day that I love to send to someone annoying who sent me a 'follow up email' less than 24 hours after the first one, a breakfast in bed with my lover, a long day of work with a 20-minute nap in the middle, an opening reception at The Invisible Dog, a dinner at la Salle à Manger, and a party with a few friends until the next morning.
6
I am suspicious of _____________.
everyone and everything. I grew up and lived in big cities where you have to be aware of what's going on in front of you as well as behind you, at the sides, above you, and even below you, sometimes. Now it's like an instinct, very animal. 
7
My standard ensemble/outfit on most days is ____________.
jeans, a white shirt, a blue navy blazer, a pair of Adidas Stan Smiths (white, of course), and more recently a blue navy mask: the same uniform for the last 25 years. So much time earned, not thinking about, "Where is my green shirt?"
8
Another job or industry where I might have excelled is _____________.
I don't really know, as there are so many jobs I would have loved: orchestra conductor, movie star, being the voice announcing flight departures and arrivals at the airport.
9
A personal challenge I face is _____________.
trying to sleep more than 5 hours per night. 
10
A personal mission I am on entails _____________.
offering safe spaces to artists to work and to create, not bothering them with my ideas and suggestions, but letting them do whatever they want. After a 30 years career in fine arts and performance art, I can tell that a "yes" to artists makes your life much happier and they work so much better. If they ask for something, that means they need it. Sometimes, a good "no" can be considered as a "yes," a few days later. This is the philosophy of The Invisible Dog. 
11
The Walt Disney invisible dog party trick, for which The Invisible Dog is named, is _____________.
a rigid dog leash with a little harness at the end, with an invisible dog attached to it! 
12
The very first event hosted by The Invisible Dog was ______________.
a flea market! When I arrived in the building on the very first day, the three stories were filled with left-overs from the former factory (they were making belts, cheap jewelry and of course, The Invisible Dog leashes), swaying machines, furniture, tables, chairs, tools, kilometers (I'm a metric man) of trimming, ribbons, buckets of beads, trinkets. It's hard to describe the volume (and the mess). What could I have done with all of that? Dumpster? Too expensive; I did not have a dollar in my pocket. Desperate, I went to the MoMA where an installation of Martin Kippenberger was presented in the atrium: a maze of furniture and objects called "The Happy End of Franz Kafka's Amerika". I ran back to 51 Bergen street and for 4 full days, I re-arranged everything, inspired by the German artist installation. It was my own Kafka-America. The fifth day (faster than god) I put a sign on the sidewalk: flea market open! 2 months later, almost everything was sold, a large part of the trimmings went to two marvellous artists from Brooklyn, Steven and William Ladd and they have been working with this "donation" for a decade now (they will open season 12 of the Invisible Dog in September 2020. A young writer named Shonni Enelow stopped by one day, by coincidence, loved the place and this story, and wrote my first ever feature for the New York Times: "The Invisible Dog Barks Again."
13
Resident dance artists at The Invisible Dog have included ____________.
14
Some of my favorite neighbors (businesses) in Boerum Hill include_________.
the wonderful Bien Cuit bakery for a quiet breakfast, One Girl Cookies, Juju, a Korean deli with delicious rice balls, the fabulous butcher Paisanos, my barber on Smith Street, and Stinky, the cheese store, which is pretty far (3 blocks!) away. Bergen Street is my kingdom; I rarely leave the block.
15
Since quarantine started, my routine has ____________.
not really changed! I still wake up at 4 a.m. every day (even earlier sometimes) and open the doors of The Invisible Dog to let in some fresh air. I work in the garden or at home. As I live next door, I cook at SAM every day. The major changes are that I'm taking Pilates class twice a week and am trying to become a YouTube celebrity with my cooking shows at SAM (not easy but hey, we just won 5 Emmy Awards for The Invisible Dog's Fundraiser video, which includes Best Performer. 
16
La Salle à Manger or SAM is ______________.
the fundraising force behind The Invisible Dog. Salle à Manger means Dining Room in French. I wanted to create a real old-fashioned dining room (the design is very contemporary though) with a long table, 12 chairs around, a chandelier above and nothing else other than the marvelous guests. SAM is where I invite guests to meet, talk, exchange, fall in love maybe, and of course, eat and drink. Each detail gets particular attention, from the flower decorations to the placement of the guests, the choice of ingredients to the background (very low) music. It's a very intimate and exclusive moment I try to offer my guests, instead of those impersonal and boring gala dinners with hundreds of guests who only think about leaving asap. And it works. Donations to The Invisible Dog have seen a 25% raise compared to last year! And for the first time in my life, I'm making something with my hands. I could not be happier.
17
My cuisine can best be described as _____________.
Franco-Siro-Babylonian! I'm French, and my parents were born in Egypt and spoke multiples languages. My family is all over the world, I became an American citizen a few months ago and now live in the most mixed city in the world. I'm Jewish, my cousin is Muslim, my other cousin is Christian, and I probably have an other one who is atheist. It's like cosmopolitan food.  
18
If I could throw a dinner party for any 3 people, dead or alive, they would be ___________ and I would make ____________.
Liz Taylor, Alexander the Great and Alok. Nothing, because I won't believe it's really happening. 
19
The first city/country I plan on visiting when traveling is accessible again is __________.
Coney Island. From June to August, I have a daily routine: I hop on the F train at 7am, arrive there at 7.25 a.m. (writing the mean email you know, since it's above the ground there is internet), stay at the beach until 10 a.m., working, reading, sleeping, swimming … Back to Bergen Street at 10.30 a.m. for a day of work with a nice tan. 
20
I am really looking forward to _____________.
partying until 7 a.m. with my friends. Your invitation is on its way. 
Moving People:  Celebrating People Who Power The Dance World!
Do you know of a MOVING PERSON  we should celebrate on The Dance Enthusiast?
Please take a look at our 10th and 11th Year — People Who Power The Dance World — The Dance Enthusiast A to Z 
Related Features
More from this Author