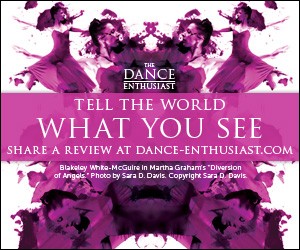 Related Features
Postcards from Julie Lemberger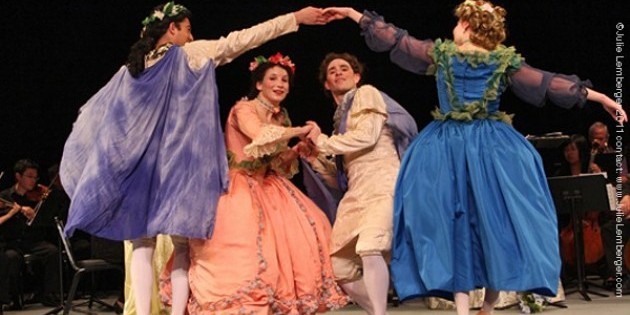 NYC Dance Photographer Julie Lemberger Shares Some of Her Favorite Company Shots of 2010
Julie Lemberger's Favorite Company Shots of 2010

"Sometimes you miss what the choreographer wants to say to you," Julie Lemberger muses as she describes the difference between being an audience member and the photographer of a show.  As a photographer, Lemberger feels she cannot let the whole experience wash over her the way she can without her camera. At work, Lemberger is an active participant in the theater piece, searching for "that great shot", the photograph that captures unique people and specific moments in time that might other wise be missed.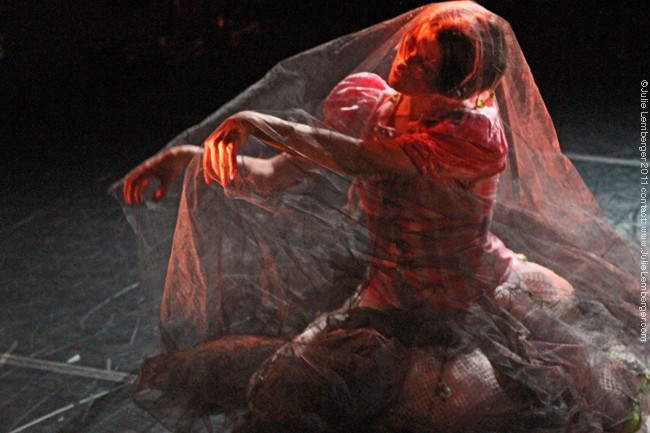 About the Photos:
Nora Chipaumire and Fred Bendongué in "Silence and Dreams
 The tension and musculature of this couple attracted Lemberger who described walking into the piece as if meeting a couple who could be lovers or perhaps were about to be.  The bright red flowers added a hint of tenderness to the emotionally charged atmosphere.

The New York Baroque Dance Company
Lemberger has been taking pictures of NYBDC since 1990. She loves how their work transports her to the courtly world of 18th Century ballet enveloping her in sumptuous costumes, live opera, and orchestral music.

The Alpha Omega Theatrical Dance Company
Lemberger describes  "Radeau" ,created by the radical African American choreographer, Eleo Pomare, (who died in 2008), as a layered and transformative story told with dance and music.  At first, you are being tossed on the water (Radeau means raft). There is sense of naïveté, but then something terrible happens – an allusion to rape-- and the story darkens. Lemberger is awed by the longevity and the consistent high quality of ...Alpha Omega... They have been  performing actively since 1972.  

Jane Comfort and Company in "Faith Healing" at the Joyce Soho
"The dance was magical," Lemberger reminisces , " I love to see Jane's imagination--her point of view and her humor  in action on stage.  Mark Dendy was perfect for the role, though it lost some of the irony, somehow... manipulating mothers work well as men in drag, go figure!!?"

Company XIV in "The Nutcracker Rouge "
Lemberger was interested in a re-telling of The Nutcracker and this one was unusual, most definitely not your Balanchine Ballet. Baroque met Las Vegas as powdered wigs and courtly opulence mixed with naughty, bawdy bodies, full on high kicks and crotch- in- the face action.  Lemberger says if she could grade the performance she would give it a B+. While it was a mix of time periods, she felt that the present was a left out. "It could have used some Lady GaGa."
---
---
The Dance Enthusiast is delighted to hear from you. Share your story with our enthusiastic audiences and be part of the conversation. Send a digital POSTCARD to The Dance Enthusiast at info@dance-enthusiast.com. Include your text (not a press release) and three to five properly credited pictures, or links to short video. If you have any questions, let us know.
---
The Dance Enthusiast - News, Reviews, Interviews and an Open Invitation for YOU to join the Dance Conversation.