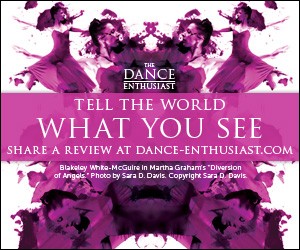 Related Features
A Postcard from ArtBark International & Friends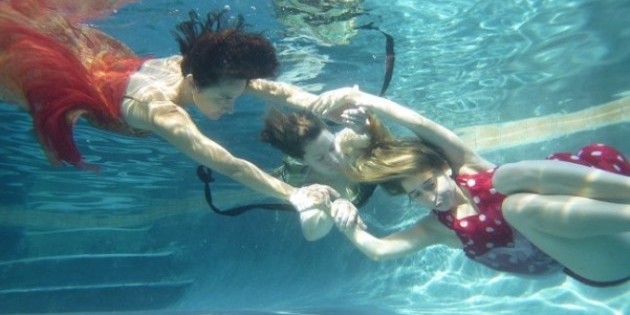 ArtBark International and Friends organize the 2013 bi-coastal ADaPT (A Dance and Physical Theater) Festival with performances by artists from California, New York and Slovenia
---
ArtBark International; Photo © Barbara Parmet
After organizing ADaPT Festival events in Los Angeles, Santa Barbara, Paris and Vienna in 2011 and 2012, ArtBark International and Friends travels to New York to host one of the three 2013 festival performances on May 30, 2013 at Center for Performance Research in Williamsburg, Brooklyn. For ticket information,
click here
.
ArtBark International
builds on its founders', Misa and Stephen Kelly's (California), travel, visual art and performance experiences, along with its collaborators' Mojca Majcen (Slovenia), Joanna Nobbe (New York) and Trina Mannino (New York). Their present activities embrace innovative ways of organizing that serve to shift the paradigm of how professional artists come together and grow. They are committed to staying abreast of how the field is evolving by inviting artists to participate in the organization's ADaPT Festival Series, the Affinity Project, and its community and educational outreach programs. For more information on the California performances,
click here
.
ArtBark International; Misa Kelly (California) and Mojca Majcen (Slovenia) Photo © Sue Bell
NEW YORK ARTBARK AND FRIENDS EVENT
Hosted by New York ArtBarkians Trina Mannino and Joanna Nobbe
Center for Performance Research
Williamsburg, Brooklyn
Thursday, May 30, 2013
Doors Open: 7:15pm
Pre-show: 7:30pm
Performance: 8:00PM
0 pre-sales, 5 at the Door
Tickets:
http://www.cprnyc.org/events/
Marcos Duran Choreography (New York); Photo © Caitlin Ruttle
Prior to the dance performance, ArtBark International and Friends will invite audience members to "warm-up" with them during the pre-show. Be smudged with some California white sage by Monica Robles. Write, draw, and move with Kristen Hatleberg and Marcos Duran. Respond to the installation of drawings by "Dylan & Friends" and take in a bit of life drawing by several New York-based artists.
Rubans Rouge Dance Company (California); Photo © Robert Salas
Participating Performance Artists EUROPE: Mojca Majcen (Slovenia), Michael Green EAST COAST: (Alex)andra Taylor Dance, Anri Nakano, Barbara Mahler, Joanna Nobbe, Marcos Duran, The Raving Jaynes, Trina Mannino, Valerie Green WEST COAST: ArtBark International – Stephen and Misa Kelly, Rubans Rouge Dance Company, Hart Pulse Dance Company
Participating Visual Artists NEW YORK: Fred Hatt, Jillian Bernstein, Kimchi Kim, Masha Braslavsky, Michael Alan and Susan M Berkowitz
Anri Nakano (New York), Photo © Dante Albertie