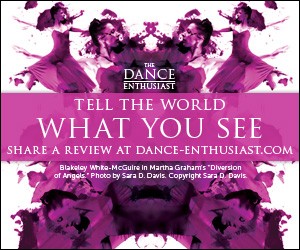 Related Features
A POSTCARD from Helen Simoneau Danse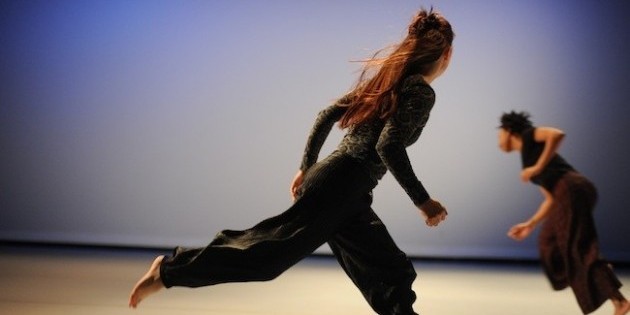 Helen Simoneau reflects on Finishing Dances,Travel, and Growth.
---
(
Thanks for sending us a postcard Helen, and please send us news from your tour.
If any other companies or artists out there are interested in sharing what you are up to with our enthusiastic audience, write us and send some properly credited pictures. Once we've read, edited and organized, we will be happy to publish your news ....Christine Jowers, founding editor.
)
---
Dual-city Helen Simoneau Danse exemplifies one model for creating and making dance in the 21st century. In her POSTCARD, founder and artistic director, Helen Simoneau shares some insights about starting her own company including its beginning, challenges, and upcoming international Danse X tour.
Flight Distance Chain Suite
The Dance Enthusiast : Tell us more about your Danse X Tour?
Helene Simoneau : I am really excited about this upcoming tour to Canada and Asia for multiple reasons. It is a coming home for me and an incredible joy to perform again in Montréal. My immediate and extended family will attend as well as longtime friends. I am super grateful for this opportunity to share my work in Québec, a place that has shaped me.
TDE: Is this your company's first international tour? What work are you presenting for the tour? What are you most excited about in the work?
HS: This is not my company's first international tour, but it will be the first time I will share my work in Asia. This is an amazing chance to see how this new audience responds and how that response can inform the continued development of this duet. I am really looking forward to having an extended run of
Flight Distance III: Chain Suite
, a duet performed by Kristin Taylor and myself to the original music of Jonathan Melville Pratt. It has been my experience that work grows in performance as the dancers find clarity that is only revealed with a witnessing audience. For me, the development never stops. That is what I love the most: when a piece is not "finished" but it keeps telling you what it needs.
Flight Distance Chain Suite : Helen Simoneau and Kristin Taylor

Since every performance informs the next, having nine performances within a month is an especially thrilling opportunity. Additionally, this work will be performed alongside two other artists' work who are also both performing choreographers: Teita Iwaberchi & Kaori Seki (Japan) , and Su Hyun Kim (South Korea).
TDE: How long have you been away from Canada?
HS: I left Canada at age 17 to study in North Carolina and had very little experience with dance leading up to that point, so it is a place that in many ways encapsulates my pre-dancer self. I returned to Canada, more specifically to Montréal, upon graduation from college and found it to be an exhilarating city with a vibrant arts scene. It also proved to be a unique environment where I could find a balance between my French and English speaking backgrounds. Not having to choose one language to live in, I could fluidly shift from one to another sometimes within the same sentence.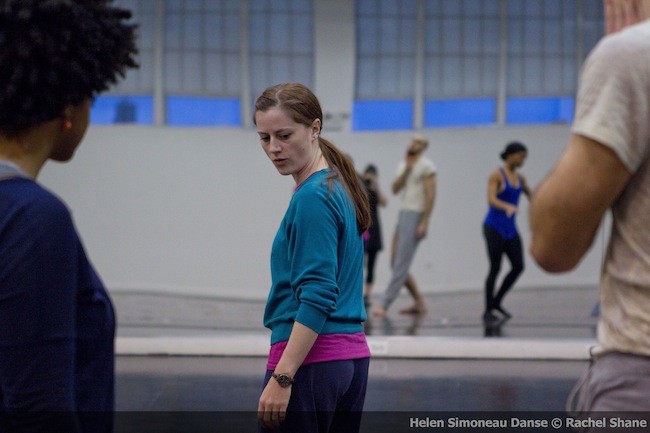 among the newly familiar
TDE: What other projects have you done this year?
HS: I am currently developing a work for 5 dancers called
among the newly familiar.
We began the process in New York City in December then continued the work in North Carolina during our company residency for the entire month of February. It is still very much in process. Another exciting project was the creation of a new work for the American Dance Festival last summer. I was fortunate to be commissioned to create a new piece for 19 dancers during the 6-week program entitled
Paper Wings
.
This project afforded me the luxury of space, time, dancers, and a fully produced show presented alongside such amazing artists as Jodi Melnick and Reggie Wilson. The process of creation was so fulfilling and taught me a lot about what environments are ideal for the creation and development of my art. I hold this project in mind when I try to re-create an ideal space for my art practice.
Paper Wings at The American Dance Festival

TDE: What has been your biggest challenge in starting your company?
HS: I would say that starting was not the biggest challenge, but more the managing of growth and constant change. It is my nature to take on a lot and many times I do not consider delegating. This has served me well in the past, but the company is growing as are the responsibilities. All of this has led me to set up better conditions for myself especially when in creation.
I am learning to anticipate the level of work needed to run the company and am doing better at delegating, asking for help, and setting more realistic deadlines for myself. For the longevity of my career, I have had to learn to be confident enough to ask for help and build structures around myself to ensure the long term success of this company.